Energy utilities are purveyors of a necessity, usually at government-regulated prices and restricted competition. Due to utility distribution regulations, they are considered generally reliable and predicable businesses, though issues such as the recent renewed concern over nuclear power can occur, as well as this recent market volatility.
Nonetheless, the regulated nature of their businesses tends to make utility dividends reasonably secure, though this security means that the dividends are unlikely to grow at a rapid pace. Utilities are also generally far less volatile than the market, and the demand for utilities only increases over time, as technology advances into new realms and the population continues to grow.
I've identified six large cap (over $10 billion) energy utilities in the S&P 500 that currently have a yield of at least 4.5%. I have also included their one-month, six-month and one-year equity performance rates.
American Electric Power Co., Inc. (AEP)
Yield: 4.7%
1-month: 5.53%
6-month: 10.25%
1-year: 6.62%
Duke Energy Corporation (DUK)
Yield: 4.86%
1-month: 5.44%
6-month: 11.38%
1-year: 15.58%
Entergy Corporation (ETR)
Yield: 4.73%
1-month: 6.62%
6-month: 0.62%
1-year: 8.18%
Exelon Corp. (EXC)
Yield: 4.84%
1-month: 2.27%
6-month: 6.54%
1-year: 3.12%
FirstEnergy Corp. (FE)
Yield: 4.79%
1-month: 3.10%
6-month: 17.94%
1-year: 22.23%
PPL Corporation (PPL)
Yield: 4.76%
1-month: 3.29%
6-month: 9.36%
1-year: 9.33%
Several Utilities ETFs are also available, such as the Utilities Select Sector SPDR (XLU), which holds these utilities, among others. (See chart below, click to enlarge)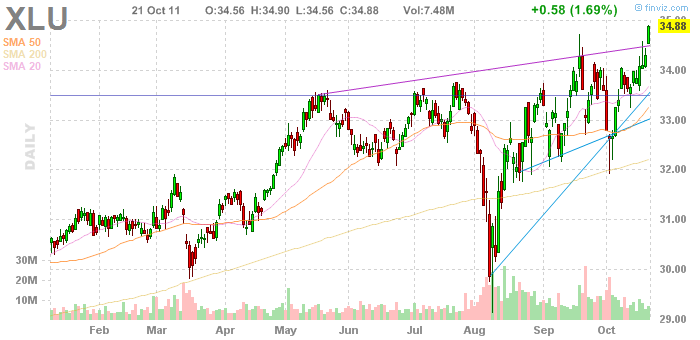 This ETF's chart shows that energy utilities, as a group, quickly recouped from the market capitulation at the start of August, and have now reached new highs for the year. Much of this utility strength likely comes as individuals sought out stable income producing equities to supplement the poor rate of return on traditional cash and fixed income investments. This recent strong performance may also indicate that these utilities are overbought in the short-term. All of these utilities were yielding over five percent at their recent lows, and now yield about 4.75%, compared to a yield of 3.87% for the XLU ETF.
Disclaimer: This article is intended to be informative and should not be construed as personalized advice, as it does not take into account your specific situation or objectives.