Zimmer Holdings Inc (ZMH) has a brand name that is recognisable throughout the world. Say the company name, and pictures of the elderly and infirm walking with the aid of walking-frames springs to mind. But the company is far more diverse than that, and has certainly moved with the times. It is now one of the largest orthopaedic implant product companies in the world, and also manufactures dental implant products.
Zimmer Holdings is currently trading around $53, and the mean 12 month price target from analysts researching the stock is $66.90 (26% upside potential). This stock is trading lower than its 50-day exponential moving average of $54.93 and its 200-day exponential moving average of $57.79. These averages have been trending lower during the second half of this year, and the 50 day EMA has thus far proved a strong line of resistance to an upward price movement. Earnings per share for the last year were $3.27, and these are expected to increase strongly to $5.24 in its next full fiscal year (ending Dec 2012). These numbers place the shares on a trailing price to earnings ratio of 16.22, and a forward multiple of 10.12.
The company paid no dividend last year, unlike its main competitor Stryker Corporation (NYSE:SYK) which paid a dividend of $0.72 on earnings of $3.16 per share.
The current operating margin at Zimmer is 27.36%, with a return on assets of 9.26% and a return on equity of 10.87%. The current revenue from its income statement is $4.35 billion, and last quarter's revenue showed year on year growth of 7.50%. Zimmer has cash of $945 million, and a total of $1.15 billion in debt. The company's debt/ equity ratio is 19.07. When measured against the broader market, this ratio looks relatively strong. However, when compared to Stryker a different view is given. Stryker has cash of $2.66 billion, and debt of just $1.02 billion. Its corresponding debt to equity ratio is a miserly 13.13.
click to enlarge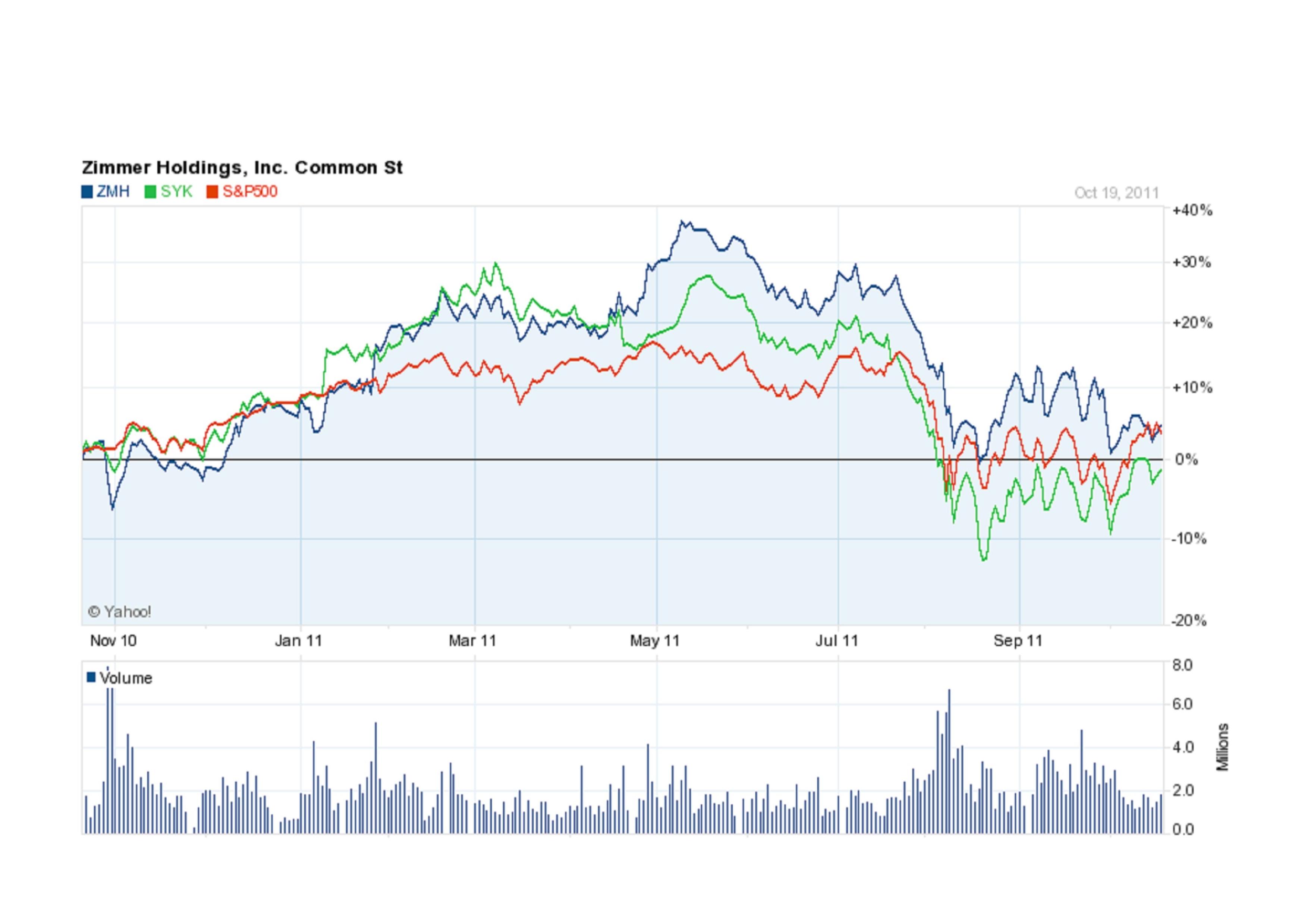 Looking at the 12-month chart - and comparing to Stryker and the S&P 500 - it can be seen that Zimmer has traded in line with the market, and is slightly outperforming the shares of Stryker Corp. Earlier in the year the shares had been performing better than the S&P 500, but this was before the US debt ceiling agreement reached in Congress and the related announced healthcare spending cuts.
Zimmer's second quarter results beat expectations, with adjusted earnings of $1.21 per share, and it is expected to meet third quarter forecasts. There is a possibility that the company will announce a share repurchase scheme, and if it does so then the shares may stage something of a rally from its current level at the lower end of its 12 month price range of $47.09 to $69.93.
However, I expect any such rally to be short-lived and limited by the resistance to a sustained move above the 50 day EMA.
For me, the price action will be driven by the continuing need for government and personal debt to be paid down. Hospital budgets are likely to suffer further tightening, and this will lead to lower prices achievable by medical technology companies such as Zimmer Holdings, and will pressure margins. Once these lower prices and decreased margins are in place, it will take a while for them to come back to current levels even when the economy recovers.
My expectations are for a creeping realisation of this to come to the market, and shares of Zimmer will be held back accordingly as the possibility of earnings not reaching current expectations increases. While I believe that the company operates in a long term growth market, with population and the need for healthcare both growing through the coming decades, I feel that the shares are unlikely to perform better than the broader market and at best in line with the S&P 500 in the coming few months. HOLD.
Disclosure: I have no positions in any stocks mentioned, and no plans to initiate any positions within the next 72 hours.