After reading a great interview with the always blunt Heidi Wood, Aerospace and Defense analyst at Morgan Stanley (NYSE:MS), I began to think more deeply about this often overlooked and misunderstood sector. With Washington DC as my home for the next few years, it is only fitting that I start digging deeper into the unfortunate but necessary business of defense.
The defense sector is quite unique. It is always difficult to analyze companies I can't grasp in everyday life. Just like I've never placed an order with Boeing (NYSE:BA), I've also never bought military grade weapons from General Dynamics (NYSE:GD) (and hope I never have to!). It is also necessary to ignore the quarterly vicissitudes of earnings season, as many of these companies have order books that are filled for years in advance. One needs to take a long term approach, which complements the value investing style that I prefer perfectly.
The A&D sector has beaten the S&P 500 in eight of the past ten years. We all know the world is, and will continue to be, turbulent. The US government alone spent close to $700 billion on defense in FY 2010. Deep (and I emphasize the word deep) cuts to the military budget are politically infeasible at this time. Republicans won't touch it. Democrats won't touch it. Further, even if the budget was cut, there are emerging markets eager to pick up the slack.
The three drivers of defense spending are the agenda, the threat environment (real and perceived), and the availability of funds. The US is not eager to lose its place as the world's superpower any time soon. China has repeatedly stated that it wants to be the world's No.1 military, economic and political superpower by 2020. Putin was just "reelected" and does not intend to sit back and let Russia fade into the political equivalent of Seinfeld reruns. The implications of the 2008 South Ossetia war with Georgia should not be lost on anyone.
Basic game theory tells us that defense spending is in everyone's best interest. The real question is what names will continue to thrive in the medium to long term. I have decided to focus this report on General Dynamics, as I think the business is diversified enough to weather any near term budget storms and capitalize on a rebound in the aerospace sector.
Company Background
General Dynamics provides business aviation, combat vehicles, weapons systems and munitions, military and commercial shipbuilding, communications products and IT services to an international customer base. In the business aviation segment, GD operates the Gulfstream brand, arguably the most influential name in private aviation. The $58 million G650 has reached cult like status and is a favorite among corporate jetsetters.
The combat systems group designs, develops, and produces wheeled military vehicles, weapons systems, and munitions. Essentially, high tech tanks and guns. The marine systems group designs and builds ships, namely submarines. The most important weapon system the US has is its nuclear sub. Even if defense budgets get cut, the marine systems group will still see a healthy cash flow.
There is also the IT services segment, which provides government and commercial communication equipment to facilitate information sharing among enterprises.
GD was founded over 110 years ago and commands great respect among defense circles. The company regularly delivers projects on time and under budget and have a top notch management team, comprised mostly of retired officers. GD is extremely diversified, sells its products globally, and generates profits both from corporate spending and governments.
Do not underestimate the profitability of the business jets group. It currently generates 20% of profits, and this is expected to increase to 50% by 2015. Not due to a decrease in defense spending, but due to an increase in the need for private aviation. As of the 2010 annual report, the backlog for G650's runs through 2015.
Diversified Revenue Sources (in millions)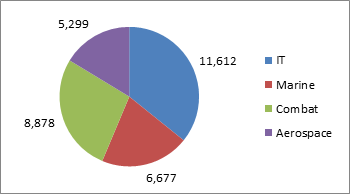 Diversified Customer Base (pct) [Click to enlarge]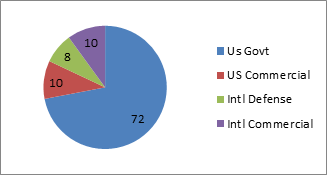 Valuation
Using a blended DCF and sum of parts analysis, I have arrived at a target price of $92.47, implying a 41.6% upside. The A&D industry trades at around a 6 multiple, however the aerospace division sees both higher margins and is expected to grow to 50% of GD revenues by 2015. I believe this commands a premium multiple from the rest of the business. Boeing trades at 8x EV/EBITDA and the company does not make small luxury aircraft. Further, Boeing's operating margin of 7.22% trails far behind GD's aerospace margin of 14%.
Removing the aerospace division from the equation, I still derive a valuation of $57. Essentially, investors are getting aerospace group for nearly free at these price levels.
Notes:
GD provides a 3% dividend yield, and management has reiterated their intention to keep the div yield healthy.
GD trading near bottom of valuation range and significant downside protection exists.
GD has an impeccable balance sheet and generates strong free cash flow
P/E of 9.3 among lowest in industry. Investors are ignoring potential of aerospace division and treating GD like a regular defense company.
Risks to investment thesis:
Decreased defense spending by US.
Government contracts not always fully funded at inception and can be cancelled.
Business aircraft group susceptible to economic risk.

[Click to enlarge]




Disclosure: I have no positions in any stocks mentioned, and no plans to initiate any positions within the next 72 hours.