Shares of Orsus Xelent (OTCPK:ORSX) (up until last week ORS) closed a volatile week with a massive thud Friday, falling 65% to 1.32 in afternoon trading. This collapse followed an equally stunning rally earlier in the week from 1.25 all the way up to 3.9. The stunning rise and fall -- all in the absence of company-specific news up until the company's shares were delisted following Thursday's trading -- is a lesson to us all on the dangers of momentum trading, particularly in microcap Chinese issues.
Orsus Xelent, according to its website, is:
a Beijing-based supplier of economically priced, feature-rich mobile phones for the Asian market, including GSM/GPRS, PDA and CDMA, under its two famous brand names, Orsus and Proxlink.
For years, the company had labored in unprofitable obscurity, and its shares had steadily traded down into penny stock land. By April, the company had received a deficiency notice from the stock exchange and the company engaged in a 12-1 reverse split to attempt to avoid delisting. Even following the reverse split, the company's stock continued to trade under a dollar.
Then, for no apparent reason, the company's shares began to surge. The stock tripled in the first week of May, hitting nearly $3/share. By June, the stock reached a stunning peak of $7.29. This followed the company's hilarious FY '11 1st quarter results in which the company announced a $32 million "profit" ($12.73/share) due to a "non-cash reversal of allowance for bad debt." Of course, non-cash ends up meaning little to shareholders, since dividends or share buybacks must be paid for with cash, not accounting gimmicks.
Despite the paper profit of $12.73/share for the first quarter, the company remained in a fight for its mere survival. Sales for the 1Q of 2011 dropped 48% from the same quarter of 2010 to a mere $3.9 million. The CEO stated in May 2011 that:
We are pressing ahead with our previously described plans for a strategic merger and/or capital raise and/or a loan to resolve our cash flow problem. We believe we have made progress in this regard, but have not yet succeeded and cannot predict the final outcome of our various discussions [...] While we are in a difficult struggle, we remain confident of a positive outcome and will keep shareholders informed of progress we may achieve.
This is not the sort of talk that one hears out of a company whose shares rally from under a buck to more than $7 within a few months. While shares continued to soar, the rhetoric from Orsus' management grew even more grim, with this statement coming out of the FY '11 2nd quarter earnings release:
As our accounts receivable have continued to grow, our major problem is our weak cash flow which has resulted in a serious going concern issue. Our working capital is not sufficient to support the operation of the Company and raises doubt about our ability to continue as a going concern.
Research group Geoinvesting also called out the company's poor prospects with a Seeking Alpha article in June, stating:
Even if ORS does rectify its liquidity problems or enter into game saving transaction, can we trust the management team of a company where smoke and mirrors seem to exist?

We choose not to believe management and deem ORS not to be investable.
It appeared that by the beginning of October, the market had awoken to the fact that the company was facing a significant liquidity crisis and that the company retained little value. Shares again slumped to the $1 range. Besides Orsus' lack of cash and plunging revenues, the company also displayed other typical red flags of troubled Chinese companies including having an auditor of questionable repute, Kabani. The company also has a hilariously low-tech website that, strangely enough, is available in German and English but not Chinese (an odd peculiarity given that the company is presumably attempting to sell products to Mandarin -- not German -- speakers.) The company also has not bothered to update the news of financials section of its website since 2007.
Despite all these glaring problems, shares again surged last week, with the stock rocketing from $1.25 at the start of the week to nearly $4 Thursday afternoon. The stock was then delisted after the close of Thursday's session, and trading reopened Friday with the stock sharply lower. By the close of Friday trading, Orsus fell from $3.76 to a mere $1.32; the stock lost 65% of its value in a single day! (I have presented two charts below, one of the company under its ORS symbol and then Friday's action under the new ORSX.PK ticker.)
click to enlarge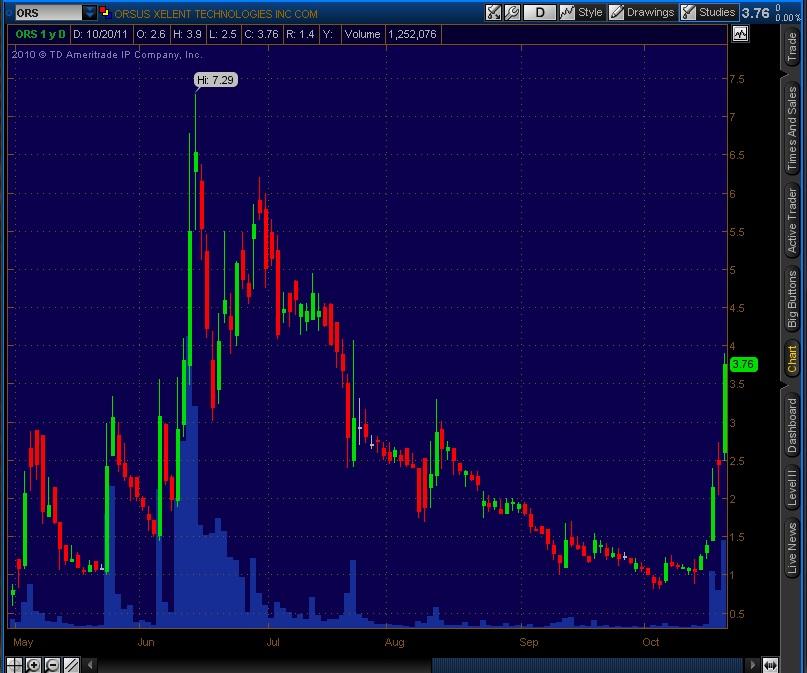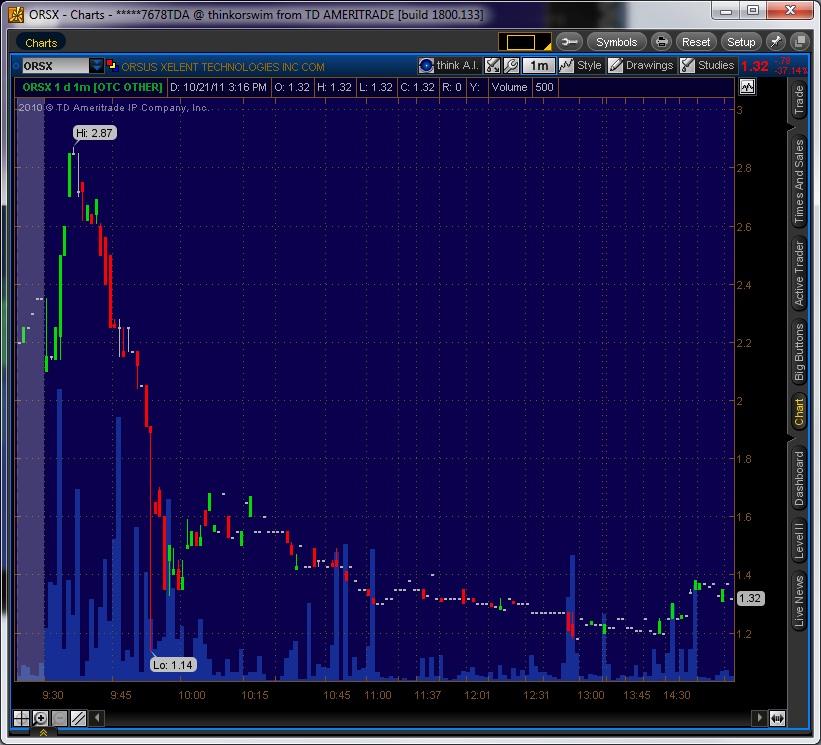 What can we learn from this fiasco? Investing in China is already difficult enough without chasing after gains in very low-quality companies who admit to having major problems and who engage in odd practices such as not even updating their web site for a four year timespan. While it is not exactly clear why Orsus rocketed up earlier in the week, the likely causes include stock promoters and/or a short squeeze, neither of which is a good reason to buy a stock.
It can be tempting to trade momentum in companies of questionable merit using the Greater Fool Theory: as long as the price is strongly rising and you act quickly, you can find a greater fool to take the stock off your hands even though you know the stock is probably not worth what you paid for it. But this strategy can backfire particularly quickly in both microcap stocks and Chinese companies because the risk of out-of-the-blue events -- such as a delisting -- is so great. And if something like Orsus' delisting occurs, your stop loss may not save you. Orsus closed Thursday trading at 3.76 and opened at 2.10 Friday, most likely leaving many momentum traders' stops passed by as the stock quickly sank.
Particularly with the advent of mechanized high frequency trading that leads to more and more automated trend following, stocks often rise and fall far beyond where they would if rational human analysis were used in viewing the situation. Another recent example from China can be found in China Biotics (OTC:CHBT). The company was exposed as a fake by Therealchbt.com (website now defunct), Citron Research (one of several articles here), and others. Even after their fake banking websites came to light, China Biotics' shares still again rallied.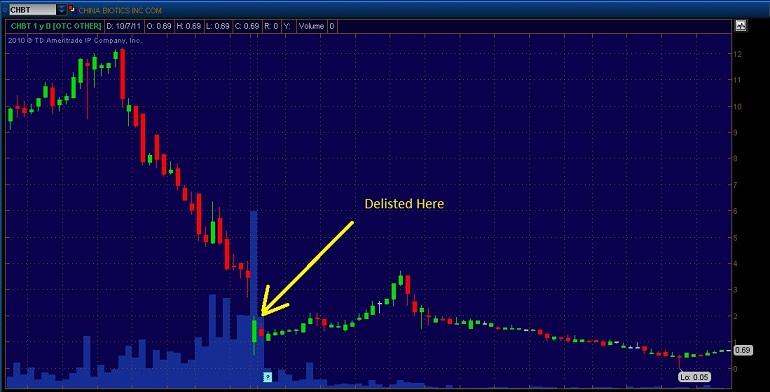 CHBT opened at $1.00 following its delisting, but went on to nearly quadruple over the next month without any news and the company remained as fraudulent as ever. Many new suckers were made on the stock, even after it was delisted and moved to the pink sheets, as the stock has fallen from its post-delisting high of $3.72 to a mere 69 cents. Anyone paying reasonably close attention could see that China Biotics was a terrible buy at any price after it was delisted.
Don't be someone tricked by a newsletter writer, stock promoter, or high-frequency trading computer into buying a likely scam stock just because it has "momentum." When you see a stock with terrible fundamentals soar without any underlying news, it is wiser to either short it or just stay away entirely. For every surging penny stock that actually lives up to the hype and makes people rich, there are dozens of Orsus-Xelents and China Biotics that crash right back to earth.
Disclosure: I have no positions in any stocks mentioned, and no plans to initiate any positions within the next 72 hours.
Additional disclosure: To the best of my knowledge, all information in this article is accurate, reliable, and has been obtained from public sources. However, I present the information "as is" and I will not necessarily update or supplement this article in the future. This information is not a recommendation or solicitation to buy or sell securities, nor am I a registered investment advisor.