Here we are three weeks into the best October since 1982, yet small-cap stocks are essentially tracking their bigger brothers. Since 9/30, the S&P 500 has rallied 9.6% (including dividends) while the Russell 2000 has increased 10.66%. While the performance has been slightly better, smaller stocks remain substantially behind larger ones. In Q3, the S&P 500 lost 13.9% while the Russell 2000 returned -21.9%. Even with the modest recovery this month, the S&P 500 has returned 0.07%, but the Russell 2000 has lost 8.17% in 2011. I expect that smaller stocks will recover more of this 8.2% underperformance in coming weeks.
In late March, I had suggested that larger stocks would likely outperform smaller stocks and suggested biasing portfolios in that manner. While my caution was directionally correct, I certainly had no idea how extreme the move would be. Before trying to assess the future relationship, it's important to understand why small-caps have lagged so significantly. Quite simply, individual investors began fleeing the market in early August. Additionally, there has been a "risk-off" dynamic in which hedge funds, which typically buy smaller stocks on balance (where they can exploit their informational advantage, at least theoretically), pared back exposures.
Another dynamic has been the extreme focus on dividends of late, which I think is potentially a fad. With their lower dividends generally, small-caps have certainly been disadvantaged. Finally, as investors began to price in a greater risk of recession, small-caps were hurt disproportionately as historically smaller stocks, whose valuations typically incorporate higher levels of anticipated growth, become questioned fundamentally and as worse liquidity hurt prices.
For the past decade, small-cap stocks have trounced large-caps. The chart below is the Russell 2000, with the blue line representing relative performance compared to the S&P 500. In this case, despite the recent underperformance, smaller stocks have enjoyed 57% better price return:
click to enlarge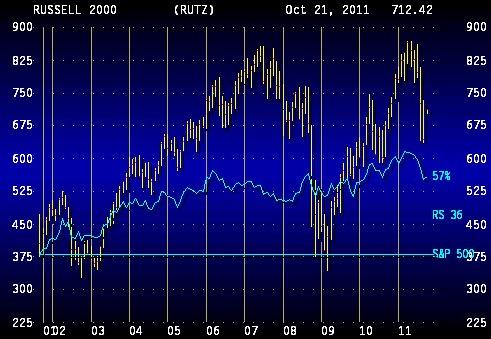 While the road hasn't been without potholes, it certainly hasn't been a "lost decade" for smaller stocks. This recent pullback has been one of the worst short-term performances for smaller stocks relative to larger ones, with the huge gains from Labor Day 2010 into and beyond year-end wiped out. I believe that there are several reasons to expect the performance to turn around soon:
M&A activity remains active

Abating input costs

Retail investors will return

Most importantly, hedge funds will jump in
Almost no matter what, growth will remain constrained for the next few years. With headwinds abounding, but with tons of cash and available credit, larger companies will continue to boost their growth through M&A, which should benefit smaller companies.
One of the biggest challenges this year for many smaller companies has been trying to handle soaring input costs. Larger companies have better pricing and more ability to hedge. The recent sharp decline in commodity prices will prove to be most helpful to smaller companies, but this hasn't yet been reflected.
As retail investors realize that the glass is half full rather than half empty, they will reverse months of negative outflows. It happened last year, and it will happen again. As long as there are no viable alternatives to stocks, individuals will be forced to embrace them again.
The last point is really the most important one. As recent Seeking Alpha contributor Stephen Weiss conveyed recently when he explained why he is not bearish for now, hedge funds and investment advisors now have a "floor" under them and "will chase performance". While he didn't call out exactly how, I think it will be similar to late 2010, when the Russell 2000 exploded by 30%, blowing away the S&P 500 by 10% from September into year-end. By that same math, with the S&P 500 up almost 10% so far in Q4, the Russell 2000 should be up almost 15% rather than less than 11%.
For those who pick individual stocks, this is a time to focus on smaller ones in my opinion. There are tremendous values out there, even after the recent rally. For those who use ETFs but typically stick to the S&P 500 SPDR (SPY), I suggest considering iShares Russell 2000 (IWM). A more aggressive approach is to include iShares Russell Micro-Cap (IWC), as the ETF is down 14% YTD and will benefit from the same trends as small-caps.