Corning (NYSE:GLW), founded in 1851 in Corning, NY, was originally named Corning Glass Works. The company changed its name in 1989. Over the 160 years Corning has been in business it has transitioned from a glass company to a technology company. Still, at its core, Corning is a glass maker - just for high tech products.
During the dot-com era, Corning was known for its production of fiber optics - the backbone of the internet. It commanded a stock price of more than $100 per share, a distant cry from its recent trading price. Though still in the fiber optics business, Corning is better known for its LCD panels in flat screen televisions and other devices. Today, Corning operates in multiple businesses. It produces ceramics for pollution control devices and makes specialty laboratory equipment in addition to its fiber optics and display business.
Mr. Market has crushed Corning's stock price. The primary concern is a glut in LCD televisions and a decline is LCD sales. However, the stock may be priced as though no one will ever buy another LCD television. Granted, LCD panels represent about 50% of Corning's sales and virtually all of its profit. Though LCD sales in the United States have slowed, growth in China is likely to continue for a long time.
The most exciting product Corning makes is Gorilla Glass. Gorilla Glass is a super-strong, scratch-resistant glass used in smartphones and tablets. Corning estimates output of Gorilla Glass will triple or quadruple by 2014 - exciting prospects indeed!
Corning's stock price is down nearly 27% over the last year. From a high of $109.33 in August 2000 during the by-gone internet era, the stock is down about 88%. But Corning continued to make money over the lost decade. The company spends a lot on research and development and has been able to shift its business when times change. The chart below shows Corning's steadily growing revenue and income over the last five years.
click to enlarge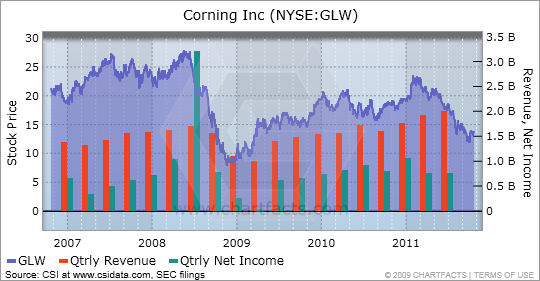 Click to enlarge
Corning's stock is cheap - that's the only word for it. The stock trades for about 6.5 times earnings. That's before you back out the more than $2.50 per share cash the company has on its books. Corning trades in-line with book value and slightly more than 3 times sales. Its price to earnings growth (PEG) ratio is only 0.70. Despite its cheap price, Corning has grown revenue 7.7% annually over the last five years and earnings over 42% annually. Cash flow has increased 55% annually over the same time period.
Corning recently boosted its dividend by 50%, now yielding more than 2%. The company has increased its dividend 26% annually over the last five years. With a payout ratio of only 14%, I expect the dividend to continue to grow.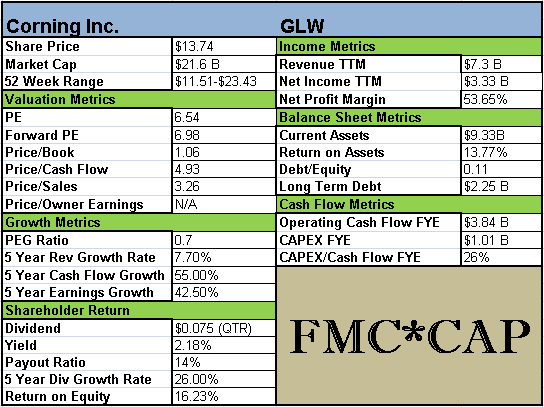 Click to enlarge
There are risks for Corning, such as a global economic downturn or another recession in the United States. Both of these scenarios could crimp Corning's business in the near-term. However, Corning has a pristine balance sheet and would likely weather any storm. Chances are the U.S. will avoid another recession but continue to grow slowly. This leaves China as a big growth driver for Corning.
Gorilla Glass could be the company's biggest driver of growth over the next several years. The smartphone and tablet craze isn't likely to burn-out as consumers replace their computers with these smaller, lighter devices. The bottom line is that this normally boring glass maker may be one of the most exciting growth stocks you can add to your portfolio. That's one glass house that may be worth building.
Disclosure: I have no positions in any stocks mentioned, but may initiate a long position in GLW over the next 72 hours.