If you've ever been part of a relationship where one half is with child, you likely attempted to reduce uncertainty and alleviate anxiety by picking up a copy of What To Expect When You're Expecting. Amazingly, the book has been on the New York Times bestseller list for 533 weeks, as of this past Sunday.
What's interesting about that book is that to keep it on top, nobody - from the authors to publishers - had to reinvent the wheel. It was a great idea that needed no tweaking to stay wildly successful.
Now, to be clear, I don't expect a company to stand pat for 533 weeks. Given the competitive spaces most tech, Internet and new media companies run in, that's probably not prudent or possible. Very few companies have been able to hold steady to the original plan for so long. Of course, Apple (NASDAQ:AAPL) comes to mind as one that has ever since introducing us to iPod. Since that day, it has been obvious that i-this and i-that simply flowed freely from the idea mine regardless of any external forces, competitive pressures or lack thereof.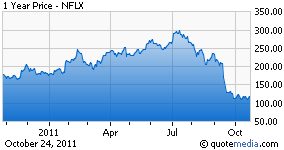 That said, it's crazy to think that many other companies should be able to achieve Apple-like consistency, execution, results and subsequent dominance. That said, you certainly don't expect the opposite. You don't expect to wake up one day and see one of greatest ideas of our time implode amidst a flurry of ill-advised fits and starts. But that's precisely what happened at Netflix (NASDAQ:NFLX).
Reflecting on what happened and what lays ahead triggers two primary thoughts.
First, maybe it's only because it's all too obvious, but it seems that most observers have, despite the jokes and criticism at his expense, downplayed the magnitude of the things Netflix CEO Reed Hastings has done over the last several weeks. Let's consider exactly what he did do and why.
Not once, but twice, Hastings completely overhauled the Netflix business model - at least publicly - only to later apologize for making the move, reverse course or both. That's real bad, but what I think people have glossed over throughout this mess is that the price increase and the still birth of Qwikster both happened for a reason.
Simply put, this is a company fighting for survival. And desperate times call for drastic measures. Don't listen to anybody who provides a relatively benign reason for Hastings' recent bout with schizophrenia.
And, second, don't believe a soul who tells you that they know what to expect from Netflix's Q3 earnings report. Just like the process of having a kid, there's no book on something as complicated, uncertain and downright scary as Netflix's next earnings report. In other words, unless I was sitting on massive profits, I would be, at the very least, concerned about being short on the report. Here's why:
Any sliver of optimism could send the stock higher. If the company beats its own estimates and/or consensus, investors will temporarily forget the deeply-rooted problems at Netflix and run the stock up, if only in the immediate post-earnings euphoria. Or, at least, I think that stands a good chance of happening.
Even if there's no quantitative reason for optimism, Hastings and CFO Davis Wells could very easily use their is it live or is it Memorex conference call to feign a few qualitative ones. Remember, Netflix does not use the standard live conference call format every single one of its peers uses. Instead, Hastings and Wells answer "live" questions from their VP of Investor Relations, who selects questions that analysts and investors email in. Nothing comes unexpected so there's no room for potentially unprepared, on-the-fly responses or the follow-up questions that often trigger them.
If you're a bear, however, there's one solid reason to believe the implosion will intensify after the Q3 report - guidance. So often, stocks get punished for issuing tempered guidance. I don't see a way Netflix can put forth anything even close to positive as it resets Q4 expectations.
If you recall, Hastings suggested that Netflix could do $1 billion in revenue in the fourth quarter. I still believe that could prove to be the biggest mistake of his career, even when you include recent less-than-credible developments. I don't see how the company can even come close to what stopped just short of a prediction. If it doesn't deliver guidance that portends a $1 billion Q4, the stock should see $50 by the end of the year, if not sooner. Even with guidance pointing to a $1 billion fourth quarter, the exponentially increasing costs associated with content licensing and international expansion should put the hammer to EPS.
Simply put, Netflix's Q3 numbers and Q4 outlook will dictate whether or not the stock can, once again, return to glory by defying logic. But, make no mistake, even if Hastings and Wells spin a good story and the stock runs, the long-term narrative remains intact. Just because the company is dying its death right before our eyes does not mean it cannot burn a few more overzealous bears along the way. In fact that might just come to define Hastings' blaze of glory.
Disclosure: I have no positions in any stocks mentioned, and no plans to initiate any positions within the next 72 hours.