With the markets now looking seasonally stronger as we head toward the end of the year and on into the first quarter of 2012, I wanted to update the market price and Net Asset Value (NAV) performances of the equity closed-end fund (CEF) universe going back two years to the start of the third quarter of 2009 so that investors can see how these funds perform in an up market environment.
Three weeks ago, I released four-year market price and NAV performance tables which went back roughly to the market highs of 2007 so that investors could see how these funds performed in a down market environment from September 2007 through September 2011. You can review that release here which also included 2011 YTD performances.
I'm not trying to predict market moves and I will leave that up to the reader to decide how to position their portfolios. My intent is to show how the income strategies that these funds use can play a huge role in how well they perform in different market environments. Just to review, the three income strategies include the 1). Option-Income strategy, 2). Leveraged strategy and 3). Dividend Harvest Strategy. If you are unfamiliar with how these strategies work, you can review them here.
The first set of tables below include two-year total return performances from September 2009 to October 21, 2011, which is a little longer than two years because I wanted to include this latest up move by the market. This was a fairly strong period in which the S&P 500 rose 21.8% including dividends. The funds are listed by NAV performance compared to the S&P 500 as represented by the Exchange Traded fund (ETF) SPDR S&P 500, ticker SPY. Though many of these funds may be global or sector specific, the S&P 500 still provides the most diverse and widely followed index for comparison. Green designates funds whose NAVs outperformed the S&P 500 and red designates funds which underperformed.
Other table notes include:
Total return is defined as a fund's NAV or market price performance including all distributions simply added back, i.e. not reinvested.
The S&P 500 index as reflected by the ticker SPY also includes dividends added back, which is not usually the case with most S&P 500 quoted returns. This is why the performance of SPY is actually much better in my tables than the S&P 500 returns typically cited in the media which don't include dividends.
Excessively high NAV yields are highlighted in red in the tables. Any NAV yield (not market price yield) over 12% I consider to be excessive and more difficult for a fund to maintain going forward.
High premium market prices to a fund's NAV are also highlighted in red. Sometimes a fund has a good reason to be at a premium and sometimes not. However, I consider any fund over a 20% premium as excessive no matter what the market environment or risk/reward profile.
High expense ratios are highlighted in red in the tables as well. Though some might consider anything over 1.5% as high, I choose 2% as a threshold. Expense ratios tend to be higher for global funds as well as leveraged funds in which leveraged expenses are included.
The "Fund Portfolio" column gives a general description of a fund's portfolio make-up and is not intended to be specific. Each fund has a unique set of securities and risk profile dependent on different sector/country weightings, option coverages, stock/bond percentages, etc.
All information is from CEFConnect.com, Yahoo Finance and fund sponsor fact sheets, annual reports and other public information. All information is considered reliable but not guaranteed.
Click to enlarge charts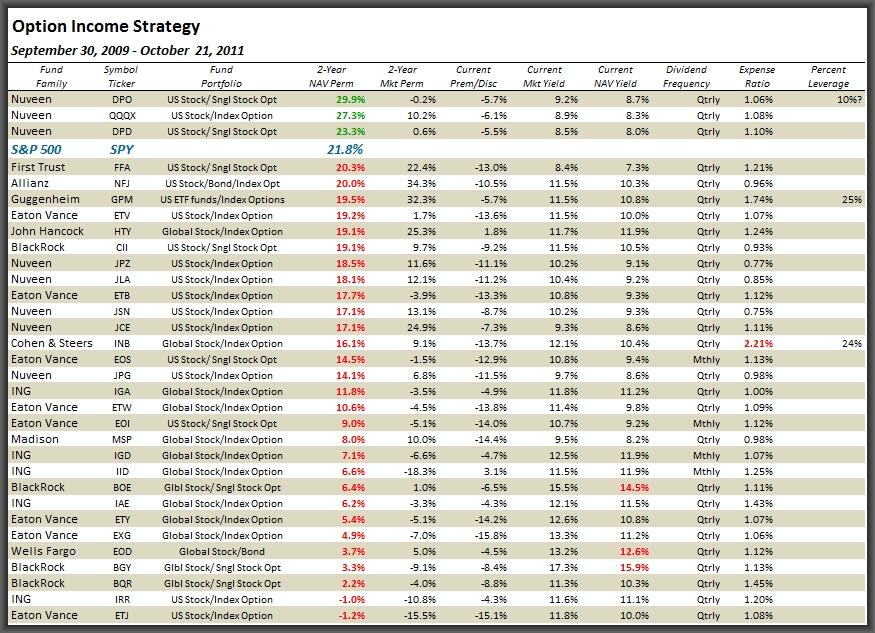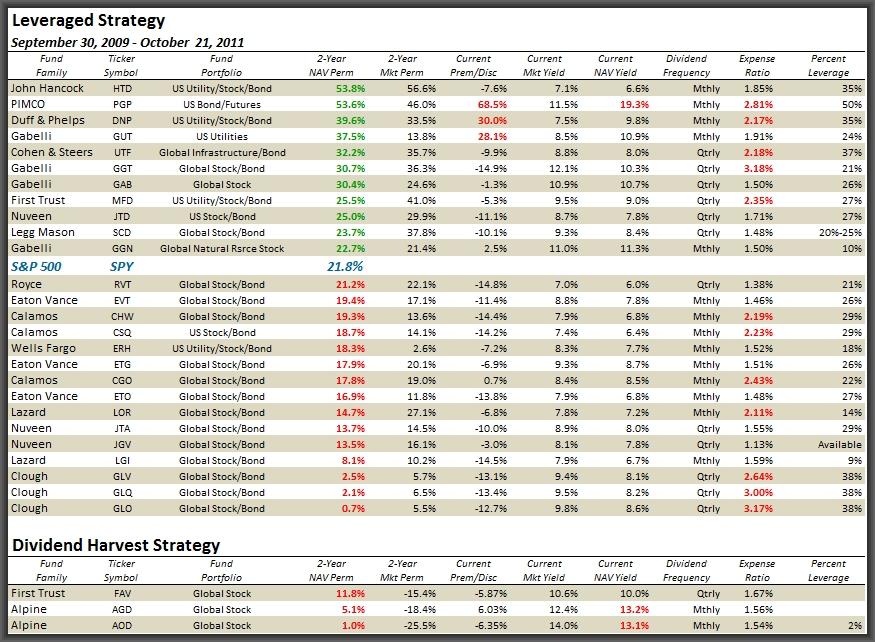 Now turning to a four-year period in which the S&P 500 (ticker SPY) had a total return of -19.5%, you'll see what a difference the income strategy makes ...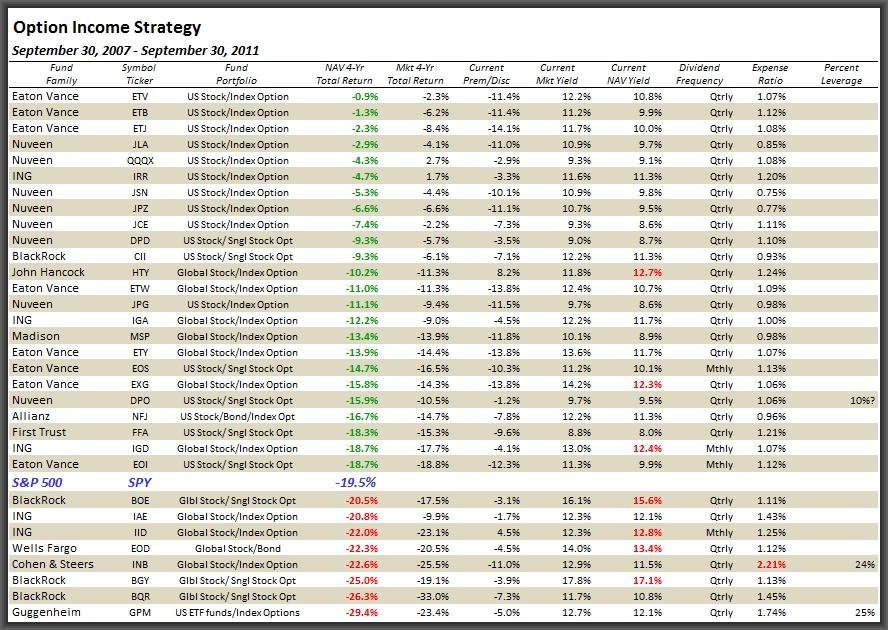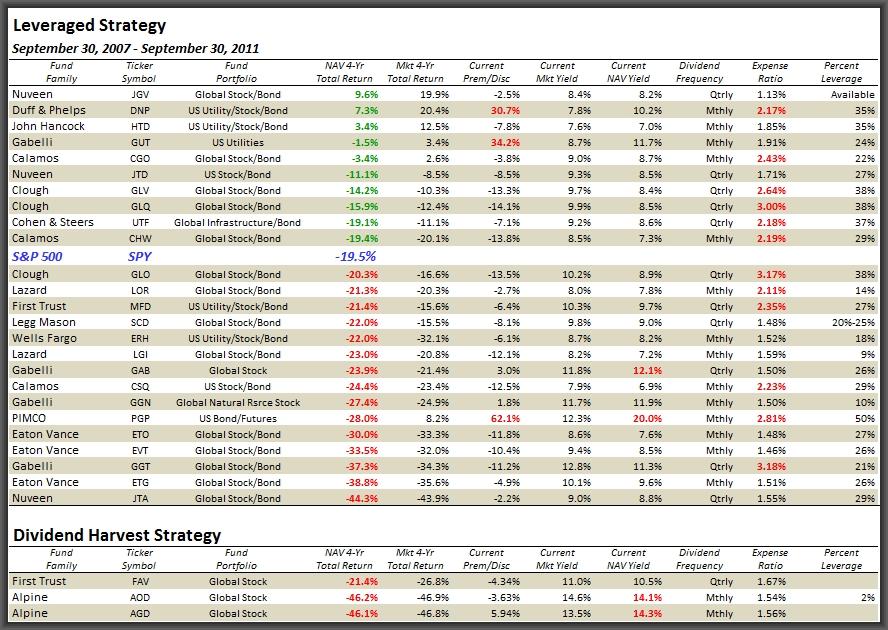 I believe this is an extremely relevant comparison because of the roughly equal variance of the S&P 500 from negative -19.5% over four years to positive 21.8% over two years. The most obvious takeaway is how much better the option-income funds perform in a flat to down market environment than an up one as only three funds were able to outperform the SPY over the last 2 years while most were able to outperform over four years. DPD and DPO mimic the Dow Jones Industrial Average while QQQX mimics the Nasdaq QQQ's so that is why they were able to outperform the S&P 500 over both time frames.
With the markets prone to volatility on any news over the global debt markets, I still believe the option-income funds offer the best risk/reward profile with many at their widest discounts since the spring of 2009. However, a stronger market going into the end of the year and into the first quarter of 2012 means investors will want to up their exposure to the leveraged funds, although this is where it gets more complicated.
The best NAV and market price performances have been in the utility based leveraged funds as they were able to outperform both on a two-year and four-year performance record mostly due to the strong performance of the utility sector. Whether that continues or not remains to be seen. The underperforming funds both on a two-year and four-year basis were the global stock/bond funds that had high equity exposure to Asian and BRIC markets. Obviously, any global market recovery should help these funds comparatively better.
I would urge investors to carefully review the performances of these funds over both time periods keeping in mind that the current discount/premium is only reflected in the two-year tables since the four-year tables only go though Sept. 30, 2011. As always, there will be winners and losers and I hope these tables provide some insight as to which funds to own and which ones to avoid.
Disclosure: I am long ETV, ETW, NFJ, IGD, ETB, EOS, CII, RVT, JLA, EVT, ETO.