Several uranium providers have undergone significant equity appreciations since the start of the fourth quarter of 2011, with most starting the quarter at their 2011 and/or multi-year lows. Much of this recent appreciation appears tied to a bidding war between Cameco Corp (NYSE:CCJ) and mining powerhouse Rio Tinto (NYSE:RIO) over Hathor (OTC:HTHXF), a Canadian uranium miner. Their interest in Hathor may indicate these industry experts believe now is an appropriate time to accumulate uranium assets.
Since the Japanese nuclear concerns emerged at the start of 2011, following the destruction caused by an earthquake and tsunami, uranium prices began to face significant downward pressure. Due to this Japanese nuclear crisis, Germany decided to discontinue nuclear plant development and announced plans to eventually eliminate nuclear power as an energy source. Japan and Germany were previously significant users of nuclear power, and this perceived vacuum to demand weakened the price of uranium. It also weakened the shares of those companies that produce and/or provide uranium.
Though many First World nations have become wary of nuclear power in the wake of the recent Japanese crisis, China and India continue to build additional nuclear power plants. In 2011, China announced plans to increase its nuclear capacity eight-fold before the end of the decade. Additionally, India has announced a 20-year plan to increase nuclear power production thirteen-fold. Other growing nations will likely follow, provided they have the capabilities to produce nuclear power.
It appears almost inevitable that uranium demand from these new and sizable locations will begin to outpace uranium supply, possibly creating dramatic shortages and price spikes to both uranium and the shares of uranium producers. Some have argued, though, that the future of nuclear power may not rely upon uranium so much as thorium. If such a switch to thorium were to occur, this could have a devastating effect on uranium prices.
Below are several companies that mine and/or provide uranium for energy production, and their 1-month, 6-month, and 12-month performance rates:
Cameco Corp.
1-month: 0.85%
6-month: -30.89%
12-month: -34.21%
Denison Mines Corp. (NYSEMKT:DNN)
1-month: 1.47%
6-month: -42.50%
12-month: -40.52%
Uranerz Energy Corp. (NYSEMKT:URZ)
1-month: 23.46%
6-month: -33.10%
12-month: 13.88%
Uranium Resources, Inc. (NASDAQ:URRE)
1-month: 54.74%
6-month: -33.32%
12-month: -7.13%
USEC Inc. (USU)
1-month: 2.75%
6-month: -58.07%
12-month: -64.10%
Other small miners may receive acquisition interest from the larger players after the Hathor deal is concluded. Hathor's board appears to prefer the Rio Tinto offer, though Cameco has not yet responded. Rio Tinto's deal is an all cash offer valued at about $572 million, which is about 11% higher than Cameco's prior offer.
In addition to these individual companies, some ETFs also allow investors to gain exposure to uranium pricing and demand. For example, the Global X Uranium ETF (NYSEARCA:URA) tracks the Solactive Uranium Index, which tracks the performance of the large players in the uranium mining industry. See the 2011 chart for URA, below: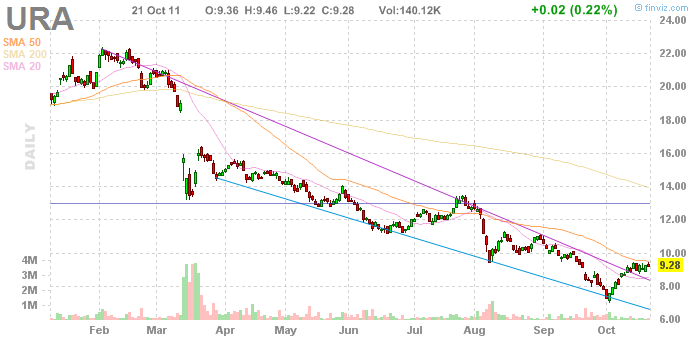 Click to enlarge
Another ETF option is the Market Vectors Nuclear Energy ETF (NYSEARCA:NLR), which also includes exposure to energy utilities with exposure to uranium pricing and use. It should be expected that this industry will continue to exhibit high risk/reward characteristics, and that investment allocations should be limited accordingly.
Disclosure: I have no positions in any stocks mentioned, and no plans to initiate any positions within the next 72 hours.
Disclaimer: This article is intended to be informative and should not be construed as personalized advice, as it does not take into account your specific situation or objectives.