Apple (NASDAQ:AAPL) was co-founded by the late visionary Steven Paul Jobs and has completely transformed every industry it operates in. The perpetual focus on innovation has made this one of the largest, fastest growing companies and Apple investors have been handsomely rewarded for their ownership over the years. I have recommended option strategies on Apple since 2010 with tremendous results. For reference, please view the first and other articles in the series to fully understand the strategy and its strong potential returns. As we enter the Post-Jobs era, it is even more important to keep a close eye on your investment and execute care with your trades.
Click to enlarge

Click to enlarge
A brief recap of this week in Apple (Down $28.87 (-6.8%)):
Apple gave back approximately half of its appreciation from the previous week when it tumbled nearly $30 following its fourth quarter earnings. I have already analyzed the quarter extensively so I will be brief.
Apple failed to meet analysts' estimates for the first time in years because the iPhone 4S/5 failed to ship in the summer as it traditionally has. Factoring in the blockbuster iPhone 4S sales, this short-term stumble does not appear to be indicative of Apple's long-term prospects. I do not think it would be unexpected for Apple to remain trapped in a tight range for the foreseeable future due to the fact that there will likely not be a product announcement before 2012. The stock should rebound leading up to the "iPad 3" and first quarter 2012 earnings but without a significant catalyst in the remaining months of the year I see Apple floundering between 390 and 410.
My prediction that Apple would return to $400 by year's end has already come true, now we will see if we can close the year above $400. Everyone who was upset to see their Apple stock called away two weeks ago should be delighted after this fresh buying opportunity. As I state nearly every week, "this strategy is focused on generating modest profits (i.e. base hits and doubles) over short period of times rather than huge profits. This strategy will not generate ridiculous profits (i.e. home runs) over a meager one week time horizon." If Apple does stay range-bound there are a variety of option strategies that you can employ such as the covered call, long condor or short straddle/strangle.
In the coming weeks you are going to read amazing stories about Steve Jobs and Apple from the biography that was released today. Most of the stories are likely simply interesting with no implications for the stock but some could be indicative of future products. For example, Jobs' quotes regarding a potential TV and intensified Android competition are both quite interesting and provide rare insight into Apple's future directions.
Below I present three possible scenarios and the potential returns for the October 28 monthly options (Source: TD Ameritrade). The first scenario represents a negative outlook for Apple while the final two scenarios are more reasonable. These scenarios are just projections and there is no guarantee that they will come to fruition. As a general rule, selling calls with higher strike prices has greater potential return but additional risk of loss due to the lower (or lack of) downside protection. For more information on the fundamentals of covered calls, consult Investopedia.
Click to enlarge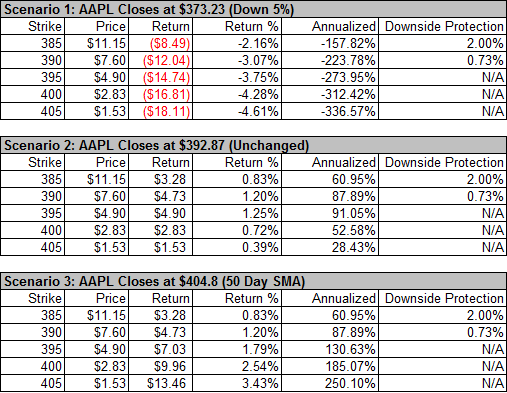 Click to enlarge
Additionally, if you would like even more information, I have prepared a sensitivity analysis for absolute return and percent returns, respectively. After studying the information above, these two charts make it easy to pick a strike price based on where you believe Apple will close on Friday.
Click to enlarge

Click to enlarge
With this information, executing a buy-write on AAPL October 28 (Monthly) 395s is the optimal risk-return strategy. If you are uncomfortable with this strategy I suggest a buy-write 400s. After earnings the time value of the options falls back to earth but the 395s still have a respectable. 1.3% time value ratio. Even if you are extremely bullish you can still profitably sell covered calls because Apple is volatile enough that you will have opportunities to repurchase on dips. An alternative approach is to sell out-of-the-money 390 puts and collect the premium without having to purchase the stock outright. Note that if the stock declines to the strike price, you are obligated to buy the stock (or closeout the position). If you agree with me that Apple will remain in a tight range, executing a short straddle on the 390s can generate the highest returns but also is more risky than the other strategies discussed.
Disclosure: Author is long AAPL, GOOG and T; planning to short AAPL October 28 400 Calls.