Several months ago, I wrote an article touting how a certain number of stocks were going to make me rich. The premise of the article surrounded well timed trades coupled with several catalysts that I thought (at the time) were going to propel the shares higher. Then it happened, the economy tanked and not only did it take down the market, it also took my portfolio with it. Though it now appears that wealth is the farthest thing from my portfolio, looking back, instead I should have titled the article "Giving these four stocks six months to make me smarter."
If you have been following my articles lately, by now you should have a pretty good idea of the stocks to which I am referring. They are Sirius XM (NASDAQ:SIRI), Cisco (NASDAQ:CSCO), Oracle (NASDAQ:ORCL) and Level 3 Communications (NASDAQ:LVLT). As mentioned, I have not gotten any richer (nor poorer for that matter) from holding these stocks through the summer doldrums. But the lessons that I have learned through what I can only describe as an "ordeal" (to me) is priceless in terms of how I will use it in future trades.
The good, the bad, the ugly and the "what in the heck were you thinking?"
The heading above is the best way that I can characterize my portfolio status since early July. The truth is, as disastrous as some of the selections were (surprisingly or not) there were a couple that performed better than expected. In the table below, you can see my stock recommendations as of July 7. There have been some changes since then, most notably with Research In Motion (RIMM) where I turned long, admittedly at the right time, but a tad too bullish – too soon. We'll go into those details as you read along.
July 7 Picks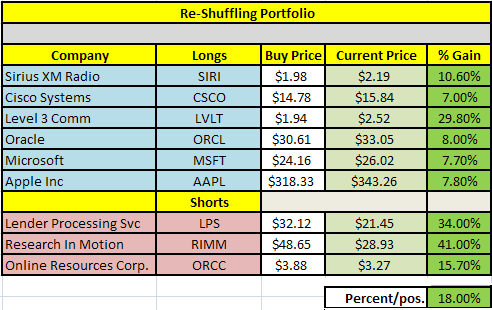 The Good
This list was tough to come up with. Admittedly, any stocks mentioned as "good" could qualify just by being among the few that "sucked less." But I owe you much more detailed analysis as you have come to expect.
Apple – Up 35%
First and foremost, the clear cut winner here is Apple (NASDAQ:AAPL). In fact, if I had a category for "great" it would be the only stock receiving consideration. I bought Apple at $318 on July 5. Since then, the stock has skyrocketed to a high of $426, yielding a robust 35% gain before experiencing its recent drop, one that I firmly believe will be short-lived as any price under $400 continues to present a great buying opportunity.
Click to enlarge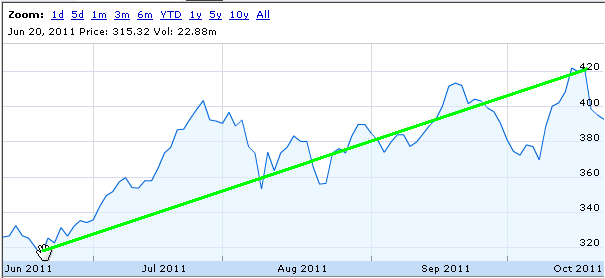 Apple disappointed investors last week when it reported iPhone sales that were far below analysts' expectations for the recent quarter. Apple reported sales of more than 17 million iPhones in its fiscal fourth quarter ended Sept. 24. While it was an increase from the same period last year of more than 14 million, it arrived much lower than the 20 million that analysts had been expecting. This current report notwithstanding, there continues to be no other place where I feel my money is more secure.
Cisco – Up 18%
Cisco's results have to be considered good here. While not having been the performer that Apple has, in this current economy it is hard to disparage an almost 20% gain, even in the most bullish markets. In a recent article I asked is Cisco ready to deliver for shareholders? I asked that rhetorically, knowing the answer (at least to me) is a resounding yes.
Click to enlarge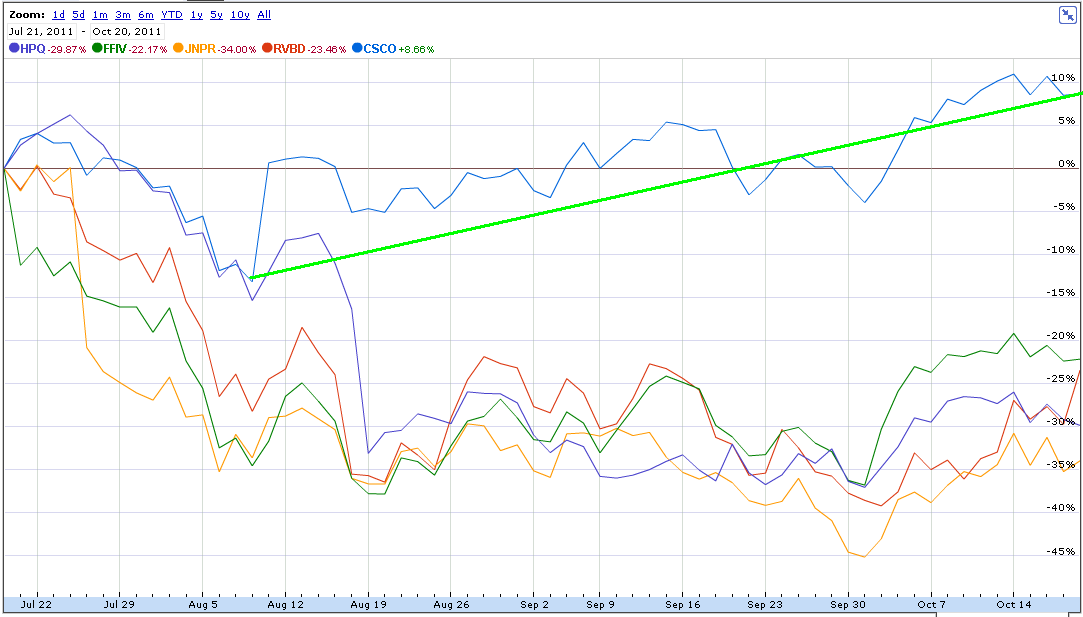 Since reaching its $13.30 low point of the year on August 9, Cisco has outperformed its peers by a significant margin and it doesn't appear to be slowing down any time soon. Currently sporting a respectable $17.38 price tag, it's only pennies away from the $18 price target I issued on July 1. At this point $20 before the end of the year is no longer out of the question.
Lender Processing Service – Up 53%
Though it appears that LPS at 53% has outperformed both Apple and Cisco in my portfolio, I covered my short at $24.52 before the additional gains could be earned. I first recommended LPS a short on March 23rd when it traded at $32. At the time of the recommendation I said the following:
In the current environment, they have gained significantly from the misfortunes of homeowners. They are on a pretty hot streak right now, but I don't expect it to last. Although LPS' lock on the mortgage processing market has built a moat around its business, revenue will most likely get knocked back once the spike in homeowner defaults passes. One has to also consider that increasing customer consolidation could weaken its moat.
But since then, though I no longer held a position, I continued to recommend the stock as a short. Currently trading at just above $15 after hitting a bottom at $12, this has been one of the best performing shorts that I have had for quite some time. My instincts then told me that the stock had the potential to drop below $20 in the wake of several cases involving mortgage fraud from various states. But I opted to not be greedy. It's one of those trades that I still regret even today.
The company, which handles more than half of U.S. mortgage foreclosures, faces various legal and regulatory issues, mainly over its alleged role in wrongful foreclosure practices. It recently entered into a consent order with the Federal Reserve, the Office of the Comptroller of the Currency and the Office of Thrift Supervision, related to services provided to mortgage servicers by its DocX and Default Solutions operations. These issues will not end any time soon, nor do I suspect that they will end well.
Online Resources Corporation – Up 35%
Another good short would have to be ORCC. I first recommended the stock as a short on March 28th, when the stock traded at $3.98. I said then that I didn't think the worst was over just yet - and pointed to the strength of the competition from the likes of Fiserv (NASDAQ:FISV), S1 Corporation (NASDAQ:SONE) and Accenture (NYSE:ACN) and how they will thwart its recovery efforts. I also indicated how the future was not going to be so bright for the company due to the improving performance of financial institutions and their growing IT budgets, ORCC will likely fall short of reaching even its lowered projections.
Fundamentally, the company now trades at about 20 times its forward earnings, compared with a median of 15.2 for the broader sector. Its shares received a boost over the last year, rising over 50% amid speculation that the company may be bought. On June 1, the stock closed at $3.27 after reaching a new 52-week low of $2.95 several weeks prior. It is worth noting that $2.90 was my initial short cover target when I first issued the recommendation on 3/28 which I then revised to $2.50. Now trading at $2.57 after having reached a 52-week low of $2.11 it is hard to continue the short recommendation, though I don't advise being long either.
Microsoft – Up 12.5%
Last but not least, Microsoft completes the list of "the good." Since I called for the removal of Steve Ballmer in the middle of June, Microsoft's stock has rallied by an impressive 12.5%. I think Ballmer has done an excellent job of maximizing Microsoft's profits and milking as much money as possible out of consumers and businesses for Microsoft products, primarily Windows and Office. But aside from the Skype acquisition, Ballmer has done little to propel the company forward technologically or strategically. The question remain, can Microsoft stay relevant?
The sad part of all of this is that Ballmer, by all accounts, is a great guy and a wonderful ambassador for Microsoft. Unfortunately, at such a critical point in the company's history, that is no longer what Microsoft needs at the moment - not as its two flagship products (Windows and Office) continue to be attacked by both Apple and Google (NASDAQ:GOOG). I think Microsoft is in dire need of someone who can methodically identify these threats and ways to mitigate their impact. But if the stock ends the year at my $30 target, I think I have to write a personal letter of apology to Mr. Ballmer. Frankly this is a bet that I hope I end up paying.
Summary
In the next part of the article, we will dissect "the bad, the ugly and the "what in the heck were you thinking." If you stock didn't get discussed here, you should have a pretty good idea that it will make it in the dubious part 2.
Disclosure: I am long SIRI, AAPL, CSCO, ORCL, RIMM.