Last Thursday, Chipotle Mexican Grill (NYSE:CMG) reported 3rd quarter earnings at $1.90 a share, beating estimates of $1.85. Revenue was also up 24% year over year, beating expectations by $9 million, and comparable store sales were up 11.3%. Most importantly was Chipotle's announcement that it plans to open 155-165 stores in 2012.
See the Full CMG Earnings Call Transcript
All of this was much to the chagrin of the Chipotle shorts, and there are a lot of them. Over the summer, articles were promoting Chipotle as a short, like this one, because investors felt that the stock had grown too quickly, the product was too costly, and the company would not be able to keep up with rising input costs. These claims have all fallen by the wayside as Chipotle's excellent quarter proves that the stock is accurately priced, if not under-priced, with plenty of room to prosper over the next several years.
There are many reasons why Chipotle is one of the most successful fast-food/fast-casual restaurants. For one, the product is unique. Chipotle is not serving cheeseburgers and fries, or pizza, or foot-long subs; it serves burritos and tacos made from fresh ingredients, and serves them well. The minimal number of products on the menu means that it can make them quickly, however the number condiments and toppings allows for individual customization, something that consumers prefer. Of course the argument can be made that it is in competition with Taco Bell (NYSE:YUM) since it serves similar products. But anyone could tell you that the two are far from similar. I should disclose that I am a proponent of Yum! Brands mainly because of the Chinese exposure, but Taco Bell and Chipotle could not be more different. One is fast-food and the other is fast-casual, so the desired dining experience is quite different. Second you get what you pay for: Chipotle uses the mentioned food with integrity and Taco Bell fights off allegations that its ground beef is not actually meat. Lastly they appeal to different demographics, which brings me to my next point.
The criticism that Chipotle products are overpriced is misguided. This company has proven time and time again that people are willing to pay $7-$10 for a burrito and chips (soft drinks are the killer at any fast-food restaurant). The reason for this is that the company is very careful in restaurant location selection. I first wrote on Chipotle when they were opening their 1000th location. That was almost a year and a half ago and Chipotle has only opened about 100 more locations since. This is because it owns all of these restaurants. By refusing to franchise the company can pick and choose locations where this pricing scheme is going to work. That is why there are Chipotle's all over lower Manhattan, and none in Southern New Jersey. Franchising certainly works for low-priced food, McDonald's (NYSE:MCD), which used to own a chunk of Chipotle, has revolutionized the industry by doing so, but for fast-causal restaurants free range franchising does not work. [Panera (NASDAQ:PNRA) franchises but only to certain areas and requires that the franchisor open over a dozen locations].
There are several other reasons why Chipotle is not set to slow down anytime soon. First, Chipotle now has two locations overseas, both of which are in London. If these prove to be successful there is a whole lot of opportunity over there. Second, is the new ShopHouse SouthEast Asian Kitchen, which opened its first location in Washington D.C. recently. Chipotle CEO, Monty Moran, claims that the food may come off as a little spicy at first, but he also said that critics thought the same of Chipotle early on. The style is very similar to Chipotle's in that there are relatively few menu choices but a surprising amount of different combinations when all is said and done. Basically each item started with one of several kinds of rice, then either steak, chicken, pork, or tofu is added, your choice of vegetable, then a sauce, a garnish, and a topping, using a similar assembly style line that is utilized at Chipotle. Again, this could take off in affluent cities and open up revenue streams.
Cramer has also hopped on board. Last Friday, he interviewed Moran on Mad Money, and said not to let the high P/E scare you off. I don't normally give too much credence to what Jim says, but it was the first episode that I have seen in a while and he seemed to be really pushing it.
The technicals are also on Chipotle's side. Since the recession the stock has been on a meteoric rise, as shown below. As you can see, its depths were below $50 when the world was in much more panic that it is currently in. More impressively, since April of 2009 the stock has been above its 200-day simple moving average, with a few scares over the summer. Few stocks can show that they have more than sextupled in three years.
As I mentioned above, the summer brought out all of the Chipotle shorts. Below is the six-month chart, which shows that things have been turbulent with some rather large swings. But the stock hit a 52-week high roughly a month ago. The stock is clearly still in an upward trend and I don't think it will be falling below $300 anytime soon.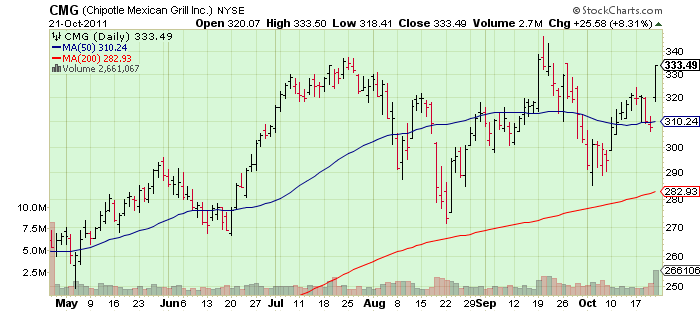 So with all of that being said, can Chipotle continue its dominance or is the stock too pricey? I would go with the former here. As mentioned, 2012 will bring an unprecedented number of store openings and possibly more overseas and additional ShopHouse's. Lastly, Chipotle has predicted single-digit sales growth through 2012. Now, growth is growth, but Chipotle has predicted this before and announced 11.3% on Thursday, so there may be an expectation that it will continue this trend. If you were to invest in Chipotle, you know that you are investing in an excellent company, with a superior product, a passion for the environment, few true competitors, and plenty of room for future growth.


Disclosure: I am long YUM.