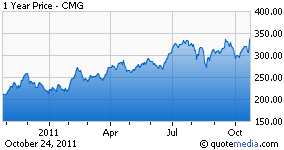 The markets have rocketed back up to the top end of their trading range in October. Despite the market's recent rise, several high profile, richly valued stocks have not participated and some have been crushed (Netflix (NFLX), Green Mountain Coffee Roasters (GMCR)). I would avoid this area until we get some clarity around a resolution in Europe and more visibility about the sustainability of worldwide growth.
One stock that I am personally short and I think investors should avoid is Chipotle Mexican Grill (CMG). The company just reported solid earnings, but it is still highly vulnerable to a pullback.
Chipotle Mexican Grill – "Chipotle Mexican Grill, Inc. develops and operates fast-casual, fresh Mexican food restaurants in the United States. It also operates restaurants in Toronto, Canada, and in London, the United Kingdom. As of October 20, 2011, it operated 1,100 restaurants." (Business Description from Yahoo Finance)
Eight reasons I am short Chipotle at $334 a share:
1. CMG has tried and failed to break out several times in the $320 to $335 range (see chart).
Click to enlarge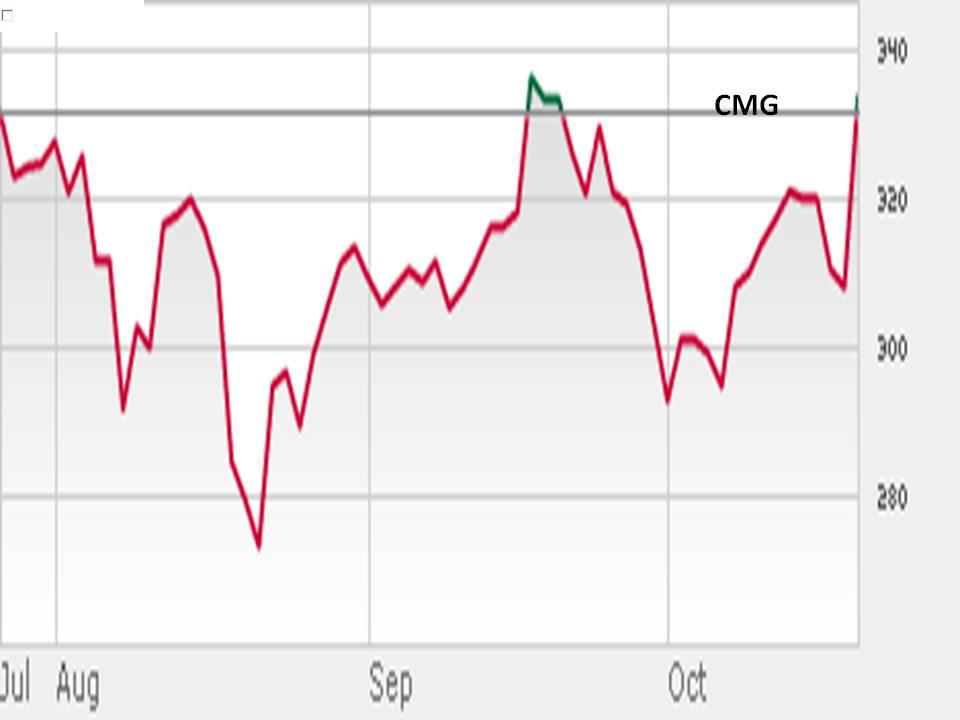 2. It is selling near the top of its five-year valuation range based in P/B, P/S, P/E and P/CF.
3. Its ability to beat consensus earnings estimates has decelerated in the recent quarters. In the last three quarters CMG has beat earnings estimates by an average of less than 1%. In the previous three quarters, CMG beat consensus estimates by an average of just under 12%.
4. Chipotle will have to cope with the same food inflation challenges that McDonald's (MCD) detailed in its recent earnings report.
5. From a common sense approach, valuing each of Chipotle's 1,100 restaurants at approximately $9mm each seems excessive given it probably takes $1mm - $2mm per store to build.
6. Chipotle has average 43% annual EPS growth over the past five years, but is only expected to deliver 20% growth this year.
7. Net Income is growing much faster than operating cash flow which I view as a red flag. From FY2008 to FY2010, earnings grew 129% but cash flow saw just a 46% increase.
8. Miller Tabak just downgraded the stock to "sell" after earnings with a price target of $245.
Additional disclosure: I have a bear call spread (DEC 355/360) open on CMG.