This article focuses upon CYS Investments (NYSE:CYS) and its October 20 third-quarter conference call. Overall, the mortgage real estate investment trust (mREIT) performed exceptionally well in light of Federal and Treasury impacts upon agency mortgage backed security (MBS) pricing. I applaud CYS Investment management and the success it achieved during a turbulent agency MBS time frame.





1. Performance
CYS Investments has, since its June 2009 trading history, provided investors with a total annualized rate of return of 12.2%. This assumes the dividend have not been reinvested. I prefer this assumption, as I personally use dividends to eat, pay bills, and pay monthly expenditures.





Investors can note, per the above table, CYS Investments has outperformed the agency mREIT behemoth Annaly (NYSE:NLY) during a comparable time frame. Only American Capital Agency Corp. (NASDAQ:AGNC) has outdistanced the competition, with a 23.3% total annualized rate-of-return.

CYS Investments beat Annaly by 130 basis points (12.2% vs. 10.9%), which is a noticeable data point on sector comparison.

Comparing CYS Investments with Hatteras Financial Corp (NYSE:HTS) is, perhaps, an unfair comparison. Although Hatteras is a 100% agency mREIT, its business model focuses on the adjustable-rate mortgage sector.

2. Book Value per Share
CYS Investments' book value per share increased by five percent to $12.98. Currently CYS Investments is trading at a 94.5% discount to book value per share. One common goal amongst agency-mREIT investors is to time share purchases near or below book value per share. Such is the case at present time. Remember the CYS Investments agency-MBS assets on the balance sheet are all backed by the Federal Government.

As the long-term mortgage rates decreased in yield, the compression caused the agency-MBS positions to increase in value. This increase in agency-MBS outweighed the negative swap (i.e. hedge) position on CYS Investments financial statements.

3. Dividend Yield
The stock offers a compelling 17.9% annual dividend yield. This assumes a $12.27 stock price and a $2.20 annual dividend. There will be fluctuations, of course, but a solid mid-teens dividend yield is what income investors seek. Fed Chairman Bernanke has promised low interest rates through mid 2013.

The country is in a time of deleveraging. The U.S. public markets and private citizens can no longer just borrow. Deleveraging involves spending less and paying more in taxes and living expenses. A mid-teens dividend yield provides comfort and financial solace during difficult economic times.

The key aspect is to understand what you are investing in. Agency mREITs invest in U.S. Federal Government bond instruments. The profits are made by the entities borrowing on the short-term rates, and buying longer-duration Government Sponsored Entities' MBS.

4. One-Time Charge is Complete
CYS Investments officially completed its nearly $5 million non-recurring expenses in early September. The cost was primarily for the acceleration of vesting in restricted stock. This cost was approximately a six-cent reduction in operating earnings.

5. Operation Twist Aftermath
The goal of Operation Twist was for yield compression in short-term and long-term bond securities. Although this initially occurred, it appears as the net yield curve is expanding. This would imply, if the trend continues, Operation Twist was not as successful as previously predicted.

CYS Investments suffered a decrease in MBS yield to 3.02%. This represents a 35-basis-point drop. The short-term funding rate, however, only marginally balanced out the long-term yield. The short terms cost of funds decreased by 7 basis points to 1.07%. This net yield income compression hit the net earnings of the company. The (35 basis points - 7 basis points = 28 basis points) compression impacts the earnings and dividend yield of agency mREITs.

6. Constant Prepayment Risk
CYS Investments provided commentary on their Constant Prepayment Risk (CPR), which directly hits the bottom line of mREITs. In the third quarter, the CPR increased to 14.9% from the 12% CPR rate in the second quarter. The company was experiencing increasing CPR percentages in October. This rate was as high as 19.8% due to the 30-year fixed rate decreasing.

This is good news and bad news. The 19.8% CPR is an invitation to lower earnings and dividends. The good news, however, is that the net yield curve has been expanding. This limits the impact of Operation Twists. Here are the
current
rates on the short-term and long-term Treasury Bill and Treasury Bond yield curve: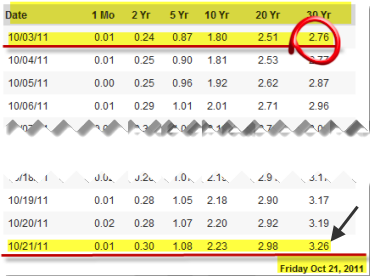 The reader can see the 30-year yield expanded to 3.26% on October 21 from a 2.76% rate on October 1. The 1-month yield remained flat at 1 basis point.


Summary
CYS Investments has proven to be a leader in the agency mREIT sector. The dividend was decreased by 5 cents to 55 cents for the 3rd quarter. This reflects the compression in the net yield curve. If Operation Twist continues to be a non-factor, the net yield curve should expand.

CYS Investments is trading at a discount to its book value per share. The equity should yield mid-teens dividend yields through at least mid-June 2013. Management has a strong pedigree from Goldman Sachs and the company is providing positive net returns to shareholders.

I would like to leave readers with a quote from Jesse Livermore, who said: "At times, the market can be difficult to navigate. Your navigation skills must be up to speed." I recommend completely understanding agency mREITs and their risks. Possess a well-rounded portfolio. If an investor is going to own a leveraged bond fund, which in essence is what an agency mREIT is, then use caution and intelligence as your guide.

Disclosure: I am long CYS, AGNC, NLY, HTS.