Last week was the first major week of quarterly earnings. Over 300 companies reported since Monday, and we have made a solid report card on how sectors and companies are faring.
Total Earnings Performance Week 1: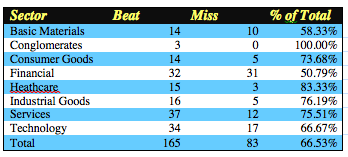 Overview: The top sectors for beating earnings estimates have been conglomerates (100%), healthcare (83%) and industrial goods (76%). Taking a look at the magnitude of these beats paints a more distinctive picture for the sectors that have done the best so far this earnings season:
Beat Earnings Estimates By Over 25%: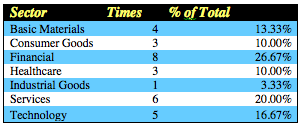 The best industries with large beats this week have been the financial and service industry, accounting for 27%, or 20% of the total large beats respectively.
Let's take a look at how the companies that beat have done so far this week. Here are the 13 companies that have over 10% gains this week:

The stocks leading the way this week stem from the financial, service and technology sectors, accounting for four, five and three of the best stocks this week respectively.
Although many stocks have done well this week, here are some of the sectors and stocks that have dropped due to missing this week's estimates:
Missed Earnings Estimates By Over 25%:

Down Over 10% This Week:

These last two charts show that the financial and technology sector have accounted for the biggest misses so far this week and that the technology sector has accounted for six of the 10 biggest losses this week.
So what does this tell us?
The service industry is continuing its uptrend from Q3, accounting for some of the biggest gains this week and a 75% consistency in beating consensus earnings estimates.
The worst industry so far this week has been technology, accounting for six of the largest losses this week and the second lowest consistency for beating earnings estimates. The technology sector when it missed missed by over 25%, five out of 17 times (29% of the time) and have seen huge losses as a result.
Disclosure: I have no positions in any stocks mentioned, and no plans to initiate any positions within the next 72 hours.