For the last six months, we have repeatedly criticizing Netflix's (NASDAQ:NFLX) meteoric rise, fuelled mostly by raving reviews and recommendations by analysts and financial journalists. Now, these criticisms come true, as the company reported a larger than expected decline in its subscriber base, losses for its international operations, and a higher than expected content acquisition cost—the stock lost 15 percent of its market value in after hours trading.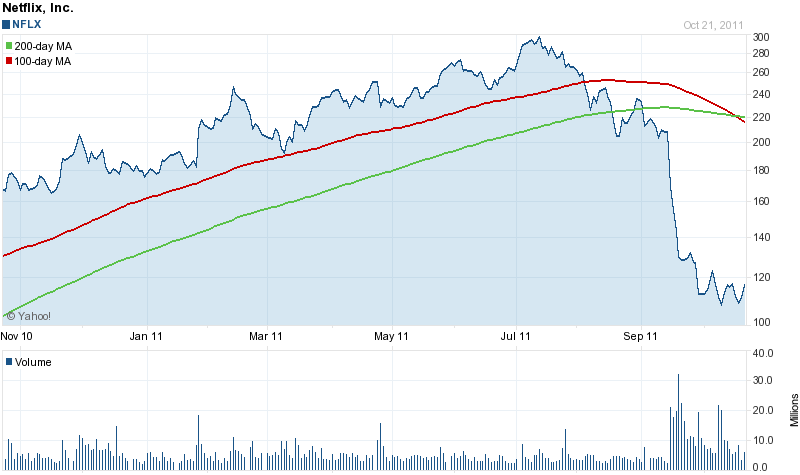 Click to enlarge
Signs of trouble for Netflix started last month when the company tested the loyalty of its subscribers by raising the price of its video and streaming and mail order bundle. Subscribers rushed for the exits, for competing services, from Amazon.com (NASDAQ:AMZN), Google (NASDAQ:GOOG) and Wal-Mart (NYSE:WMT) shaving close to 40 percent from its stock price.
Two weeks later, Netflix unbundled its services into two separate services, streaming, and mail order—to be promoted under a separate entity, Qwikster. Big mistake, again, as it eroded further the uniqueness of its offerings, undermining further its pricing power–it made it easier for subscribers to compare competing offerings for each service.
More recently, Netflix abandoned this plan, deciding to keep the two services offered together under the Netflix name—correcting its second mistake.
Netflix's sweeping moves won't fix the company's fundamental problem, its business model. Like Amazon.com, the company sells something to the end customers. But unlike Amazon.com, Netflix doesn't own anything. It doesn't have any production facilities, any warehouses, just a site where it sells somebody else's products—content developed by Starz, CBS (NYSE:CBS), and the like.
In the short-term, this may be a highly profitable business. In the long-term, however, profits attract competition; and the company is at the mercy of content providers that have a number of options: They can sell their content directly to the end customers or they can auction it to the highest bidder (streaming-video companies), allowing each to earn what economists call "normal profit," an average rate of return; CBS' robust profit report last month confirms this point. This means that Netflix's stock deserves a PE valuation closer to 15, which is the PE for NASDAQ:QQQ, rather than closer to 32—after the recent correction.
Netflix's sweeping moves remind those of AOL (NYSE:AOL) back in the early Internet days; they didn't correct AOL's strategic mistakes then, and they won't solve Netflix's problems now. Investors should stay away until the stock's PE drops below that of Apple (NASDAQ:AAPL), which would imply a price of $50.
Disclosure: I am short NFLX.