When I wrote, back in July, that Netflix (NASDAQ:NFLX) CEO Reed Hastings might have made the biggest mistake of his career by suggesting a $1 billion fourth quarter for the company, little did I know he would turn his mistake-making into a competition.
As I noted yesterday, all that really mattered in relation to Netflix's Q3 earnings call was how the company guided things for Q4. But Hastings fooled me again, making me look like a genius in the process. I think I know his company better than he does.
While it was not much of a shock to see the company beat Q3 estimates, even I was not prepared for how bad they see Q4 shaping up. Here's the official word from Netflix's Q3 letter to shareholders: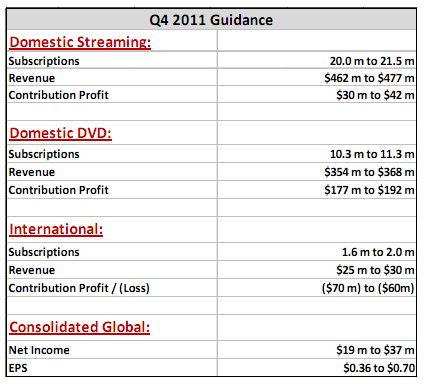 That's RIMM-like guidance. But, what's even more incredible is something Netflix buried in its letter to shareholders. Something that nobody seemed to notice in the immediate aftermath of the earnings release. The first mention of this came in a Reuters story that hit more than 30 minutes after Netflix put out its numbers. Here's it is, straight from the letter: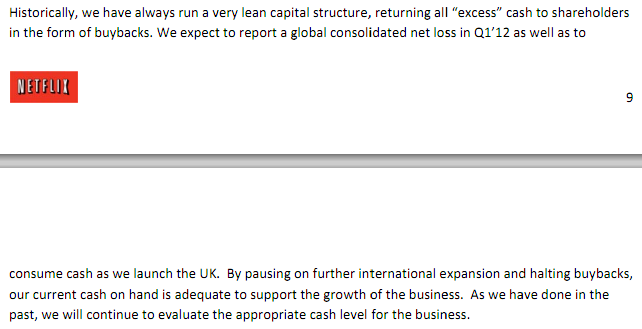 Yes, you read that correctly, Netflix expects to report a loss in the first quarter of 2012. Now, let me not so humbly direct you to something I wrote back in July and have driven home repeatedly since then:
With the call about two weeks away, it makes sense to review several areas of concern, which I think will lead to further earnings pressure. It's telling that the company guided revenue to the upside, but EPS to the downside. This reflects the rising expenses that will come to roost for the company at some point. If Netflix does not miss this quarter, I believe it will report EPS to the low end of its range. I fully expect an earnings miss - or further significant downside guidance - over the next several quarters (emphasis added).
Immediately after Netflix released earnings, article after article from outlets as esteemed as The Wall Street Journal and Bloomberg focused on "Subscriber Loss Worse Than Expected," while ignoring the reality that has always and will always underlie Netflix's woes. I touched on it in the same article where I predicted lower guidance and the now eventual-EPS miss:
My view meshes not only with what [CBS (NYSE:CBS) President Leslie] Moonves said, but with the move Netflix competitors appear to be making for Hulu. By lowering EPS expectations amidst increasing revenues, Netlix clearly concedes that it's feeling at least some pressure from having to pony up increasing amounts of money for content.

CBS CFO Joe Ianniello's comments lead me to believe that Netflix will need to guide down or miss on EPS sooner rather than later:

As far as Netflix goes, the way we recognize the revenue is when we make those shows available to Netflix, it is not all in one quarter but it does - a significant portion does start in Q2. But again, like I said, it's when we choose to make those shows available to them is when we recognize the revenue. So it will be over a period of time. But again, the biggest cost starting in Q2 [emphasis added].
And that analysis came before the price hike and the Qwikster disaster. Oddly, those two very public embarrassments have helped overshadow the real story that I, and a handful of other Netflix bears, have been telling all along.
Netflix never had a sustainable business model. The company relied on subscriber growth, which would have hit a wall even without the above-mentioned debacles, and savings from diminishing DVD rentals to fund digital content licensing costs. There was no way that was ever going to work out. I've made the point every way imaginable for months. And, finally, I've been vindicated.
Frankly, there's not much more that I can say. I leave you with two more very simply and straightforward thoughts.
First, the title of an interview article I published with Len Brecken, one of the few people to get it right on Netflix more than me: Len Brecken's Netflix Short Case, Part 2: Sub-$5 Stock or Bankrupt by the End of 2012? Netflix is starting to look a lot like Webvan.
Speaking of that and Hastings and two other parts of the story I forgot to mention this time - option exercising by management and the end of Netflix's misguided stock buybacks - consider what I wrote early last month in relation to the SEC's apparent concern over how Netflix reports subscriber metrics:
The entire Netflix tale - namely too much, too fast market expansion and a sweeter than sweet deal for the CEO - reminds me of a dot-com debacle that Netflix's eventual demise could rival. That's the story of Webvan.

Like Netflix, Webvan provided a service that lots of people, particularly in the San Francisco Bay Area, loved. I still remember the famous green bins and Webvan trucks littering my neighborhood when I lived in "The City."

Given his ability to cash out options practically every week, I wonder if Hastings employment contract looks anything like that of former Webvan CEO George Sheehan's. As CNET noted back in 2001, the contract calls for Webvan to pay Sheehan $375,000 per year for the rest of his life. I presume he receives that yearly take to this day.

The SEC thinks the disclosure of churn and related subscriber metrics would benefit current and prospective Netflix investors. I agree. In addition to the things many of us have discussed for months, such as Netflix's treatment of content acquisition charges, I wonder if the SEC should be equally as concerned with CEOs who fail, yet set themselves up for life on the backs of shareholders.
And, lastly, tomorrow morning, shortly after the open, I will report on the status of the NFLX March 2012 $80 puts I hold in my hypothetical $10,000 portfolio, as I kick myself for not actually buying some risky put prior to Monday's close:

Yeah, we'll see alright. Stay tuned. And thanks in advance for the excellent discussions that follow in the comments of every single one of my Netflix articles.
Disclosure: I have no positions in any stocks mentioned, but may initiate a short position in NFLX over the next 72 hours.