Last week the Arizona Department of Insurance seized the main operating subsidiary of mortgage insurer PMI Group Inc. (NYSE:PMI). GEI News posted a news summary Sunday (October 23) covering information that was readily available in the public domain about the company. This raises the question of whether this situation involves "control fraud" and this article will attempt to lay the foundations for a case study of PMI and its collapse within that context. The next sections will provide some background information for those who are not familiar with control fraud and private mortgage insurance. Those who are familiar with these topics should skip ahead to the third section "Stock Held by Insiders."
Control Fraud and William K. Black
Control fraud is a concept developed by William K. Black, professor of economics and law at the University of Missouri, Kansas City. Prof. Black has extensive experience with prosecution of fraud. He held lead legal counsel roles in agencies resolving the Savings and Loan scandal in the 1980s. He is considered one of the leading experts in the field of white collar crime. A full bio is available here.
Private Mortgage Insurance
PMI Group Inc. operated in the private mortgage insurance business (through its subsidiary, PMI Mortgage Insurance Inc., which was taken over by Arizona insurance regulators). Private mortgage insurance has traditionally been required by lenders to insure that portion of the top 20% of a property value was included in the mortgage. A borrower was able to avoid private mortgage insurance in either of two ways: (1) make a 20% or larger down payment or (2) obtained a FHA guaranteed mortgage. With many low (or no) down payment mortgages in the housing bubble, most of the recent mortgage defaults have had claims from lenders, either against private insurers or the FHA (Federal Housing Administration).
Stock Held by Insiders
From the GEI News article:
According to Thompson Reuters data at Yahoo Finance, insiders hold 9.37 million shares of stock (5.37% of float). However, the top five executives held only 193,902 shares, as listed in the following table from Yahoo Finance:

The total of salaries for the top five executives is $7.63 million. Yet, at the average stock price in 2010 of approximately $3.70, the five listed above only had about $700,000 at risk in company stock, less than 10% of their aggregate annual salaries. Who were the "sucker" insiders who held the other 8.7 million shares? It seems they just weren't as "smart" as the top five executives.
A critical element here involves defining who the other "insiders" were. It is possible that these 8.7 million shares were largely employee stock purchase plan holdings and/or in employee retirement accounts. When Enron went under, thousands of employees saw their retirement savings wiped out. Could that have happened to the 700 plus employees here? In April, 2010 PMI traded above $7. The value of 8.7 million shares at that time was about $60 million. In 2007 PMI traded above $50 a share – that would have been a value well over $400 million.
Area number one to investigate for the control fraud case: Who were the holders of the 8.7 million shares not accounted for by the top executives?
Stock Trading Activity CEO L. Stephen Smith
The following data was obtained from the insider trading data compiled at Yahoo Finance: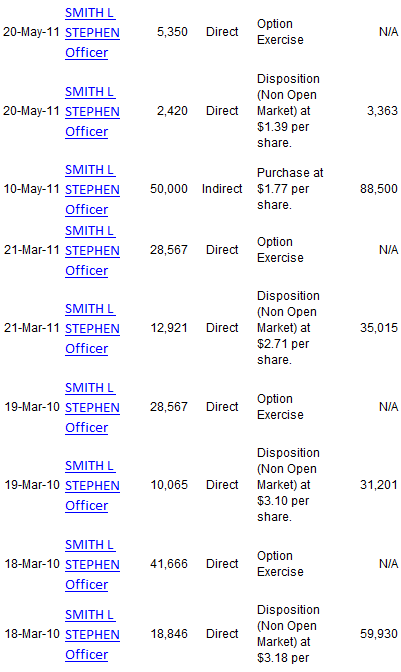 Click to enlarge
The following is a possible explanation of how the above transactions came about. The explanation is subject to revision if further information becomes available.
Mr. Smith is shown over the past two years to have made a number of direct stock transactions (trades with the company) involving options exercise and disposition. These were presumably made so that the net cash cost to Mr. Smith was canceled out. In other words, looking at May 20, 2011, for example, it appears he exercised options for 5,350 shares, for which he owed the company based on the strike price. On the same date he simultaneously sold 2,420 shares back to the company, presumably to pay the amount owed. Note: The number of shares sold could have been more than required to pay for the exercise to offset personal income tax liabilities.
If we ignore the question of offsetting tax liability, the process described above implies that the exercise price was $0.63. This is far below the stock price any time for the ten years preceding the exercise date. If the above interpretation is correct, an important question arises: How was Mr. Smith awarded an option grant at a few percent of market value at the time the options were granted? This is another area that needs investigation. It appears that the other top executives were privileged to similar option pricing advantages.
Stock Ownership by CEO Smith
According to data in the GEI News article, on May 20, 2011 Mr. Smith was the beneficial owner of 82,364 shares reported May 20, 2011. This doesn't square with the total of the net 82,718 shares of stock he appears to have netted from the simultaneous exercise and sale back to the company in 2010 and 2011, plus the 50,000 shares he bought on the open market on May 10, 2011. We must assume at this point that this is merely a reporting error, but it is something that should be clarified.
There is a more important question. Mr. Smith has been CEO of PMI since June, 2006 and Chairman of the Board since May 2007. He held other high executive positions since May 1994 and has been employed by PMI since 1979. Did he not own PMI stock before 2010? When and how did he dispose of that stock? Did other top executives, who are also shown in the public data to own less stock than Mr. Smith, also dispose of significant amounts of stock in prior years?
If these top executives were disposing of almost all the PMI stock over the years, how is it that other insiders ended up holding a bag containing 8.7 million shares? Or, if these executives never owned significant stock, how could they have supported an employee stock purchase plan or company stock in pension funds, if either occurred?
All of these questions need to be investigated to develop a case study.
Disclosure of Material Fact
From GEI News:
Here are some quotes from the 2010 annual report for PMI, published early this year:

In spite of a generally improving economy, high unemployment and declining home prices continued to challenge the mortgage insurance industry and PMI in 2010. In the face of these economic headwinds, however, PMI enhanced its capital and liquidity, reduced its losses and loss adjustment expenses (total incurred losses), and continued to create the conditions necessary for its return to long-term profitability.

……

We are pleased with the high quality of PMI's new insurance written in 2010. As the year progressed, we saw a modest shift back to private mortgage insurance from government insurance programs, such as the Federal Housing Administration (FHA).

…..

We believe that private capital in the form of private mortgage insurance is a model that works. Our value proposition has been validated through the most stressed market conditions seen since the Great Depression. Private mortgage insurance represents highly regulated, countercyclical capital that has reduced losses for our policyholders and, in doing so, has proven its integral role to homeownership.

…..

In closing, I believe PMI made measurable and significant progress in 2010 towards stabilizing our Company, mitigating losses, booking high-quality new business and enhancing our capital and liquidity. As the Federal Government continues to take the necessary steps to stabilize and reform the housing market, PMI is well positioned to be an integral part of that effort. PMI continues to have an extraordinary group of professionals committed to our mission, vision and values. Also, I would like to thank Wayne E. Hedien for his many years of exemplary leadership and service on PMI's Board of Directors. Finally, I thank you, our shareholders, for your continued confidence in PMI.
These are innocuous statements signed by a CEO who had another $2.88 million to collect in salary if he could keep a zombie walking for another year and only about $200,000 or so in stock value at risk if he failed. And what was Mr. Smith's motivation to spend $88,500 to buy more stock on May 10, 2011? Econintersect has found no further information in that regard.
There are serious questions implied here. If the top executives were systematically unloading stock over the years and retaining no real equity interest in the company (or, if they never held significant equity positions at all), how can they have had any credibility in representing the long-term interests of the company?
Defective Executive Compensation Plans
An ongoing problem that our current corporate system has is that compensation is not sufficiently tied to long-term performance. I wrote the following in 2010 about Joseph Cassano, the AIG executive who managed the AIG Financial Products Group that created all the derivative contracts that brought the entire corporation down:
Cassano retired from AIG in early 2008, took a $1 million a month consultancy with the company and was fired in March, 2008, according to Michael Daly in the New York Daily News. Daly said that, when all was said and done, Cassano walked away with $315 million - quite a reward for one who brought down the world's largest insurance conglomerate.

This situation is an example of the capitalization of gains with the socialization of losses. There are many more examples (such as many top executives of banks and corporations such as General Motors), but Cassano serves well as the example of the day.

Why should Cassano be compensated for presiding over what turned out to be one of history's greatest financial collapses. By his own admission he did not know what he was doing: He depended on "experts". That is worth $315 million?

I'm sure these experts were all well compensated, as well, and this is another problem. If someone misjudges risk, why should they be well paid for that judgment without having to suffer economic loss for misjudgment?

This brings us to the bottom line of the problem with our socialist-capitalist hybrid system: A few are in the position to gain riches through risky and reckless action without any downside consequences. The many are left in a position to gain few riches but realize all the downside.

The ideal of capitalism is that many individual self interests collectively produce a public good. This breaks down when many of the most powerful interests operate on the credo of "take the money and run".

Until the compensation plans of corporations reflect long term performance and penalize short term failures we have a structural weakness in our business models. We have a system that rewards short term gains and, in effect, imposes little penalty for long term failure. Sure Cassano was fired, but he kept the millions he made while AIG essentially went into government receivership.
I tried to get the topic on the table in the 2010 discussion with Tim Geithner but the conversation soon diverted to something else.
So I continue to feel quixotic. Until the "quick buck is the best buck" mentality leaves the consciousness of our corporate executives we will remain very susceptible to being victimized by Control Fraud.
Disclosure: I have no positions in any stocks mentioned, and no plans to initiate any positions within the next 72 hours.