Cardinal Health (NYSE:CAH) is slated to report first-quarter fiscal 2012 results on Thursday, October 27. The current Zacks Consensus Estimate for the first quarter is 72 cents, representing an estimated 12.39% year-over-year hike.
Fourth Quarter Recap
Cardinal posted fourth quarter adjusted earnings per share from continuing operations of 59 cents, beating the Zacks Consensus Estimate by a penny and exceeding the year-ago earnings of 50 cents. Total revenues were $26.8 billion in the quarter, up about 9% year over year, beating the Zacks Consensus Estimate of $26.2 billion.
The Pharmaceutical segment reported revenues of $24.5 billion, up approximately 10% year over year, including substantial contribution from prior acquisitions. Healthy contribution from the company's generics program also supported growth. The business experienced a 20% increase in sales to non-bulk customers.
Revenues from the Medical segment were $2.3 billion in the fourth quarter, up 7%, due to higher sales to pre-existing clients.
Estimate Revision Trend
Agreement
Estimates for the first quarter have been largely stagnant. Out of a total of 14 analysts covering the stock, there were no revisions in the prior week while there were two revisions in the past month, one in the upward direction and one downwards.
With regard to estimates for fiscal 2011, no analyst (out of 15) raised or lowered his/her estimate over the past week. There was a sole upward revision during the past month. The current Zacks Consensus Estimate for fiscal 2012 is $3.17, representing an estimated 18.88% year-over-year increase.
Magnitude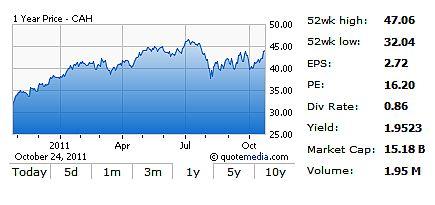 The magnitude of estimate revision for the first quarter, as well as fiscal 2012, has been static over the prior week as well as the past month.
Cardinal has generated positive surprises in each of the previous four quarters and we believe the same trend may continue. The company produced an average positive earnings surprise of 11.07% over the four preceding quarters, meaning that it beat the Zacks Consensus Estimate by that measure.
Our Take
Cardinal Health is ranked on the Fortune 500. With $103 billion in sales, the company remains one of the largest distributors of pharmaceuticals and medical supplies in the U.S., with a diversified product portfolio that may partly insulate it from the current economic uncertainty. The company stands to gain from the gradual shift in mix from the bulk to the higher-margin non-bulk sector of the Pharmaceutical segment. It is also riding the generic wave. Overall, Cardinal is benefiting from a spate of tuck-in acquisitions and capital deployment strategies.
However, the company faces tough competition across all its business segments, which may continue to pressure pricing and margins. Its major competitors in the pharmaceutical supply chain segment include McKesson Corp. (NYSE:MCK) and AmerisourceBergen Corp. (NYSE:ABC). We currently have a long-term Outperform rating on Cardinal supported by a short-term Zacks #2 Rank (Buy).
Read the full analyst report on CAH

Read the full analyst report on ABC

Read the full analyst report on MCK