Here's a disclaimer from the get-go. If the European Union fails to persuade the world that they've got a workable, TARP-like plan on Wednesday, feel free to disregard these three reasons to add more Stock ETFs to your current allocation.
1. 2008 Or 1998? Endless comparisons have been made between 2011's sovereign debt toxicity and 2008's subprime loan catastrophe. However, in 2008, political leaders did not have a template for bailing out "the too big too fail" financial sector. It follows that hope in 2011 - possibly springing eternal - may be shifting toward faith in the creation of a European solution. Indeed, the U.S. may have inadvertently paved the way for an approach to European bank recapitalization.
Similarly, during 1998's Asian currency crisis, central banks and private investors presented a satisfactory "bail out" of hedge fund offender, Long-Term Capital Management. Investors returned to risk assets once faith in the global financial system had been restored.
In 1998 and in 2011, the primary antagonist(s) for the sell-offs and subsequent rallies were/are "bankrupt" sovereigns. In contrast, 2008's troubles weren't restricted to subprime loans; 2008 had the overhang of economic contraction and bubble-bursting real estate losses from 2007.
In other words, if comparisons must be made (and perhaps they shouldn't be made), 2011 may not have as much baggage as 2008. Removing the possibility of systemic collapse from the investing landscape in 2011, then, may result in a bull market turnaround akin to the one that occurred in 1998.
In 1998, the best performing Q4 sector was technology. In 2011, you can expect the same, but with P/E price tags that are half what they were 13 years ago. Consider iShares DJ Technology (NYSEARCA:IYW) and PowerShares NASDAQ 100 (NASDAQ:QQQ).
2. Hard Landing Or Soft Landing For China? Not only are the economic circumstances for the world's second largest economy remarkably positive, they're downright enviable. What's more, fears of economic hardship for the mainland have been vastly overblown, leaving many Chinese stocks cheaper than they've been in decades.
Bears have argued that China won't be able to manage fading demand from the Europe and the U.S. Indeed, annual export growth to the European Union has slowed dramatically and China's trade surplus with world partners continues to drift lower. Yet domestic demand has helped keep GDP in the 9% range, inflation has simmered down immensely and China will soon shift from monetary tightening to neutral/easing by the start of 2012.
Some would even say that, while not official, China already shifted to neutral monetary policy. After all, there are no new anticipated rate hikes on the horizon. And investors in Asian growth have been waiting for China to take their foot off the brakes for a year and a half.
Keep in mind, though, stock markets are forward-looking. In fact, China's stock market will likely begin rebounding here in Q4, even if China didn't end its fight against inflation until the end of March 2012. It follows that investment in China directly via SPDR S&P China (NYSEARCA:GXC), or indirectly through significant trading partners like Australia (NYSEARCA:EWA) and Malaysia (NYSEARCA:EWM), should prove particularly rewarding.
3. October 3 Lows Or Brand New Lows? Granted, any shrewd analyst could tick off dozens of reasons to stay on the sidelines altogether. Stagflation in the industrialized world, inflation in the emerging world, political gridlock, ongoing wars ... just to name a few.
On the other hand, it's difficult to dismiss a wide variety of favorable trends. Corporations are earning more than they ever have, and have been beating analyst estimates at a 65%-plus clip for eight consecutive quarters. And there's no sign of annualized earnings contraction on the horizon. That makes it awfully difficult to dismiss the fact that the S&P 500 has broken out of a 1096-1233 trading range; it is equally difficult to set aside the reality that Vanguard Emerging Markets (NYSEARCA:VWO) has finally reclaimed its 50-day moving average.
Click to enlarge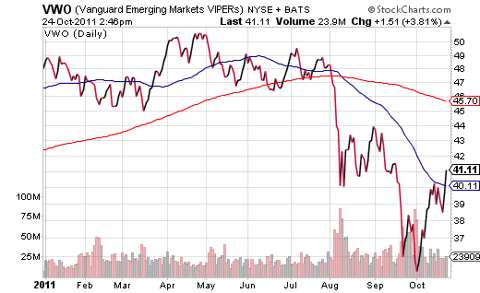 Click to enlarge
Am I reallocating to emerging markets? It has been a slow process, but yes ... I've been adding to PowerShares Emerging Market Sovereign Debt (NYSEARCA:PCY), WisdomTree Asia Local Debt (NYSEARCA:ALD) as well as China (GXC), Indonesia (NYSEARCA:IDX) and Vanguard Emerging Markets (VWO).
Again, if the EU pulls its weight, the October 3 lows are unlikely to be seen again in 2011. And that makes the risk of incremental purchasing into a variety of Stock ETFs less "risky."
Disclosure: Gary Gordon, MS, CFP is the president of Pacific Park Financial, Inc., a Registered Investment Adviser with the SEC. Gary Gordon, Pacific Park Financial, Inc, and/or its clients may hold positions in the ETFs, mutual funds, and/or any investment asset mentioned above. The commentary does not constitute individualized investment advice. The opinions offered herein are not personalized recommendations to buy, sell or hold securities. At times, issuers of exchange-traded products compensate Pacific Park Financial, Inc. or its subsidiaries for advertising at the ETF Expert web site. ETF Expert content is created independently of any advertising relationships.