Why would a company that supposedly has a breakup value of $200 million be cursed with a market value of just $70 million? The simple reason is fear, and in IPSU's case, the following myths are certainly dominating investors' rattled nerves.
(1) Its refinery operations are unviable and will continue to be a source of red ink.
(2) Shareholder class action suits will result in large liability for the company.
(3) 16 lawsuits remaining from the Port Wentworth Explosion pose additional liability to the company.
(4) Port Wentworth production issues will never be rectified.
(5) The LSR Joint Venture refinery is destined to be unprofitable.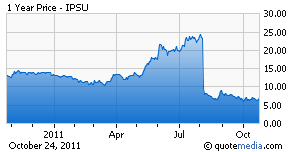 The myths debunked: (1) People will continue to eat sugar and the cycle of commodity price swings is simply an undeniable reality connected with the sugar business. IPSU's fundamentals have not materially changed, as last quarter's poor results were a temporary phenomenon created by the perfect storm, where the company's rate of increase relevant to its input costs quickly overwhelmed the rate those costs could be passed on. Next time around, the opposite phenomenon could occur.
(2) Since the company does not issue guidance, how could it be liable for the volatility of its earnings? The effect of market forces is no fault of management, therefore, the lawsuits are frivolous and without merit. Management has not commented on the suits because doing so could be construed as legitimizing or dignifying them. (3) 66% of the previous lawsuits connected with the Port Wentworth tragedy have been settled, so the trend is in favor of resolution, as its insurance coverage remains adequate enough to cover its remaining suits (the company has a $100 million general liability policy in effect, as well as worker's compensation coverage).
(4) The Port Wentworth production bugs have been persistent, but those issues are near their end as management has continued to improve on daily melt rates. (5)The LSR Gramercy refinery should start operation by the end of next month. It is a brand new plant, so obviously there will be production setbacks to deal with during the startup phase, however, Cargill is the best in the business, and its expertise will ultimately aid in the plant producing at optimum levels. As a side note, IPSU will continue its 100% ownership of its small bag packing facility located adjacent to the new plant.
Is a takeover attempt in the cards? The cheaper the shares get, the higher the susceptibility the company becomes as a takeover target by either a private equity firm or competitor. Adding to that premise are the facts that the company does not have a poison pill in effect to thwart off unwanted suitors, and possess a market cap at a mere 1/3 of its underlying inherent value. The most obvious suitors (other than PE firms) looking to exploit a situation, with so much low hanging fruit, would be privately held Cargill, and Dominos Foods, as well as publicly traded agricultural enterprises: Corn Products (CPO), Cosan (CZZ) & Archer Daniels Midland (ADM).
Analyst commentary: PAA analyst Brad Safalow stressed that although its fundamentals are improving (the spread between raw and refined is widening), it will take some time before its Port Wentworth facility reaches full production (5 million pounds per day melt rate). He also noted that despite investors losing confidence in management, no changes are imminent, but the company is ripe for shareholder activism (Passport Capital holds IPSU's largest stake at 10%). Analysts from both BWS Financial and Janney Montgomery Scott have been extremely quiet since its market cap implosion and could provide updates soon.
Final thoughts: Resist the temptation of buying a larger position at these levels until the shares start to exhibit a more positive trend (such as three consecutive trading days above $7.50) because it is better to pay more and get the trend on your side than to try and guess a bottom. The next news event is not scheduled until mid December, when fourth quarter results are reported, and analyst estimates this time around should be quite easy to beat (consensus: 91 cent loss on sales of $211 million), so loading up on this one as an earnings play could be a profitable move.