"I think you could make available the Second Coming in a subscription model, and it might not be successful."

-Steve Jobs
Before we get into Netflix (NASDAQ:NFLX), I'd like everyone re-read that quote from Apple's (NASDAQ:AAPL) late Steve Jobs, and take a minute to consider the meaning, who said it, and its significance when it comes to talking about Netflix.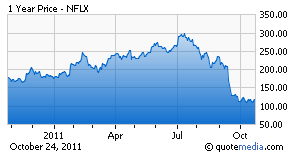 Ok, now with that in mind, let's look at the most glaring sentence in the entire earnings report, from the letter to shareholders: "We expect to report a global consolidated net loss Q1'12 as well as to consume cash as we launch the UK." You read that right, Netflix is saying it will lose money starting in Q1 2012. Isn't this supposed to be a growth company dominating an industry?
There should be a flurry of questions going through everyone's head right now. How does a company that's allegedly "disruptive," "groundbreaking" and "rapidly growing" go from earning $4/share in 2011 to losing money in Q1 of 2012? As shocking as this information may be, it's completely logical and the arguments have been made for months; it's just hard to find them among all the outrageous and poorly researched articles about "Netflix is Taking over the World," "Netflix is a Buyout Target," and "Netflix has upside of $200 a share."
Netflix is in a Death Spiral toward bankruptcy. That's the opposite of the Reed Hastings' "Virtuous Cycle" that he used to rave about. The Virtuous Cycle was essentially the idea that acquiring more customers means more money, which means more and better content, which means more customers, etc. The Death Spiral is the opposite, it's a negative feedback loop that goes like this: Fewer customers means less revenue, which means less content, which means less customers, etc. It will be incredibly hard to reverse and will crush the balance sheet and bankrupt this company, that is a certainty, and they are now officially stuck in it.
For some reason people are surprised that this is happening, but it was always going to happen, it was just a matter of time. Netflix has serious competitors, and together, they are all bidding up the price of content. Look no further than Netflix paying $30 million PER MOVIE from DreamWorks (NASDAQ:DWA) to license it, that's 50% more than HBO ever paid. Or how about $1 billion for CW reruns (90210, Gossip Girl, etc.) Content costs are skyrocketing, Netflix can't say no to a content deal, and the simple fact is that there are not enough potential American and Canadian customers available for Netflix to keep up with the ballooning cost of content.
Yes, if they had 50 million subscribers, then the Death Spiral would not be here yet, but it would have happened eventually. At some point a model like this is going to collapse. When the survival of any business is 100% dependent upon continued revenue growth, then there is a huge problem. All it takes is one variable to snap and the whole thing starts to unwind. For Netflix, that one thing is the content costs - it simply does not have the revenue to support them, nor can it get the revenue.
Remember how Reed Hastings said the price increase was "necessary?" It was incredibly necessary, the only problem is that it's also incapable of generating enough revenue to halt the Death Spiral and resuscitate the Virtuous Cycle. The price increase didn't take effect until September 1st, so we only have 1 month out of Q3 where it hit revenues. However, Netflix says in its shareholder letter that only 7% of new customers choose the combo plan of $15.98 and that "less than half" of existing customers have the combo plan and it expects that number to keep falling.
My argument has been that since the previous $9.99 DVD & streaming plan was the most popular plan, it's only a price increase for the people that keep both services at the new $15.98 price point. For every customer that downgrades to just streaming or DVDs, then it's actually a 20% price cut because Netflix makes $7.99 instead of $9.99. These early predictions of how many people are paying $15.98 are very foreboding and suggest that the price increase might actually hurt revenue. Lastly, the earnings report re-affirms that Latin America will not be profitable for 2 years, so in the meantime it's a drag on the company.
So it's very questionable whether or not the price increase will help revenue; at best, it will not be significant. That's an even bigger problem than it was last quarter because now there is $3.5 billion in off-balance sheet debt, and total liabilities are up to $1.57 billion. That's a 50% increase in off-balance sheet content costs, and a 50% increase in total liabilities, in one quarter! And revenue? It increased 4% in that same period, largely due to Netflix losing 800,000 subscribers. What about this situation suggests a viable company?
These numbers are mind-numbingly horrible. But they do explain why Netflix guided down so dramatically for Q4 to $.35-$.70 a share and why its projecting losses starting in 2012. The huge streaming content costs are starting to come due and will hit the income statement. Current liabilities and off-balance sheet debt due within one year total $1.6 billion on their own. Any other expenses rising? Well, we know the international "growth" is really a net drain because Netflix said so and it will be burning cash on the UK expansion. It also looks like a huge TV ad campaign is going on judging by the barrage of ads I've seen lately. The Netflix bears have been saying that the expenses will overtake revenue at some point. That is starting to happen, and it's happening sooner than even I thought it would.
Once 2012 rolls around and Netflix is losing money, how are they going to pay for more content? Are content owners even going to do any deals with them for fear of not being paid back? Can Netflix even be trusted to pay what it owes on current deals, let alone new ones? Let's not forget that content costs are continuing to rise, and the Epix deal expires in August of 2012 and will be renegotiated. What other upcoming renewals are on the schedule for 2012? Which ones can Netflix let expire without losing too many subs? What will happen if and when it stops adding new content? There are going to be very difficult choices ahead and after all the PR debacles of the last 3 months, I'm not sure there's much faith left in management to steer this ship to safety.
Lastly, there is still no chance that another company will step in and buy Netflix, a case I laid out here. Monay's conference call has made that case stronger. There was a very interesting question on the call. The question asked if there are provisions within the content deals, to restructure or cancel the deals if an acquirer were to purchase Netflix. This is a hugely important question because the obscene content obligations attached to Netflix make any acquisition extremely difficult if the acquirer has to assume those massive liabilities. The answer to the question was no, there are no such provisions. Hopefully that puts the lid on the takeover chatter since no one is going to buy them with $3.5 billion in content licensing deals attached.
I can only imagine what will happen to this stock when it sinks in that Netflix is 3 months away from losing money. Monday's report has only strengthened my case for bankruptcy and that no one will buy Netflix. It's not too late to short it, the P/E is going to be N/A inside of 6 months, and Netflix will not be around in 12-18 months. My advice is to short the stock and enjoy the Netflix streaming service while you can, both of them are fleeting opportunities.
Disclosure: I am short NFLX.
Additional disclosure: I am also long Apple.