Due to recent price fluctuations in the natural gas market, we have issued a Natural Gas Price Alert (.pdf) to notify natural gas buyers of a potential price trend change.
Similar to last year, bearish fundamentals have pushed natural gas prices to new calendar year lows. Storage inventories are expected to surpass 3,800 Bcf by the start of winter. According to the Energy Information Administration, natural gas production levels in the lower 48 states are 5.33 Bcf/day, or 8.3 percent higher than one year ago.
Moderating temperatures have eased demand for natural gas used for heating or cooling needs, and the pace of economic recovery continues to be sluggish. As a result, since October 7, 2011, the front-month natural gas New York Mercantile Exchange (NYMEX) contract price has on multiple occasions fallen to below $3.50 per MMBtu. However, the quick price rallies occurring the day following significant price weakness is a reminder that the speculative sector still holds a lot of clout relative to where prices may move. Plus, it is a precursor of what to expect when the nation experiences its first blast of winter.
Relative to winter weather forecasts, initial predictions favor a winter that is slightly milder than last year.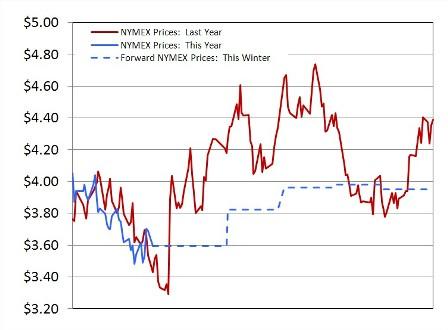 However, it could still be colder than average, since the winter of 2010-2011 was the 16th coldest in the past 60 winters, and the coldest of the past decade.
History also indicates that after the fall price low has been reached, natural gas prices will rally even if the fundamentals of supply and demand argue otherwise. Last year, the front-month natural gas NYMEX contract price hit a fall price low of $3.212 per MMBtu on October 27, 2010. Even though natural gas storage inventories reached an all-time peak of 3,843 Bcf in November 2010, a price rally still occurred. On January 24, 2011, the front-month natural gas NYMEX contract price climbed to a high of $4.879 per MMBtu. The current environment for natural gas is similar to the one that existed last year, so buyers should be preparing for similar price action this winter.
Disclosure: I have no positions in any stocks mentioned, and no plans to initiate any positions within the next 72 hours.