OCZ Technology (NASDAQ:OCZ), a provider of high performance solid state drives and memory modules for computing devices and systems, had a stellar past few days, closing at 6.54 on Oct. 21, 2011.
Click to enlarge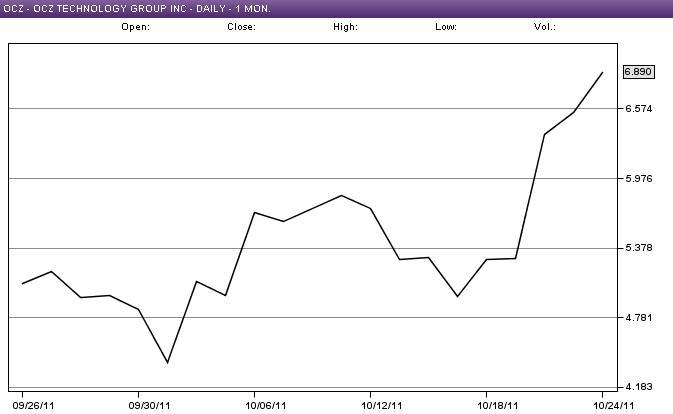 The gain for OCZ Technology is attributed to the HDD shortfall expected in the following 6 months, as reported by Western Digital Corporation (NYSE:WDC) and Seagate Technology (NASDAQ:STX).
But when you break down the numbers and compare OCZ with its closest competitors, Fusion-io (NYSE:FIO) and STEC (NASDAQ:STEC), the PPS for OCZ still seems highly undervalued, even with the 20 percent gain:
OCZ (recent quarter, per latest 10-Q filing)
Market Cap 250M
SSD Revenue from Enterprise $14 million and $57 million for all other SSD sales
Gross Margins 21%
Inventory increased
Cash on hand is $46 million
Profitable, GAAP net income of 0.06 per share in Q2,2012
New entry into the SSD market. Capable of producing its own controllers with Indilinx acquisition. Guided up for the next quarter earnings and projected to increase Gross Margins to between 30%-40% for the next fiscal year. Poised to capitalize on the consumer, enthusiast as well as enterprise clients. Currently experiencing rapid expansion and growth.
STEC (previous quarter, latest 10-Q filing)
Market Cap 500M
SSD Revenue from Enterprise $69 million
Gross Margins 44%
Inventory decreased
Cash on hand is $213 million
Profitable
One of the first companies to enter the enterprise space with SSD products. Recently has lagged behind other competitors with lack of new products and increased competition cutting into the Gross Margins. No real innovation has been provided with recent product launches and is poised to guide down in the near term.
FIO (previous quarter, latest 10-K filing)
Market Cap 2B
SSD Revenue from Enterprise $72 million
Gross Margins 50%
Inventory decreased
Cash on hand is $218 million
Profitable
Considered the big brother of SSD enterprise space. Push from smaller competitors such as OCZ forcing lower margins. Most of the profits coming from a handful of companies with no diversity in client base. Betting on new developments in VLS space to give it an edge against growing competition.
Seeing the comparison, it is no wonder that OCZ experienced a gain of over 20 percent while FIO experienced a loss of over 1 percent.
Looking at the chart above for OCZ Technology Group, we see that this stock dropped from its July high of $10.94 to a recent low of $4.14 a share in early October.
The stock also has very high short interest with 36.3% of the float currently shorted. If OCZ is able to break out of the 200-day moving average of 7.32 a share on sustained volume, look for it to head towards the 10s in the coming weeks. And then look for a huge short squeeze to take the stock soaring.
One should buy in on any retracement under 6.50 and keep adding to the position on sustained upward momentum till the 7s.
This is one stock that is coiled and ready to spring up in a matter of weeks. Combine that with the HDD shortage expected to boost consumer SSD consumption and adaption, and look for this stock to reach the 20s by the end of next fiscal year.
Disclosure: I am long OCZ.