The Williams Companies Inc. (NYSE:WMB) operates in the natural gas arena, working upstream and linking these operations to downstream customers.Its pipelines run fom Texas and Louisiana to New York City, and New Mexico through to the Canadian border. Outside of the United States, its main location is in Argentina. The company has announced that it plans to spin off its exploration operations as a separate company, and has designs on becoming a high growth, high dividend company.
WMB shares are currently trading around $30.25, and the mean 12 month price target from analysts researching the stock is $33.71 (12% upside potential). This stock is trading above its 50-day exponential moving average of $26.99 and also its 200-day exponential moving average of $27.30. This rise to above these averages has been prompted by the news of the spin-off of its exploration company, and, more latterly, a general re-rating of the sector after the Kinder Morgan (NYSE:KMI) purchase of El Paso Corporation (EP). As more focus is pointed toward the sector, this share price rise could continue.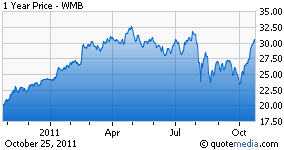 The company has reported a loss for the last 12 months of $0.93, though analysts' expectations are for the full year to show a profit of $1.50 per share this year, with earnings rising to $1.71 in its next fiscal year (ending Dec 2012). These numbers place the shares on a forward price to earnings ratio of 17.64.This is far higher than other similar companies such as Exxon (NYSE:XOM) at 9.52, Chevron (NYSE:CVX) at 8.35, and ConocoPhillips (NYSE:COP) at 8.70. But then WMB is in the process of transforming itself, and moving away from its traditional base of exploration and distribution.
For investors looking at dividend paying stocks, WMB's payment of a dividend of $0.80 last year gives the stock a yield of 2.70%. More good news here, as the company has already declared that it will increase the annual dividend to $1.00 this year. increase its annual dividend by 25% this year. At the same time, and in the same statement, it gave further guidance to its earnings going forward, saying they could reach $1.80 per share for the year ending in 2013.
Current operating margin at WMB is 18.12%, with a return on assets of 4.46% and a negative return on equity of 3.33%. The current revenue from WMB's income statement is $9.98 billion, and last quarter's revenue showed year on year growth of 16.60%. WMB has cash of $614 million, and a total of $9.31 billion in debt. The company's debt/ equity ratio is 102.93.
Part of the company's transformation centres around its plans to expand its Geismar olefins production facility which will increase the ethylene production capacity at the plant by 50%. The company is also seeking to expand its pipeline operations, through the proposed acquisition of Southern Union (NYSE:SUG) for $5.5 billion in an all cash deal.
Looking at the 12-month chart, and comparing to the acquisitive Kinder Morgan, shareholders in WMB have had a terrific return over the last twelve months. Much of this return, however, has been achieved in the last few weeks. This recent performance can be attributed to strong positive news flow. A sector re-rating, hike in dividend, and bullish earnings predictions from the WMB board have combined with its planned expansion in its chosen markets to produce a remarkable share performance which has seen returns outstrip the S&P 500 by a distance.
These could be exciting times for the shareholders of Williams Companies shares. But the question is this: how much more positive news could there be to propel the shares even higher? So much good news is in the market now, and much of it forward looking, that I would tend to view the shares, at this point and current levels, as having risen high enough, fast enough for the time being.
I think the downside risk is greater than the upside potential at the current share price. Any shortfall in earnings, or other surprise on the negative side, would have a strongly negative impact on the share price. Having received such fantastic returns over the last twelve months it is time for shareholders to take profits. SELL.
Disclosure: I have no positions in any stocks mentioned, and no plans to initiate any positions within the next 72 hours.