Xcel Energy Inc. (XEL) generates and distributes electricity to residential, commercial, and industrial customers across states from Colorado to New Mexico, Minnesota and Michigan. Traditionally, utility companies are cash generative, steady businesses that pay good dividends. However, with winter approaching and the economy weakening, investors may have a conundrum to solve.
Xcel shares are currently trading around $25.50, and the mean 12 month price target from analysts researching the stock is $25.63 (1% upside potential). This stock is trading above its 50-day exponential moving average of $24.51 and its 200-day exponential moving average of $24. The stock has been strengthening through the last couple of months, as the traditional rally in utility shares coming into the winter quarters has taken hold.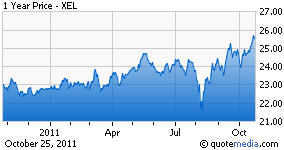 Earnings per share for the last 12 months are $1.69, and these are expected to reach to $1.82 in its next fiscal year (ending Dec 2012). These numbers place the shares on a trailing price to earnings ratio of 15.01, and a forward multiple of 13.97. The sector average training price to earnings ratio is 14.66. For investors looking at dividend paying stocks, Xcel's payment of a dividend of $1.04 last year gives the stock a yield of 4.10%, and is covered more than 1.6 times by its earnings.
In an industry sector that pays some of the highest and most reliable dividends in the market, Xcel's dividend is fairly standard. Allete Inc (ALE) yields 4.7%, with the dividend covered 1.4 times by earnings, and American Electric Power (AEP) yields 4.8%, with cover of 1.6 times, and CenterPoint Energy Inc (CNP) yields 3.8% with a cover ratio of 1.5 times. On a dividend basis alone, there really is very little to differentiate the energy utilities.
Current operating margin at Xcel is 16.05%, with a return on assets of 3.91% and a return on equity of 10.24%. The current revenue from its income statement is $10.45 billion, and last quarter's revenue showed year on year growth of 5.50%. Xcel has cash of $117.72 million, and a total of $9.97 billion in debt. The company's debt/ equity ratio is 119.59. In comparison, the smaller Allete Inc has a debt/equity ratio of 75.1: far more manageable. Though it is usual for utility companies to carry high debt levels, with cash flow easily able to service the debt, the financial crisis of 2008 has shown that the unimaginable can always happen. High debt levels worry me as an investor.
Looking at the 12-month chart, XEL shares have performed broadly in line with the S&P 500 index and recovered from their 12-month low in late August. However, with shares near 12-month highs, and rising in expectations of a good winter trading period, I am not convinced of their ability to push far higher. Industrial activity may weaken further in reaction to economic conditions both at home and abroad, and this could prove a drag on earnings moving forward.
The company has recently announced that it is planning to increase the size of its Windsource business, urging business customers to lock into five-year deals. Xcel says such deals could act as a hedge against further electricity price rises caused by rises in the price of coal and natural gas in the future. Customers would have to pay a premium on top of current bills, though to encourage customers to sign up to the program, Excel has said that it will be cutting the program's prices by half.
Xcel recently issued $250 million of senior unsecured notes, paying a coupon of 4.8%, to pay off some of its short term debts. At the time Fitch, the ratings agency, assigned a BBB+ rating BBB+ rating to these notes, but also stated that it was concerned about Xcel's capital expenditure program that will see it spend approximately $2.6 billion per year, through to 2015. Fitch sees Xcel's cash flow as being sufficient to service its short term funding requirements, but the debt and expenditure concern is there nonetheless. This is a concern that I share.
Whilst I am a fan of utility companies, their cash flow, steady business model, and dividend payments to shareholders, I think the share price of Xcel has risen far enough at this time. Any further weakening in the economy will harm its revenues, and its high level of debt and necessary capital expenditure may prove problematic in these tough economic times. Its need to cut prices on renewable energy programs indicates that it is feeling the pinch from competitors. Shareholders would do well to take profits ahead of a winter period that may not prove as revenue positive as previous. SELL.