Since we last wrote about Revett Minerals (AMEX: RVM) in January 2011, the company has executed near flawlessly on its production and exploration plans for the Troy Mine, and now has the best financial and operational profile in years. Moreover, the company has taken several steps to raise its profile in the investor community such as complete its listing on the AMEX, attract research coverage, and find inclusion into multiple indices. Nevertheless, due to a variety of factors outside of the company's control, the shares are miraculously 22% lower from when we initially wrote about the company and now curiously appear in the top 50 highest short ratio stocks on the AMEX for no justifiable reason. We will illustrate below.
For those new to the Revett Minerals story, the company operates a highly profitable copper/silver mine called Troy that will produce over 11m pounds of copper and 1.3m ounces of silver. The company is on the verge of extending Troy's reserves by reaching the I-Beds, which will meaningfully increase Troy's operating life. Set to produce over $30m of EBITDA, Revett and Troy are significantly undervalued at the current price with an EV/EBITDA of ~3.0x. However, the company's blue-sky potential lies in the 100% owned Rock Creek project, which is a massive deposit containing 229m ounces of silver and 2.0 billion pounds of copper. At the current stock price, investors are receiving a free call option on this asset with an NPV of ~$1 billion ($20-$30/share), while also receiving the Troy mine at well below its intrinsic value. Rock Creek is pending a 9th circuit court decision, which is the last hurdle for the project to move forward. If a positive decision is rendered (expected to be received any time now, though our best case is early/mid 2012), Revett's stock price will see a significant revaluation, and we will witness a short squeeze of epic proportion.
What Has Gone Right for Revett?
Completed its AMEX listing
Included in multiple indices
Received research initiations from 4 brokers
Achieved record operational and financial performance in Q3'11
Timely hedge of copper to ensure adequate cash flow going forward
Troy Mine exploration advancement
Progressing Rock Creek
Revett completed its listing on the Amex in May 2011. The listing was a culmination of the significant operational turnaround experienced from the depths of the financial crisis. Along with the listing, Revett has also been included (pdf) into both the Russell and S&P/TSX Small Cap index (pdf). These actions should help broaden the shareholder base and add more trading liquidity to the stock.
Furthermore, the company received research coverage from four sell-side brokers including Stonecap Securities, McNicoll, Lewis and Vlak, Octagon Securities, and Globe Hunter Securities, with an average target price of $7.13/share or over 2x the current trading price. The assumptions used by the analysts are reasonable in terms of both production and commodity price estimates.
(click charts to expand)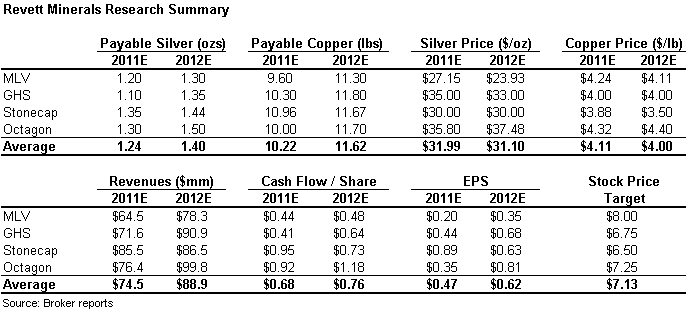 Click to enlarge
Revett has proven that it can deliver on its production guidance. Late last year, the company outlined (pdf) an aggressive goal to reach 1.3m ounces of silver and 11m pounds of copper for 2011. Through the end of Q3'11, the company has delivered 1m ounces of silver and 8.3m pounds of copper, putting it on pace to not only meet, but exceed forecasts. The recently released Q3'11 production results indicated that Revett is experiencing an accelerating improvement (pdf) in throughput, recovery and production levels.
The operational improvements translate directly to improved financial performance for shareholders. As the charts below indicate, Revett currently has record EBITDA, free cash flow, and total cash levels.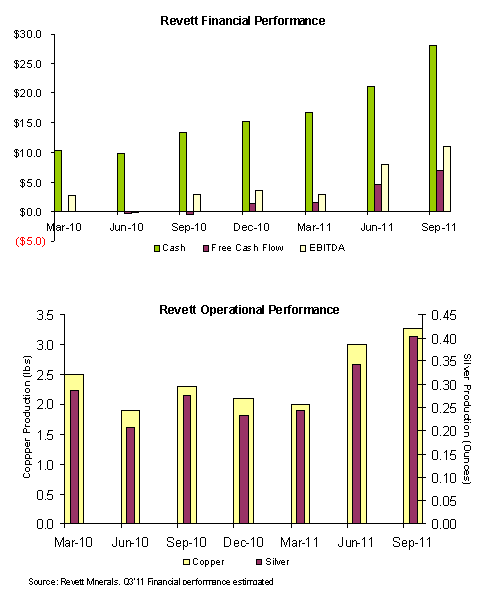 Click to enlarge
To sustain their current financial performance, the company wisely hedged (pdf) 25% of its 2012 copper production at $4.00/lb before the market swiftly corrected in early October. This decision will provide it with adequate cash flow to withstand the volatility of commodity prices, while continuing to operate Troy and advance Rock Creek.
Troy exploration and engineering efforts continue to go well, and have resulted in preliminary design plans for development of the I-Bed area, which Revett anticipates to commence in mid to late 2012 pending approval by State and Federal agencies. It expects to finalize plans at year end once results of the ongoing drill program are available. We believe progress toward the I-Beds will significantly extend Troy's mine life and represents upside to the current share price.
Lastly, Revett continues to progress Rock Creek, its trophy asset with inferred resources of 229m ounces of silver and 2.0 billion pounds of copper. At the current stock price, investors are receiving a free option on Rock Creek, which has a current NPV of approximately $750m - $1.0bn (or $20 - $30/share). The company is waiting for a definitive decision from the 9th circuit court; our hope is that a positive decision will be rendered by early/mid-2012. Revett's success operating the Troy mine in an environmentally safe manner should support its case for advancing Rock Creek. In addition, unlike other junior and exploration mining companies' projects, Rock Creek has been studied for years, is geologically well defined, extremely large and 100% owned by Revett. The project has support at the state and local level, but has faced opposition from an environmental group, which appears to finally be exhausting all its options in forestalling the project.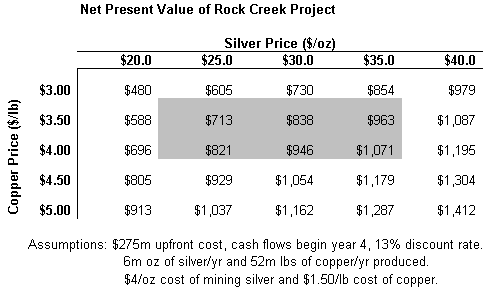 What is Weighing on Revett's Stock Price?
Volatile silver prices; temporarily recessed copper prices
Index shorting likely causing a rise in Short Interest
Small-cap stock aversion
Instability in commodity markets is certainly giving investors difficulty in assessing fair value for commodity stocks. Silver has had a particularly wild ride in the past year, peaking at over $50/oz until the CME hiked margins and forced prices lower. Nonetheless, silver has found support in the $30/oz range and is still up over 30% against price levels in October 2010. Meanwhile, copper and base metal prices have diverged from precious metal prices. Concerns over China's growth have sent copper to a 1-year low. As noted earlier, Revett has hedged a portion of its 2012E copper production at $4.00/lb, which is significantly higher than current prices. With silver averaging $30/oz and copper between $3.00 - $4.00/lb, we estimate Revett can still generate in excess of $30m of EBITDA, with a nice mix of cash flow coming from both silver and copper.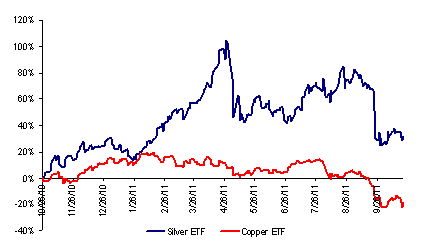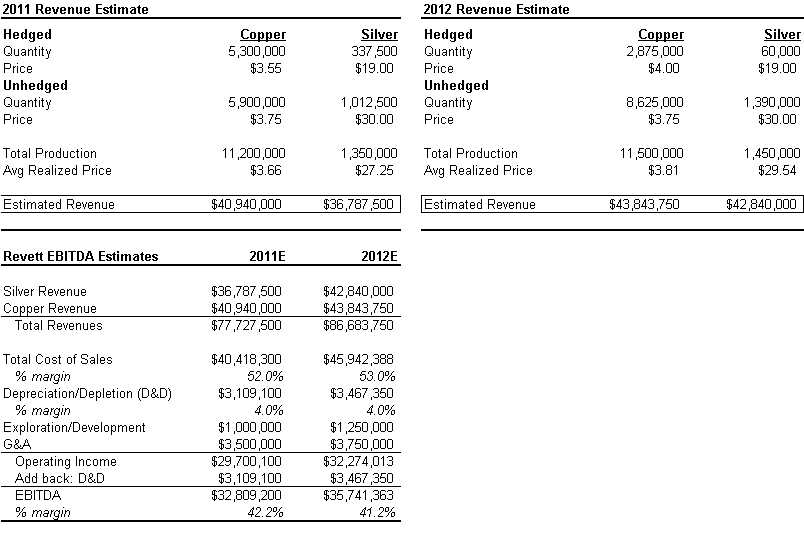 Click to enlarge
While we noted earlier that Revett's inclusion into two indices is viewed positively, it can also serve to distort reality for small caps such as Revett when indices become heavily shorted. As illustrated in the table below, as of September 30, 2011, Revett appeared among the list of the top 50 highest short interest stocks on the Amex. What's fascinating is that many companies on this list are either 1) lacking revenue 2) unprofitable or have declining earnings 3) subject to accounting scandals or fraud allegations, or 4) purely speculative stocks. Revett has none of these characteristics whatsoever, so its inclusion on this list is perplexing to say the least. Nonetheless, it creates the perfect short squeeze opportunity when: 1) copper and/or silver prices rebound sharply and 2) if Rock Creek gets approval in 2012
Conclusion
As we indicated earlier this year, 2011 has proven to be a transformational year for Revett Minerals. The company's Troy Mine is producing at peak levels, resulting in record cash flows for shareholders, and a significantly improved balance sheet (over 20% of the current stock price will be in cash by the quarter's end) that will enable the company to weather the near-term turbulence in commodity markets. Yet, because of inherently unstable markets and index shorting, the current valuation is approximately 3x 2012E EBITDA. The current share price offers investors a significantly undervalued copper/silver producer, with the free option on Rock Creek in 2012, that could result in a significant re-valuation of the company, and massive short squeeze opportunity. There are very few publicly traded companies that have such a compelling risk/reward ratio as Revett in our opinion.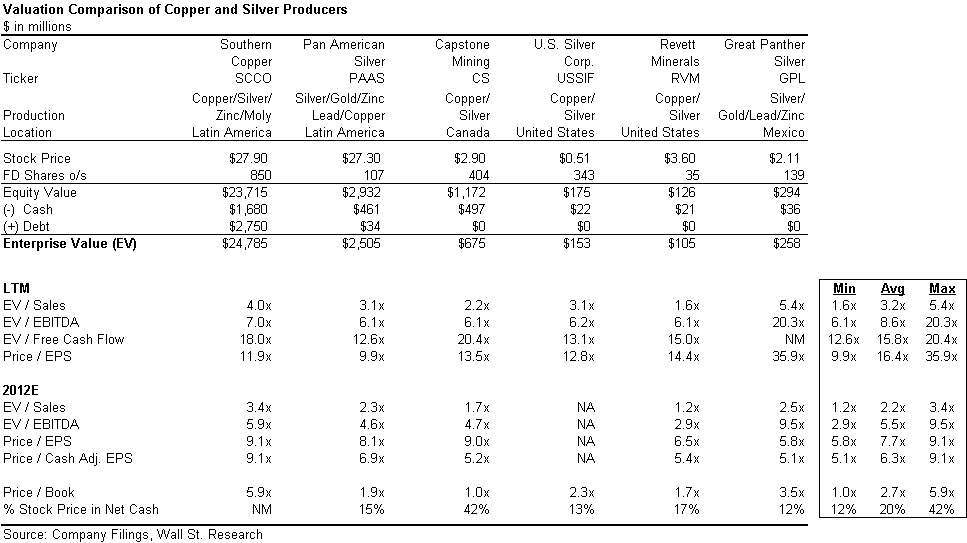 Click to enlarge
Disclosure: I am long RVM.