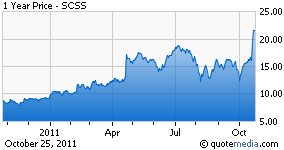 We think the rally in Select Comfort Corporation (NASDAQ:SCSS) shares has run its course, at least for now. We suggest selling out of the money calls or outright shorting. This is basically a technical trading article, however, we still have a look at fundamentals.
What Does The Company Do?
Select Comfort Corporation develops, manufactures, markets, distributes and retails adjustable-firmness beds and other sleep-related accessory products in the United States, Canada and Australia.
It is the company behind the "sleep number" mattresses, which allow you to individualize each side of the mattress for optimal comfort. These are definitely high-end products, which is both a plus and a minus (in the present economic climate). However, sleeplessness is a serious problem and while we (as simple economists) have no clue whether the mattresses make much (if any) difference, there are enough people with money out there suffering from sleeplessness to have a try.
It's not the only product, they also have that NASA memory foam mattress, even with sleep numbers, that used to be the big thing in mattresses some time ago and the product of its main rival, Tempur-Pedic (NYSE:TPX).
Key Figures
Market cap $1.21B, 56.2M shares outstanding, 14% held by insiders with 5.7M short
Revenue (2010) $605.7M
Cash $116.4M with zero(!) debt
They do generate significant cash flow, $63.4M last year, although so far this year it's negative ($20M) due to investments and changes in liabilities, but this doesn't seem anything to worry about as they might very well make up for that in the next quarters.
The company has a nice history of beating earnings estimates. For this year analysts expect $1.01 profit per share, rising to $1.24 next year, giving them a p/e of 21 for this year and 17 for next.
Note that the company itself guides somewhat lower for this year, although recently increased from 90-96 cent to 99-101 cents per share.
As Motley Fool pointed out, gross margins are very good (60%+) and an indication of the company's brand power.
All this is nice ... no debt, solid grower, very good gross margins, one of those stocks to buy at a low point and forget about for a couple of years (although perhaps not in the present market climate). The graph, however, shows quite a different picture. In essence the stock price has almost doubled from the beginning of this month with only a single negative day (and even as we write on Monday the 24th, it's up again to $22 at 2 p.m.).
Now, one reason is that it hit the bottom of its trend channel, another reason is that the market has been rather good. Any other reason for this growth spurt that has burst the stock above all its trading averages, then above its wedge, and then above the rising trend channel (see figure)?
When the rally was already underway the company produced very good Q3 results (31 cents per share were 27 cents were expected, see here for the CC) increased guidance for the full year (but not Q4, curiously enough), after which it went up another 20%. Another reason for the strong performance was that new store openings would be accelerated.
But this has gone too far, too fast. The stock has an RSI of 77. We think one should short it at $22 or so. Another strategy could be to sell the November 22.5 calls, if that goes wrong one could always roll them over to December 25s.
Insider Sales
Last but certainly not least, if you sell (short), you'll be in good company. Today, the company's COO Shelly Ibach, sold 11,868 and 38,132 shares, for a grand total of $1,052,180. How about that.
Disclosure: I have no positions in any stocks mentioned, but may initiate a short position in SCSS over the next 72 hours.