I have noticed an interesting value play occurring in some smaller regional banks. I recently took advantage of this and thought I'd share with the readers of Seeking Alpha some potentially undervalued financial stocks. I also thought it would be a good chance to explain some of my strategies when it comes to value investing for your future use.
Value investing is buying stocks that have not been doing well lately, but may make a good investment for reasons that the market is missing. The idea is that you sit on your investment and when the market realizes the mistake, so the theory goes, the stocks turn around and you make a bunch of money. This is contrasted with growth investing, where the investor buys stocks that are doing well in the presumption that whatever has made them successful will continue, and they'll keep outperforming. Each type of investing carries its own set of risks.
I personally like value investing because I don't like overpaying for investments, I like making up my own mind, I like dividends (yields rise as valuations fall), and I find value investing both safer and less stressful.
With that little intro, let's talk about where I am seeing value, in many smaller sized banks, four of which I'll recommend and briefly profile.
Since February, financial stocks, especially banks, have been hammered. The KBW Banking Index (NYSEARCA:KBE) went from a high of nearly $28/share to a low of almost $16 earlier this month. Bank of America (NYSE:BAC), for instance, dropped from $15 earlier in the year to almost $5 last month.
Click to enlarge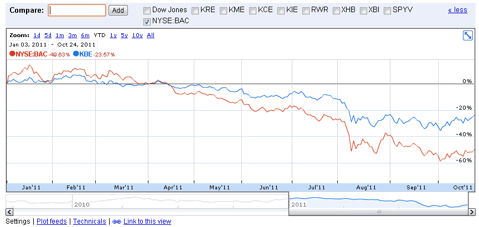 The reasons were many: Concerns over regulation, Obama driven lawsuits from the U.S. government, European recession and debt fears, our own debt ceiling crisis, a flattening of the yield curve due to the Fed's Operation Twist and potentially recessionary U.S. economic data.
However, as any good value investor knows, beatdowns can create opportunity. Once that ludicrous debt ceiling debacle was over and things had shaken down a bit more, I began looking for a few value based criteria to apply to the financial sector.
High quality, well run companies – These qualities are ones that the value investor look for most in investments because the best companies survive crises and inevitably recover, often taking business from struggling peers.

Good, sustainable dividends – Dividends bring not only return while you are waiting, but for me, bring a peace of mind. At least I know I'm getting something on my money, and staying calm is crucial to the mental side of value investing.

Temporary conditions – Stock investors can be a little hyperkinetic, worrying so much about current conditions that may affect the next quarter that they often overlook that some conditions are temporary and they over sell ( I have made a small killing on McDonald's (NYSE:MCD) this year because of this).

Lumping all companies in with the rest of the sector – This is a very important concept for value investors. Just because one company (Bank of America) is doing poorly doesn't mean that another (say Chase) is in the same position.
Let's look at those a little more closely.
It seems to me that the factors affecting banks do not affect them equally. Many of the legitimate problems above target large banks more so than small banks. U.S. regional banks aren't going to have PIIGS debt for one thing. They are much more dependent on their local economies than on Europe. Obamawrath seems to be directed more at large banks than small banks. And regulations like banning proprietary trading is probably the least of a small bank's concerns.
As for temporary conditions, first I did not see a recession coming in the near future. Then, I saw a lot of the concern for Operation Twist was going too far. Of course, by selling short term bonds and buying long term, Operation Twist should raise short term interest rates and lower long term ones. This would unquestionably squeeze the Net Interest Margin of banks (NIM), one of the primary ways banks make money.
But this clearly won't last for ever, or probably even long, it's just the latest of Ben Bernanke's short term policies designed to boost the U.S. economy (and a clever one at that). When it ends, NIM should go back to normal. Since smaller banks depend most on NIM to generate money, that seemed to second the idea of investing in these regional banks.
I also know that quite a few smaller banks are in many ways smarter than their bigger cousins. Several did not take TARP money, never got involved in sub prime mortgages, and carefully provisioned for a recession. They often pay out excellent dividends as well.
With all this in mind, here are some smaller regional banks to consider. All are conservatively run with earnings and balance sheet to pay their respectable dividends.
Bank of Hawaii (NYSE:BOH)
Yield: 4.4% Earnings: 12X
Bank of Hawaii is an excellent bank in, you guessed it, Hawaii. BOH has an excellent reputation for safe lending. Hawaii draws a lot of tourist dollars, and CEO Peter Ho noted today in the quarterly report that the state economy is recovering. From 2000 to 2010, Hawaii's population grew 12.3% compared to the U.S. average of 9.7% (U.S. census).
New York Community Bank (NYB)
Yield: 8%. Earnings: 11X
NYB is a specialist in multi-family residential construction in New York City. Due to a strong balance sheet, they were able to acquire two failing banks over the last few years. They share a great deal of their earnings with shareholders and are well known for high quality underwriting standards. Their reported results last week showed improving credit standards as well as loan growth. The company took no TARP money.
BB&T (NYSE:BBT)
Yield: 2.8% Earnings: 14X
A fairly large regional bank (market cap 16.5 billion) strong in the rapidly growing Southeast. Former CEO John Allison was furious that he was required to take TARP money because he ran a ship that stayed on the straight and safe path before the financial crisis, avoiding much of the meltdown mess. Allison brought up current CEO Kelly King with the same conservative mindset. Due to their financial strength, BBT was able to acquire Colonial Bank from the FDIC. In contrast to the other big banks, you'll notice that BBT actually paid more than a token dividend throughout the recession. They just reported their quarter, and it was marked by improving credit and a barely declining Net Interest Margin.
Glacier Bank (NASDAQ:GBCI)
Yield: 4.4% Earnings: 20X
I have been looking for a bank that can benefit from the growth the Montana/Dakota oil boom can bring. Glacier has a good reputation including a recommendation from Smart Money magazine (put out by the Wall Street Journal) and a strong buy from Raymond James Financial. You will notice several upside surprises in the quarterly results over the last couple years. Just note that GCBI has a small market cap (under $1 billion) that will likely lead to greater volatility than the others mentioned here. That could help or hinder you depending on what happens going forward.
There are many others for you to consider. I know both Valley National (NYSE:VLY) with a yield of 5.6% and Sterling Bancorp (NYSE:STL) with a yield of 4.3%. Both are small regional banks in New Jersey and the Pacific Northwest that follow conservative lending standards but I don't know enough about them to recommend more than that. If there are other banks that fit the profile that any readers are familiar with, please share them.
Although challenges in banking and investing in banks remain, there are several that pay good dividends and are well run and manage to steer clear of the disadvantages of the larger banks. This should lead to strong long term gains in a beaten down sector while a sizable dividend pays you to wait for the turnaround.
Disclosure: I am long BOH, NYB.
Additional disclosure: May buy BBT at some time in the near future.