By way of introduction, PetMed Express, Inc. (NASDAQ:PETS), doing business as 1-800-PetMeds, operates a pet pharmacy in the United States. It markets non-prescription and prescription pet medications and other health products for dogs and cats, direct to consumers. In addition, the company, through its Web site, 1800petmeds.com, sells beds, crates, stairs, strollers and other pet supplies.
(Click chart to expand)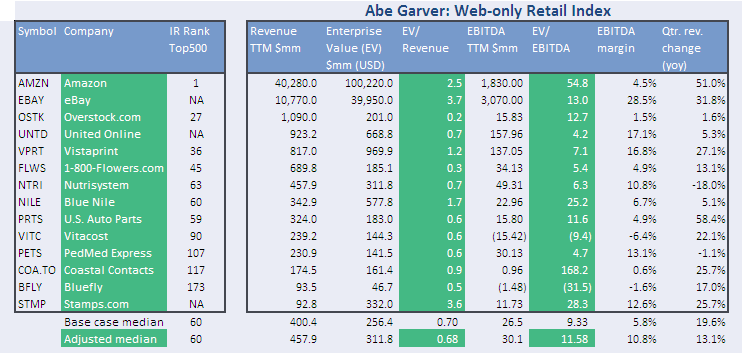 Monday, October 24, 2011, PetMed Express said its profit and revenue decreased because it offered more discounts on flea and tick products. Its competitors are also selling cheaper versions of the Company's Frontline flea and tick fighter. PETS said it will market a generic version of Frontline in 2012, and that should improve results next year.
As the market digested the news PETS' stock moved from $9.27 to close at $9.62, which based on 21.65 million shares outstanding implied a market capitalization of $220 million.
By comparing PETS' trailing twelve months Enterprise Value (market cap plus debt, minority interest and preferred shares, minus total cash and cash equivalents) /EBITDA multiple of 4.7 ($141.5 million /$30.1 million) to the 11.5 adjusted median of the Web-only Retail Index one can see the magnitude of the disconnect (almost 59.4% discount from market). However, there is $50 million in excess cash on the balance sheet to take into consideration.
Based on my judgment as an investment banker working with clients in the sector, the EV/EBTIDA multiples in the Index and $50 million of cash on the balance sheet, PETS may be worth as much as $400 million (which is calculated as $30.1 million of EBITDA 11.58xs (EBITDA/EV) plus $50 million of excess cash on balance sheet.)
At a current market capitalization (current market price of one share multiplied shares outstanding) of $220 million and indicated value of $400 million, PETS appears to be trading at a 45% discount to peers following earnings.
A $400 million market capitalization divided by 21.65 million shares outstanding implies an $18.50 stock price, which is a 92% premium to yesterday's closing price of $9.62.
Web-only Retail Index companies include Amazon (NASDAQ:AMZN), eBay (NASDAQ:EBAY), O.com also known as Overstock (NASDAQ:OSTK), United Online (NASDAQ:UNTD), Vistaprint (VPRT), 1-800-Flowers.com (NASDAQ:FLWS), Nutrisystem (NASDAQ:NTRI), Blue Nile (NASDAQ:NILE), U.S. Auto Parts (NASDAQ:PRTS), Vitacost (NASDAQ:VITC), PedMed Express (PETS), Coastal Contacts (CSOAF.PK), Bluefly (NASDAQ:BFLY) and Stamps.com (NASDAQ:STMP).
Disclosure: I have no positions in any stocks mentioned, and no plans to initiate any positions within the next 72 hours.