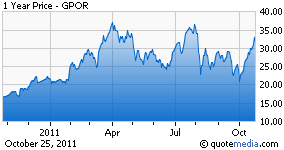 Gulfport Energy (NASDAQ:GPOR) is a well regarded independent exploration and production company based in Oklahoma City. Gulfport Energy has a market cap of $1.6 billion with 51 million shares outstanding. In 2010 the company produced 1.98 million barrels of oil equivalent. The daily production of 5,412 BOEPD is approximately 90% crude oil and is slated to increase to 6,575 BOEPD this year. Revenues increased 49% to $127.6 million. Cash flow from operations increased 62% to $87.8 million. The company is heavily weighted to oil vs. natural gas.
Gulfport has operations in North America in Louisiana, the Permian Basin (the Wolfberry Play) in Texas, the Niobrara Shale of Western Colorado, the Canadian Oil Sands in Alberta, and the Utica Shale in Eastern Ohio. Internationally, the company has interests in four concessions in northeastern Thailand.
Gulfport's Permian Basin holdings are part of the hot Wolfcamp/Spraberry Play. In 2010 this play produced 665 BOEPD and they drilled 25 gross (11 net) wells. Future development locations have been identified for 226 gross wells in this field.
Gulfport's Louisiana operations are located in the Hackberry field with 2010 production of 1,234 BOEPD and five miles off the coast in the West Cote Blanche Bay field where 2010 production was 3,408 BOEPD.
Its Canadian oil sands holdings are a 24.9% equity interest in Grizzly Oil Sands ULC which has 534,000 acres under lease in the Athabasca region near Fort McMurray and located within a few miles from other existing oil sands projects. In March 2010 Grizzly filed an application for development of an 11,300 barrel per day SAGD facility at Algar Lake. Alberta's Energy Resources Conservation Board and Ministry of Environment have completed their review of the Algar Lake Project and have prepared their approval documents. Final approval is expected this quarter. And will be followed by an anticipated construction period of 18 months with first bitumen production in 2013.
Under the category of "you heard it here first" we would add that we suspect that Gulfport/Grizzly will be increasing their exposure to the Canadian oil sands via an acquisition of the Wallace Creek oil sands project currently owned by Oilsands Quest Inc. (BQI). The Wallace Creek project is physically adjacent to Gulfport/Grizzly's Firebag River project. We would not be surprised if a definitive sales agreement regarding Wallace Creek is announced simultaneously with the upcoming quarterly earnings release on November 3. Please keep in mind that this is simply (intelligent) speculation on our part.
The Oilsands Quest Wallace Creek asset would be a great "bolt on" acquisition for Grizzly as it shares a common border with the existing Grizzly acreage and would provide ample opportunities for scaling costs related to development. Wallace Creek has a partially delineated resource with a 35,000 barrel per day project potential.
We should find out within the next two weeks if the purchaser of the Oilsands Quest Wallace Creek asset is in fact Grizzly. If it is, then expect the transaction to close by January 31, 2012, subject to successful completion of due diligence.
The company jumped into the Niobrara Shale oil play in Western Colorado last year and has 19,172 net acres where they are drilling three wells and pursuing additional acreage.
In Thailand they have drilled the TEW-E well to a depth of 15,026 feet that logged approximately 5,000 feet of apparent gas saturated column. The well experienced mechanical issues which prevented testing. The operator has brought a drilling rig back to the TEW-E location and expects to commence operations to remove debris and test the well next month.
It is Gulfport's Utica Shale holdings that have captured our interest. Gulfport Energy is targeting acreage within the wet gas/condensate and mature oil window of the Utica Shale in Eastern Ohio. Gulfport has closed on approximately 30,000 net acres and has additional commitments in place that will bring their total Utica Shale position to 57,500 net acres (115,000 gross). Additionally, Gulfport is in ongoing discussions which could increase the Gulfport position to 65,000 net acres.
The Gulfport Energy acreage is basically adjacent to acreage held by some of the key players in the Utica Shale, i.e., CONSOL Energy (NYSE:CNX), Chesapeake Energy (NYSE:CHK), Range Resources and Enervest/EV Energy and is located in Belmont, Carroll, Columbiana, Guernsey, Harrison, Jefferson, Monroe and Tuscarawas Counties, Ohio.
Listening to Gulfport's CEO Jim Palm speak about the Utica Shale made it apparent just how excited they are about their prospects. Palm made it clear that he thought they had "first mover" status and that they thought this would prove to be a Point Pleasant Formation Play for them. He explained that the Point Pleasant formation is a lower portion of the Utica Interval which lies just above the Trenton Limestone. Palm describes the emerging Point Pleasant Formation Play as a "game changing play." Gulfport spent $37.9 million on the Utica in this quarter. Gulfport has identified numerous drilling locations and will be filing permit applications within the month. They expect to start drilling early next year and drill at least 20 wells in the Utica/Point pleasant Formation in 2012. Gulfport has already been approached by many industry participants and private equity firms about participation and/or monetization opportunities.
With the recent September 28 press release from Chesapeake Energy disclosing their initial horizontal well drilling results in the wet gas window of the Utica Shale in Eastern Ohio we are quite confident that the Gulfport Utica acreage is in the heart of the play and will prove very productive. We would note that the results from the first three horizontal wells drilled in the "wet" gas window have averaged 2,051 barrels of oil equivalent per day.
We look for Gulfport to have a steady news flow from Utica Shale holdings over the course of the next 12 months and would expect the stock price to reflect that in due course. We like the company overall and particularly like their Utica Shale/Point Pleasant prospects.
Disclosure: I am long GPOR.