By Brendan Gilmartin
Ford Motor (NYSE:F) is scheduled to report 3Q 2011 earnings before the opening bell on Wednesday, October 26. The results are typically available at 7 a.m. Eastern and will be followed by a conference call at 9 a.m.
Outliers and Strategy
Key measures:
Adjusted Earnings Per Share: The value for Adjusted EPS compares with consensus estimates.
Revenues: Top-line growth is the second-most-critical measure for Ford.
Ford Motor is expected to earn $0.45 per share for the 3Q period (range is $0.36 to $0.54), according to Yahoo Finance. Revenues are seen rising 11.9% to $29.86 billion. The high number on the Street is $30.11 million.
According to Revere Data, the following auto suppliers derive more than 15% of total revenues from Ford: Superior Industries International Inc. (NYSE:SUP), Dana Holding Corporation (NYSE:DAN), & TRW Automotive Holdings Corp. (NYSE:TRW).
Ford is trading at just 7.45x trailing earnings and a mere 7.2x forward profits, resulting in a Fwd PEG ratio of just 1.11, suggesting the shares are trading in-line with the earnings growth rate. Ford is also trading at just 0.36x sales.
Recent News
10/21: S&P raised its rating on Ford Motor from BB- to BB+ following the recent labor agreement with the UAW. The firm also cited "prospects for generating free cash flow and profits in its automotive manufacturing business."
10/20: Fitch raised its rating on Ford based on its strong financial performance and debt reduction efforts this year.
10/19: Ford confirmed that a new national labor agreement has been ratified by UAW-represented employees in the U.S. The agreement covering approximately 41,000 employees.
10/14: Deutsche Bank reiterated a Buy rating and a $15 price target on Ford pending ratification of its most recent labor agreement with the UAW. Benzinga.com
10/03: Ford's September sales totaled 175,199, up 9% versus last year. The company cited demand for fuel-efficient automobiles.
08/25: Ford Director Irvine Hockaday purchased 15,000 shares of company stock at $10.05.
Technical Overview
Since dropping to a 52-week low of $9.05 on October 4, Ford shares have climbed more than 35%. From here, the $12.72 level is the first resistance zone, representing a nearly 38.2% retracement from the 52-week high ($18.97 on 1/13/2011) to the recent October low, with further upside to the 200-Day SMA near $13.50. Support is at $11.50, followed by the 50-Day SMA near $10.65. Note that the Relative Strength Index climbed above 70 – a level generally consistent with overbought conditions, while the MACD also appears a bit extended. With that being said, the shares could be due for a pause, barring a blowout earnings release. (Chart courtesy of StockCharts.com; click to enlar.)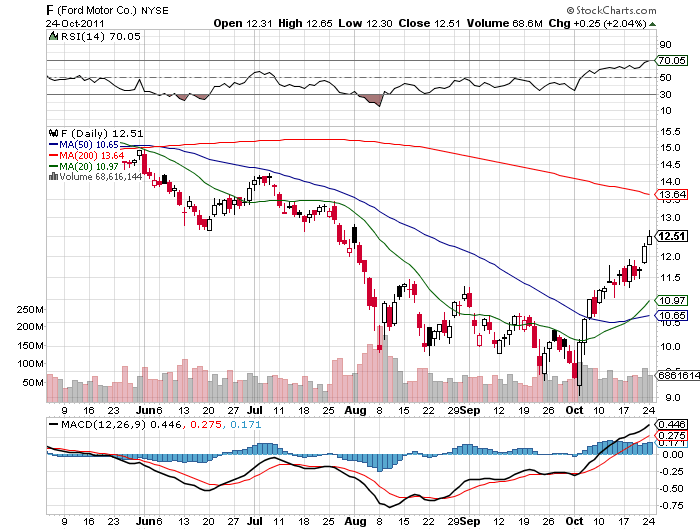 Click to enlarge
Summary
Ford Motor shares are rallying ahead of its 3Q 2011 earnings release, following a successful negotiation with the United Auto Workers and a series of credit rating upgrades. S&P raised its rating based on free cash flow and profits in the auto manufacturing segment, while Fitch cited strong financial performance and efforts to reduce debt. Ford is also coming off a strong sales report for September, thanks to strength in its line of fuel-efficient automobiles. Technically, however, Ford looks to be pricing in much of the good news over the past several weeks. The shares are now up more 35% from the October low, while several momentum oscillators are registering near-term overbought signals. Despite the advance, Ford is still trading at just 7.45x trailing earnings and only 0.36x sales, with $4.60 per share in cash on its books and an improving balance sheet, leaving the door open for further upside on a strong earnings release.
Disclosure: I have no positions in any stocks mentioned, and no plans to initiate any positions within the next 72 hours.
Disclaimer: By using this report, you acknowledge that Selerity, Inc. is in no way liable for losses or gains arising out of commentary, analysis, and or data in this report. Your investment decisions and recommendations are made entirely at your discretion. Selerity does not own securities in companies that they write about, is not an investment adviser, and the content contained herein is not an endorsement to buy or sell any securities. No content published as part of this report constitutes a recommendation that any particular investment, security, portfolio of securities, transaction or investment strategy is suitable for any specific person. Click here for Terms of Use regarding research reports.