As detailed throughout Benjamin Graham's 1949 classic, The Intelligent Investor, the secret to sound investing can be summed up with three prophetic words: Margin of safety. In my previous article, The Intelligent 'Net Lease' Investor, I commenced a series of fixed-income investment strategies whereby a "margin of safety" test could be applied to the Net Lease (or single tenant net lease) REIT sector. Graham believed that his disciplined approach to value investing would provide distinguishable characteristics aimed to differentiate an investor from a speculator.
An investment operation is one which, upon thorough analysis, promises safety of principal and adequate return. Operations not meeting these requirements are speculative. (Security Analysis, 1934)
So as I wrote last week, Graham believed very strongly in the "close logical connection between the concept of a safety margin and the principle of diversification." He further explained that "diversification is an established tenet of conservative investment" practices. In my previous article I began a "Grahamian" margin of safety comparison of six equity REITs. And because of the substantially safe operating fundamentals (of these REITs), I wanted to uncover the true Intelligent 'Net Lease' REIT. So after conclusive research while writing on this topic, I decided that one of the REITs, American Realty Capital Properties (ARCP) would not be worthwhile to include in this second edition since, in my opinion, the REIT's investment operation does not "promise safety" within a risk-aligned diversification strategy. Consequently, this second edition is dedicated to the five remaining "superstar" REITs with highly attractive margin of safety attributes.
The "Fab Five"
As mentioned, this Intelligent 'Net Lease' Investor series is now down to five high quality teams (the Fab Five) and all five equity REITs possess fundamentally sound diversification strategies. In this current edition, I will compare the REIT balance sheets, as Graham believed that assets and liabilities were tremendously important to wealth creation. Graham also felt that analyzing financial statements could enable an intelligent investor to identify long-term competitive advantages. However, it was Graham's student, Warren Buffett, who decided that he could improve on the performance of his mentor (Graham) by learning more about the business economics of these "superstars". So Buffett started studying financial statements of companies from the perspective of what made them fantastic long-term investments. As Graham's star player (Buffett) once said,
Some men read Playboy. I read annual reports.
The Balance Sheet
In order to analyze a REIT investment, you must first consider the underlying assets and specifically the composition of the individual fixed assets. As noted in my previous article, five of the six REITs appear to own a diverse and stable portfolio of income generating assets. Realty Income has the most sites (with around 2,523 locations) and CapLease has the fewest sites (with around 63 locations). And since these REITs acquire and operate a growing portfolio of assets, it is important to determine how effectively each of these five REIT managers perform relative to the fixed-income risk-aligned strategies of deploying investor capital. The basic theory behind a diversified fixed-income Net Lease REIT is comparable to a mutual fund investment, whereby both funds are designed to provide a conservatively diverse asset base with durably safe income fundamentals. As Brad Case, Ph.D., CAIA, Senior Vice President and NAREIT explains:
Investors are comfortable with the ability of these REITs to manage their balance sheets in a way that gives them two advantages. First, being strongly capitalized means that their returns are less subject to swings in the market--they're fairly stable, provide good risk-adjusted returns. Second, a strong balance sheet means they also have access to capital when there's a favorable opportunity for growth. Basically, investors think their strong balance sheet management will translate into strong, but stable, earnings growth going forward.
Realty Income (NYSE:O)

From the looks of Realty Income's latest balance sheet (6-30-11), the "monthly dividend company" has assembled a world class team. With over 2,500 single tenant net-leased assets (37 operating industries) in 49 states, Realty Income has evolved into a well-respected fixed income fund. The "monster squad" has just under $4 billion in assets ($3.991 billion as of 6-30-11) and just under $60 million in secured mortgage debt (this non-recourse debt of $58.6 million was assumed because Realty Income felt the mortgages provided attractive economics). In addition, Realty Income has around $1.75 billion (as of 6-30-11) of unsecured fixed rate debt making the Q2-11 liabilities total around $1.90 billion. Preferred stock consists of around $347.5 million and the company's common stock is around $4.25 billion. Here is a snapshot of the company's total $6.41 billion capitalization structure: (Click to enlarge)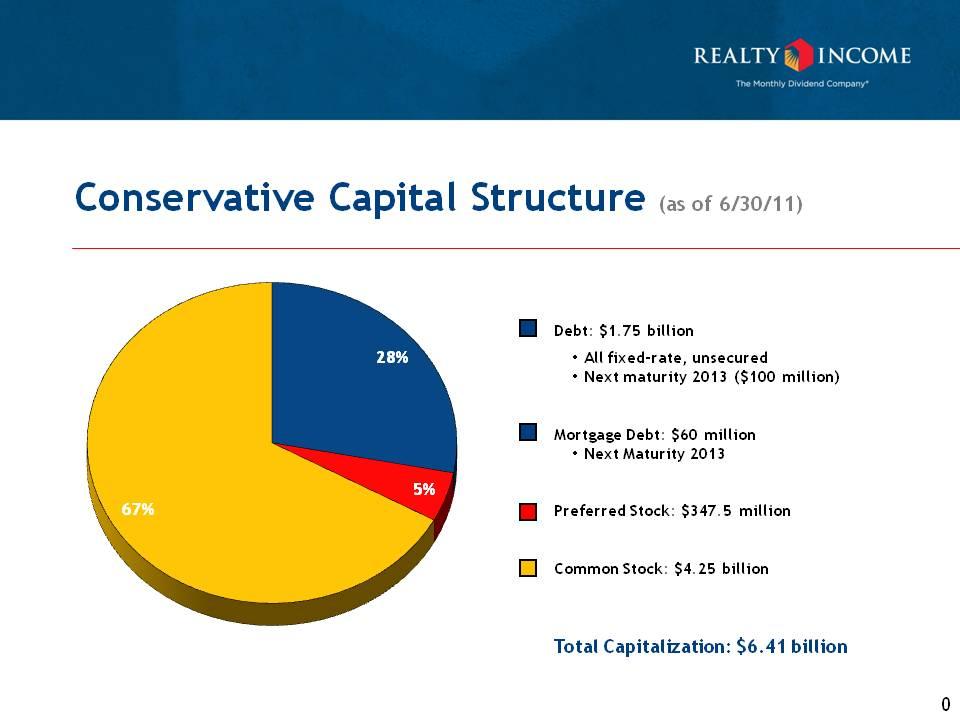 As investors gravitate towards high quality fixed-income equities, Realty Income has responded by growing its exceptionally attractive risk-managed platform. Specifically, the dominating net lease "all-star" is growing its 42 year old fund by acquiring strategically diverse Net Lease assets. Conversely, the risk-aligned REIT is building a durable competitive advantage and a highly attractive "margin of safety".
During the previous six months (through 6-30-11), Realty Income has invested $364.2 million in 36 new properties (and under development). By adding these new high quality assets (15.5 year average lease terms) to the "all star" portfolio, the intelligent "monthly dividend" investor is executing an enviable "margin of safety" game plan. Realty Income maintains (as of 6-30-11) a $425 million unsecured credit facility with no outstanding borrowings (as of 6-30-11). Raymond James analyst, R.J. Milligan adds,
With no debt maturities until 2013 and full availability on the company's $425 million acquisition credit facility, Realty is still well positioned to scoop up any attractively priced assets that come to market. The company has been extremely active on the acquisition front over the past few months and still has plenty of dry powder to pursue additional acquisitions, which could drive above-average earnings growth for the next two to three years, a testament to the company's prudent balance sheet management strategy.
Warren Buffett set out to build a world class portfolio of risk-aligned investments. In turn, Realty Income has grown to become a significant risk-adjusted fixed-income product, where risk is minimized and dividends are sustainable and growing. As explained by Chairman Tom Lewis, this similar asset selection strategy has proven to be a resiliently safe margin operating model:
Since Realty Income's listing on the New York Stock Exchange in 1994, our balance sheet strategy of maintaining low leverage and no mortgage debt has often been at odds with the prevailing wisdom. It has, however, provided us with consistent access to capital for property acquisitions and the ability to sleep soundly. This low leverage strategy also hasn't seemed to have materially impacted our ability to grow and generate returns for our shareholders. In the past 17 years our portfolio has frown from $450 million to around $4.8 billion, we've increased the dividend 63 times, and the compounded annual return to shareholders has been 16.9%. Thus, I don't think you need substantial leverage to generate good returns in real estate. (Source: Tom Lewis, Chairman of Realty Income)
National Retail (NYSE:NNN)

Like Realty Income, National Retail also qualifies as a "superstar" equity REIT. The diverse asset base consists of around 1,248 properties in 46 states. In addition, total assets reached around $2.799 billion (6-30-11) with around $290 million acquired (99 properties) through September of 2011. Here is a snapshot of National Retail's asset base from 1984-2010:
(Click to enlarge)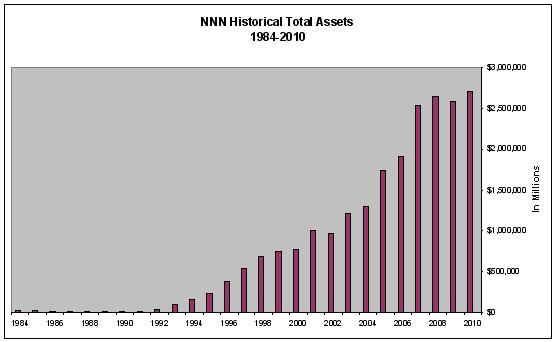 And also like Realty Income, National Retail maintains a most conservative level of mortgaged debt ($23.728 million as of 6-30-11) and long term debt of around $975 million (rated BBB stable by S&P). The recently extended credit facility will allow National Retail to close around $400 million to $500 million in properties this year.
It is clear that the Net Lease REITs have all been providing valuable investor-aligned fixed-income alternatives and National Retail has been an exceptional steward of capital. As explained by National Retail's Chief Financial Officer, Kevin Habicht,
Balance sheet management is critical to managing risk and return. We have generally erred on the side of using less debt, longer term debt, and fixed rate debt with staggered maturities to achieve incremental returns for shareholders while maintaining financial liquidity and access to capital. This allows us to sustain operating results, dividend payments and be well positioned to capture new investment opportunities when they arise. It requires a long term perspective to resist the temptations of over-leveraging and using cheaper shorter term, floating rate debt. We think our approach has been more than validated over the past few years as our all-cash dividend continued to grow in turbulent times, debt maturities never posed a refinance problem and the total return to our shareholders has been among the best.
Here is a snapshot of National Retail's Top 10 tenants (based on store count):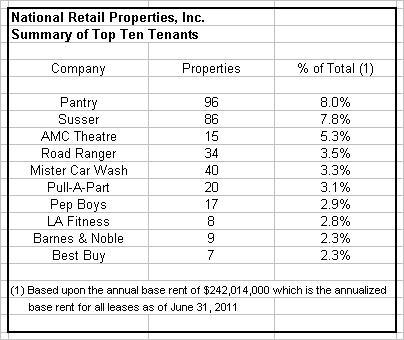 CapLease (NYSE:LSE)

Although smaller in number (quantity) in terms of assets (compared with Realty Income and National Retail), CapLease makes the "all-star" team due to its high quality asset concentration. As of 6-30-11, CapLease owned 63 properties in 24 states. The $1.875 billion (6-30-11) high quality asset portfolio consists of a substantial (94%) of leased investment grade properties. Here is a snapshot of the REIT's Top 10 tenants: (Click to enlarge)

Unlike the previously referenced REITs, CapLease has a higher secured debt ratio (57%) and the company's $140 million credit line has a $74.9 million balance (matures 7-16-12). So far this year, CapLease has closed on around $120 million of properties this year and the high-quality asset base should continue to provide some attractively diverse fixed-income options. Here is snapshot of CapLease's historical asset base:
(Click to enlarge)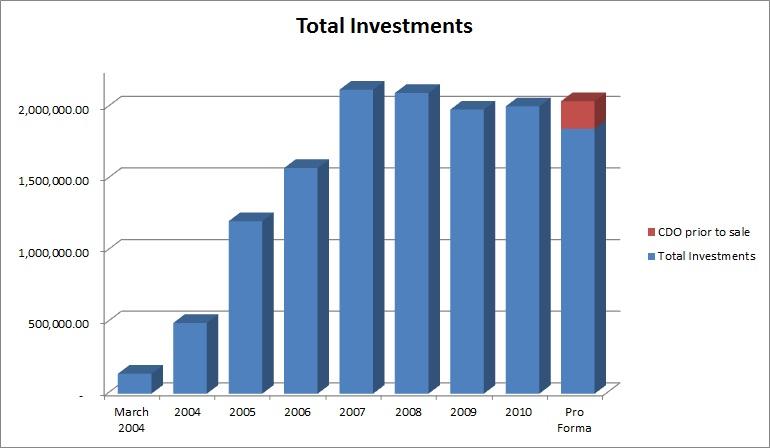 Recent acquisitions include an 807,042 square foot warehouse leased to Cooper Tire & Rubber Company (NYSE:CTB) in Franklin, Indiana. This $32.5 million (cost) asset was acquired around ten (10) months ago with a primary lease term of 10.4 years (with extensions). Also, CapLease recently (June 2011) acquired a 100% leased office building in Houston, Texas. The sole tenant, AMEC Plc, has an implied BBB rating and the lease has around 9.6 years remaining (plus extensions). CapLease also has a recently announced "ground up" development in Tulsa, Oklahoma. This build-to-suit project is around 324,324 square feet and is leased (12 years) to Cimarex Energy (NYSE:XEC) (BB+). This $55 million (approximate) project will yield around 10% (all cash) and the directly funded asset should provide yield enhancement to the attractive FFO results.
The CapLease team (platform) does not have the depth chart associated with the larger above mentioned REITs. However, the CapLease players are significantly strong and pack considerable financial muscle (i.e. 94% investment grade assets). As explained by CapLease Chairman and CEO, Paul McDowell:
To appreciate the strength of CapLease's balance sheet one has to go beyond simple financial ratios. The quality of our assets is second to none, with over 94% of our single tenant portfolio leased to tenants with an investment grade credit rating. The average rating of our tenants is A-. Only a small percentage of our outstanding debt is recourse to CapLease. We finance our properties on an individual basis through special purpose entities, and 88% of our portfolio is financed on a long-term, non-recourse basis. ..the quality and structure of our balance sheet have enabled us to generate predictable cash flow and the reason why our portfolio has performed exceptionally well through what was one of the most severe recessions since the Great Depression.
W.P Carey
As I wrote in the first edition, W.P. Carey (NYSE:WPC) has one of the most diverse fixed-income portfolio models in the world (17 countries). Unlike the other Net Lease REITs, W.P. Carey operates a series of investment funds making the investment options unique in that an investor could opt to invest in the public company (WPC) or a series of non-listed funds. The W.P. Company platform is much more advisor-driven as the investment sponsor targets specific net lease funds that are risk-modeled towards a specific risk-aligned platform. For example, its Corporate Property Associates brand name (CPA series) invests in net lease assets and self storage assets while Carey Watermark Investors invests in high quality lodging assets. As a whole, W.P. Carey and related groups own around 980 assets in 42 states and 17 countries. The targeted investment funds are comprised of 28 industries and here is a snapshot of the consolidated group of assets under management: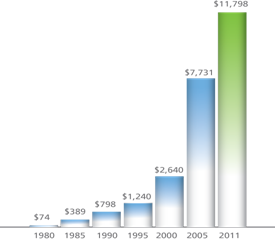 The W.P. Carey focused strategy has not changed since the pioneer sale-leaseback leader commenced operations around 1973. According to the company's website, the global Net Lease manager has raised approximately $5.5 billion in equity since 1979. The asset base has grown considerable so far this year as the world class leader has invested in facilities leased to Metro Cash & Carry, Walgreens (WAG), Dollar General (NYSE:DG), Flanders Corporation (OTC:FLDR), and ICF International (NASDAQ:ICFI). In addition, the global net lease financier has extended its asset reach to self-storage and lodging – both complimentary sector extensions to the successfully broad net lease platform.
As explained by Trevor Bond, President and Chief Executive Officer of W. P. Carey:
Our balance sheet is conservatively structured, consisting mostly of non recourse, asset-level debt and a modest amount of company-level debt. Historically, we have been able to grow our cash flow by accessing capital through our managed funds. In addition, we always have the ability to issue capital via the public markets. We believe this flexibility is extremely valuable relative to other companies that must rely on one source of capital.
Cole Credit Property Trust III
The final "all-star" team is Cole Credit Property Trust III. As I wrote last week, Cole Real Estate Investments operates a series of net leased funds and the "all-star" team (referred to as Cole Credit Property Trust III) owns around 620 properties in 44 states. The non-traded REIT (no ticker symbol) has a well-balanced portfolio consisting of many well-recognized retail brands and the composition of the revenue is around 54.5% investment grade rated (by strength of tenant-based credit). Due to the increased popularity in the fixed-income markets, Cole has become a substantial alternative investment sponsor. With around 28.1 million square feet under management and $4.5 billion in assets, Cole Credit Property Trust III has assembled a high quality team with a well-capitalized platform.
Cole Credit Property Trust III recently (7-13-11) announced an enhanced unsecured credit facility of around $700 million. This syndicated bank facility includes a $200 million term loan and a $500 million revolving credit line. The LIBOR-based floater matures in June 2014 and the facility has an accordion facility to increase to a maximum of $950 million.
The composition of CCPT III's asset portfolio is primarily (81.2%) single tenant net leased assets with around 17.2% of multi-tenant and 1.6% of debt related investments. Here is a snapshot of the fund's portfolio composition: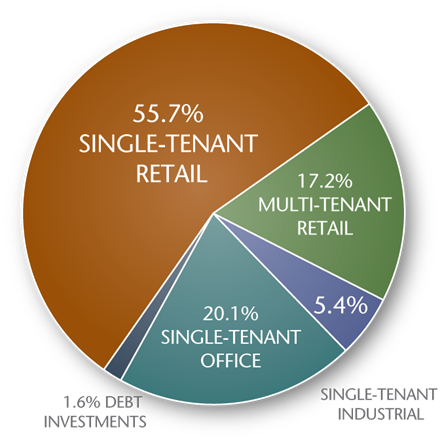 Also, the well-diversified team is composed of many top draft picks such as Walgreens (WAG), Albertsons, Microsoft (NASDAQ:MSFT), CVS (NYSE:CVS), Home Depot (NYSE:HD), Kohl's (NYSE:KSS), Tractor Supply (NASDAQ:TSCO), and Best Buy (NYSE:BBY). The CCPT III has continued to grow in size with some recent acquisitions including Winchester Station, a $26.8 million shopping center in Winchester, VA. The 97.5% leased center is anchored by high quality tenants such as hhgregg (NYSE:HGG), Ross Dress for Less (NASDAQ:ROST), Michaels, Old Navy (NYSE:GPS), Olive Garden (NYSE:DRI) and Red Lobster (DRI). In addition, Cole recently announced an investment in a 63,546 square foot CarMax (NYSE:KMX) facility in Henderson, NV. This net lease asset was acquired for $18.4 million with a lease expiration of 2028.
Because CCPT III's capital is originated from a non-traded REIT structure, the CCPT III investor is treated more like a limited partner than a shareholder. Conversely, the fund is traded more on real estate fundamentals than on publicly-traded stock fundamentals. Because of the illiquid investment structures of the non-traded REITs, it is important to carefully examine each fund before investing. An investor should recognize the asset composition carefully to determine whether he or she is a candidate for medium or long term investing. The non-traded REITs do provide some very good alternative fixed-income products. However, you should consult your advisor and determine if the product is appropriate for your portfolio objectives.
Intangible Assets - Intelligent Leadership
Next to Ben Graham and Warren Buffett, I consider "Coach K" (Krzyzewski) to be one of the greatest teachers of all time. Of course, Coach K is now just three games away from surpassing Bobby Knight as the winningest college coach of all times (Coach K has 900 wins and Coach Knight has 902 wins). And as a former college basketball player at Presbyterian College, I'm passionate about this sport, where business lessons can be learned both "on and off the court".
Just as Coach K is perhaps one of the greatest basketball coaches of all time, successful playmaking is essential to intelligent decision making and for formulating profitable investments. As previously written, diversification and asset selection are essential strategies for success. However, leadership is an equally important ingredient. Executing an effective risk-management platform requires considerable knowledge and experience. The X's and O's may look good on paper but without a proven coach the results will not be sustainable. In the words of the legendary Coach K:
Making shots count, but not as much as the people who make them.
And there are several extraordinary Net Lease coaches who have provided exceptional leadership and success:
Tom Lewis is Chief Executive Officer and Vice Chairman of the Board of Directors of Realty Income. Mr. Lewis joined Realty Income in 1987 and served in a variety of executive positions before assuming the Chief Executive Officer role in 1997. Prior to joining Realty Income Mr. Lewis was an executive with another real estate company, an investment specialist with an investment firm and worked in marketing for Procter & Gamble (NYSE:PG). His diverse career has provided the company with the opportunity to develop a familiarity with a wide variety of the different professional disciplines used in business. (Source: Realty Income website)

Chris Cole is the founder and Executive Chairman of Cole Real Estate Investments. Mr. Cole has been actively engaged as a principal in the structuring and management of real estate investment programs since founding Cole Real Estate Investments in 1979. For nearly three decades, Cole Real Estate Investments has formed and managed over 100 real estate investment programs, owning real estate with a combined acquisition and development cost in excess of eight billion dollars. Mr. Cole is a seasoned veteran in the commercial real estate arena and has led Cole to consistently deliver the performance promised to investors. He is well respected in the real estate and financial services industries and is a frequent speaker at broker dealer, public funds and real estate industry conferences. (Source Cole Real Estate Investments website)

Wm. Polk Carey is the Founder and Chairman of W. P. Carey & Co. He is also Chairman of the W. P. Carey Foundation. Mr. Carey began his career in international corporate finance in 1959 and brought the first foreign direct investment into Australia in 1960, at age 29. He moved into the net leasing of corporate real estate in 1964 as Chairman of the Executive Committee of Hubbard, Westervelt & Mottelay (now Merrill Lynch Hubbard). Before starting W. P. Carey & Co. in 1973, he served as Head of Real Estate and Equipment Financing at Loeb, Rhoades & Co. (now part of Lehman Brothers) and Vice Chairman of the Investment Banking Board and Director of Corporate Finance of duPont Glore Forgan Inc. Mr. Carey founded W. P. Carey & Co. primarily to structure single-asset private investments. Over 35 years, W. P. Carey & Co. has evolved into the world's largest publicly traded limited liability company and now owns some 850 commercial and industrial properties throughout North America, Europe and Asia, comprising 100 million square feet of space. (Source: W.P. Carey website)
All of these leaders have built exceptional teams around effective risk management and executing ultra high standards for "margin of safety" investing. I am confident that Ben Graham would have admired these leaders and especially the emphasis the REITs have placed on minimizing losses with a strict emphasis on principal preservation. For the wisdom gained from experienced leadership is significantly important for delivering a sustainable risk-managed product. Consider where Berkshire Hathaway would be today if Ben Graham's star pupil would not have enrolled in Columbia University? Or, consider if Bobby Knight's star player would not have enrolled in the United States Military Academy (1966-1969)?
The Intelligent Net Lease Investor
Net Lease investments provide exceptional opportunities for creating wealth and income. And by owning single tenant properties leased to sound, credit worthy tenants, an investor can benefit from receiving risk-adjusted income, appreciation, and preservation of principal. As explained by Betty Learned Friant, CCIM, Senior Vice President with Calkain Companies Inc.
For those with the resources, the net lease asset model combines the best of corporate bonds and real estate. Tying a steady, credit rated, income stream to a premier underlying asset. Net leases typically have higher returns than corporate bonds and are much less risky and labor intensive than the average real estate investment.
In the third (and final) edition of The Intelligent 'Net Lease' Investor I will provide correlating details on value investing and specifically I will provide guidance relative to dividend sustainability and price. Ben Graham firmly believed that an "intelligent investor" must find value while promising durable and sustainable income. The five "super-star" REITs provide an exceptionally "safe margin" and in the next (and last) edition I will provide evidence to support the sound investment fundamentals of these "bond replacement" alternatives and conclusively determine the validity of these rock sound investment choices.
Click to enlarge:

Disclosure: I have no positions in any stocks mentioned, and no plans to initiate any positions within the next 72 hours.