Vectren Corporation (NYSE:VVC) is a public utility holding company with operations in Indiana and Ohio. It provides energy and natural gas to approximately 1 million customers. Its stock price has outperformed the broader market in 2011. As of 24-Oct-11, VVC has increased 13.63% year-to-date, outperforming the -0.27% return of the S&P 500 (NYSEARCA:SPY).
A brief summary of the current market sentiment for VVC:
FY2011 analyst EPS estimates are $1.72 (2% increase over 2010 EPS of $1.68)
FY2012 analyst EPS estimates are $1.90 (10% increase over current FY2011 estimate $1.72)
Average analyst target price $27.00 (currently trading at $28.84)
Average analyst recommendation is "hold"
As shown in the chart below, VVC has trended upward in 2011. The Bollinger Bands (90 days, 3σ) show that VVC currently has a lower trading support of $24.17 based on a 3σ / 99.7% confidence interval.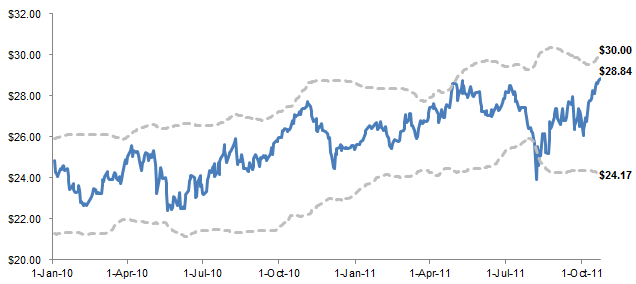 Click to enlarge
VVC appears to be a good candidate for a covered call option strategy because it already has downside protection and limited upside potential.
Downside protection - VVC has traded in a narrow range since 2010 given the market volatility during that same period. Additionally, assuming continued issuance, receiving a consistent dividend (VVC currently yields 4.71%) increases total shareholder return independent of stock price movement. Adding a short call further increases the income produced from this strategy.
Limited upside potential – Although not displayed in the graph above, VVC has never traded above $30 per share for an extended period of time. This is in part due to the downward pressure that the dividend has on stock price and the low growth potential for utilities. This decreases the risk that a short call option will become exercisable (in the money).
Therefore, an attractive investment strategy is a covered call consisting of:
Long 100 shares at $28.84
Short Dec '11 call at strike price $30 ($0.05/bid to $0.20/mid-quote premium)
This strategy would allow an investor to generate additional income from VVC's large dividend and attractive call option premiums, while being exposed to limited downside (based on historical trading ranges as illustrated above). If VVC's $30 strike call expired in the money, this strategy would produce a 4.72% return (based on the $0.20 mid-quote) plus any dividends received during that period (excluding trading costs). This strategy would not lose money until VVC reached a price of $28.64 (based on the $0.20 mid-quote). If VVC does not expire in the money, then I would sell another out of the money call to continue generating additional income.
Data are taken from Yahoo Finance.
Disclosure: I have no positions in any stocks mentioned, and no plans to initiate any positions within the next 72 hours.
Disclaimer: Please consult your financial advisor before making investment decisions. Depending on your circumstances and risk tolerance, the strategy in this article may not be suitable for all investors.