ETF spotlight on ProShares Credit Suisse 130/30 ETF (NYSEARCA:CSM), part of an ongoing series.
Assets: $108.16 million.
Objective: The ProShares Credit Suisse 130/30 tries to reflect the performance of the Credit Suisse 130/30 Large-Cap Index, which replicates an investment strategy that takes long and short positions in select securities from the 500 largest U.S. stocks in attempt to outperform the broad large-cap universe.
So-called 130/30 funds have been popular with institutional investors, and some exchange traded funds have incorporated the strategy. The funds are designed to beat an index by shorting 30% and using the proceeds to increase the long side of the portfolio to 130%. The net market exposure is 100%. The funds are designed to deliver outperformance, or alpha.
In CSM, the tracking index put together by Credit Suisse ranks large-cap stocks, and those with the lowest scores are shorted. Investors who short a security are attempting to profit by a decline in its price.
CSM has posted a one-year gain of 8.8%, compared with an 8.2% advance for the S&P 500, according to Morningstar.
Holdings: Top holdings include: Exxon Mobil Corp. (NYSE:XOM) 2.79%, Apple Inc. (NASDAQ:AAPL) 2.28%, Chevron Corp. (NYSE:CVX) 1.57%, Microsoft Corp. (NASDAQ:MSFT) 1.51% and AT&T Inc. (NYSE:T) 1.43%.
What You Should Know:
ProShares sponsors the fund.
CSM has an expense ratio of 0.95%.
The fund is up 6.83% over the last month, down 7.77% over the past three months and up 0.43% year-to-date. In comparison, the S&P 500 is up 0.07% year-to-date.
The ETF utilizes a rules-based ranking and weighting methodology that tries to qualitatively construct a 130/30 U.S. large-cap equity strategy.
The Index tries to hold a 130% long exposure in attractive stock picks and hold a 30% short exposure to unattractive stocks.
The fund is rebalanced on a monthly basis.
CSM's goal is to provide, but not guarantee, incremental risk-adjusted outperformance as compared to the universe of 500 largest U.S. market-cap equities.
First Trust manages KEYnotes First Trust Enhanced 130/30 Large Cap Index ETF (NYSEARCA:JFT), an exchange traded note that uses a similar approach.
The Latest News:
CSM recently crossed over its 200-day exponential moving average.
The markets are waiting on news from the Eurozone summit that will take place on Wednesday.
Some observers note that the markets have already priced in the worse-case-scenario, WSJ.com reports.
"The equity markets are pricing a very negative scenario, so even a mediocre outcome that avoids a messy default in Greece should be enough to trigger a sustained equity rally," strategists at Lloyds Bank wrote in a note.
Additionally, equity ETFs could see moves later this week when markets get a report on third-quarter U.S. economic growth.
ProShares Credit Suisse 130/30 ETF

click to enlarge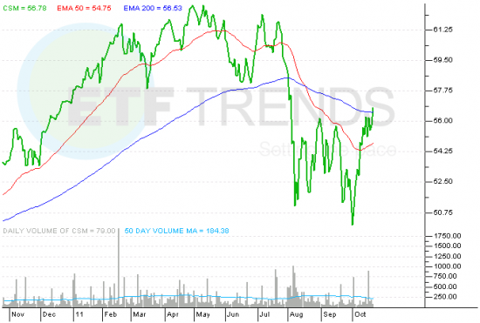 Max Chen contributed to this article.
Disclosure: None