A reader recently asked if Marine Harvest ASA (OTCPK:MNHVF)(MNHVY.PK) would still be profitable if the company did not sell more than half of its second-half 2011 production under forward contracts. The company entered into forward contracts to protect itself against the current weakness in the salmon markets. These contracts are at prices that are significantly higher than the current spot price for salmon. These forward contracts should be sufficient to allow the company to protect its profits, but what would they look like without these hedges in place? Would the company still be able to turn a profit?
The spot price for salmon has fallen consistently on a weekly basis since the beginning of May.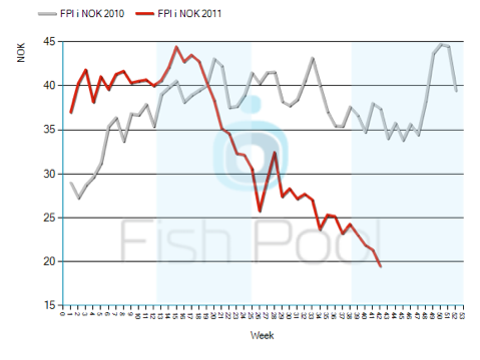 click to enlarge
Source: Fish Pool ASA
As the chart above shows, salmon's spot price has plunged from a high of just under NOK 45 per kg ($8.11/kg) to today's price of NOK 21.36 per kg ($3.85/kg). Marine Harvest's stock has also plunged, with the ordinary shares falling from a high of $1.34 on May 2, 2011 to today's price of $0.47.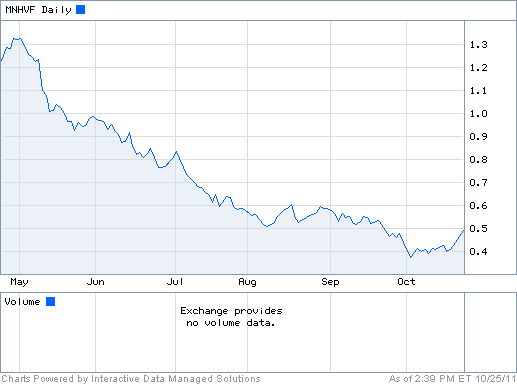 Source: Fidelity Investments
Forward prices for salmon have fared little better. While the forward prices do increase going forward, they are lower than they were a month ago for every contract delivery date.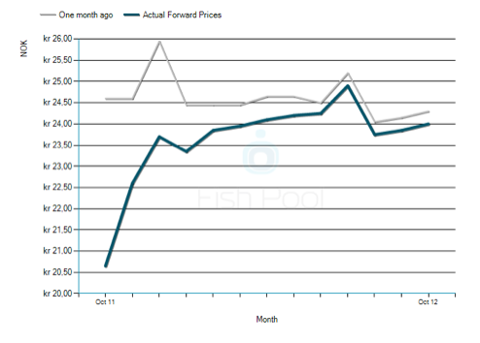 Source: Fish Pool ASA
The market is thus telling us that salmon spot prices are believed to increase going forward. However, the market also believes that spot prices will stay low for a long period of time. Moreover, the market believes that the spot price of salmon will remain even lower than it did a month ago. This makes it even more important for investors to understand whether or not Marine Harvest is depending on its high priced forward contracts to turn a profit.
Marine Harvest expects to harvest 79,000 tonnes of salmon in the third quarter. This is 79 million kg. Assuming that Marine Harvest sells all of this production at a price of NOK 21.0 per kg ($3.79/kg), which is both lower than today's price and also lower than the lowest spot price that was achieved during the recent price plunge (although the preliminary index for this week is lower than this level) for this week, would generate farming revenues of NOK 1,659 million ($299 million). This would be a 45.4% decrease from the NOK 3,039 million ($547.82 million) in revenue that Marine Harvest's farming operation generated in the second quarter.
Marine Harvest's farming group had an operational income of NOK 897 million ($161.7 million) in Q2 2011. Thus, we can determine that the costs incurred to run the farming operation in the second quarter were NOK 2,142 million ($386.12 million). If these costs remain the same then, Marine Harvest's farming operation would not be profitable if it had to sell all its harvest at the current spot price.
The farming operation was by far the largest contributor to Marine Harvest's second quarter profits. The company did, however, also earn a much smaller income from their Value-Added Processing operation. Due to the recent corporate restructuring, this unit is part of the new Sales and Marketing operation. The VAP unit, as with the Sales and Marketing operation (to an extent), is a counter-cyclical operation. This means that the profits generated by this group increase as the spot price of salmon falls. Thus, the presence of this VAP operation causes Marine Harvest to have a natural hedge in place against falling salmon prices.
Marine Harvest's Sales and VAP groups had total second quarter operational income of NOK 37 million ($6.67 million).

Source: Marine Harvest Q2 Interim Report (.pdf)
The profits from this group, primarily the Value-Added Processing unit, should be expected to be higher during the third quarter than they were during the second quarter. Would this be enough to keep the company profitable in the absence of Marine Harvest's forward contracts? I do not believe so.
Marine Harvest VAP Europe had operational income of NOK 1 million ($180,000) on revenues of NOK 1,091 million ($196.7 million) during the second quarter. If we assume that VAP operational income will double with the approximate halving in the spot price of salmon, that would give the unit an operational income of NOK 2 million ($361,000) which would not be anywhere near enough to make up for the losses of the farming unit.
There are other ways to look at this that are more accurate, however. The VAP business unit had total costs of NOK 1,090 million ($196.5 million) during the second quarter. If we assume that these costs were entirely due to the acquisition of salmon to process then we can cut the costs in half to get an approximation of this quarter's costs. Holding revenues steady and cutting the costs in half gives total revenues of NOK 1,091 million ($196.7 million) and total costs of NOK 545 million ($98.2 million). This would give the VAP unit an operational income of NOK 546 million ($98.4 million).
An operational income of that level is sufficient to cover the losses from the Farming operation and it is enough to give Marine Harvest a positive, if modest, EBIT of NOK 59 million ($10.6 million). The company paid NOK 98.3 million ($17.7 million) in interest during the second quarter. Assuming that this remains the same would swing the company to a NOK 39.3 million ($7.08 million) loss.
So, the answer to the question "would Marine Harvest be profitable if it were not selling its production under forward contracts priced well above the current spot price" is no. With that said, the company will most likely turn a profit in the third quarter. I do not expect that the company will be as profitable in the third quarter as it was in the second, however. The company will announce its third quarter results during a presentation on 10/27/2011 at 8:00 CEST. As always, I will bring you all analysis of the results shortly after the conference call.
Disclosure: I am long OTCPK:MNHVF.