The market hasn't been nice to Netflix (NASDAQ:NFLX) over the last few months. Netflix has fallen to $77 after reaching a high of over $304 in July. I have been bearish on Netflix for quite some time now. In my last article, On How Many Subscribers Netflix Will Really Lose, I mentioned that I expected to see further downside as well as another leg down once subscriber numbers came out. Netflix is down about 40% since my article.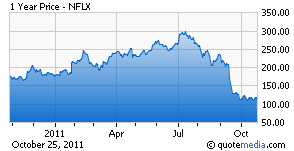 Netflix ended September with 23.8 million U.S. subscribers. This figure is about 800,000 lower than in June and worse than the company's expectations of a 600,000 subscriber loss. I expect to see additional subscriber losses as the company struggles to maintain its DVD rental business.
One of the major issues I see for Netflix going forward is how it plans to maintain a competitive advantage if subscriber losses were to accelerate. Netflix has been losing customers to Redbox consistently over the last few months and I don't see any reason for that trend to end. Netflix has been able to gain ground in its streaming business but has been struggling to remain competitive with Redbox. I expect Netflix to ultimately wind down or spin-off its DVD rental business to focus more on streaming.
Netflix is in a very tough environment which will get harder as additional competitors enter the streaming space. I expect Google (NASDAQ:GOOG) and Amazon (NASDAQ:AMZN) to take big steps into the market. The risk for Netflix is that both companies have the potential to take large market share away. One huge advantage for Netflix's streaming business is having the company's streaming application preloaded in newly purchased devices. I could see this advantage disappear as Google works to integrate its applications better into the Android system. This is especially true once the Motorola (NYSE:MMI) purchase is approved. Amazon's new Fire tablet has received a strong response from customers and was designed especially for customers to buy additional Amazon products.
I still expect to see further downside and wouldn't be surprised to see Netflix get into the $50 area over the next few months. In the short term we could see a relief rally after having such a sharp move down. I will look to short the next rally as long as the stock stays below the $100 area.
Disclosure: I have no positions in any stocks mentioned, but may initiate a short position in NFLX over the next 72 hours.