I'm bullish on the future of Caterpillar (NYSE:CAT) and expect to see further growth as demand for mining and construction equipment remains strong. Caterpillar reported a strong third quarter, performing much better than analyst expectations. Revenue and profits are about 40% higher than the same quarter in 2010. I expect to see further growth as the global economy begins recover. Caterpillar is also benefiting from rebuilding efforts in disaster stricken countries like Japan.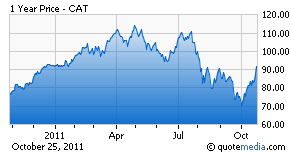 Here are more points I like about the Caterpillar story:
- Net income climbed 44 percent to $1.14 billion, or $1.71 per share compared to $1.21 in the same period in 2010.
- The company beat analyst sales expectations by 40%. Sales came in at $15.7 billion beating analyst expectations of $14.9 billion.
- Demand for mining equipment has been a strong driver of growth for the company. Metals and coal producers are increasing investments to meet rising demand from emerging markets.
- U.S. companies will look to replace aging equipment going into 2012. Caterpillar will also benefit from rising dealer rental utilization.
- Caterpillar expects full-year profit to come it at $6.75 per share and sales to come in at $58 billion. Revenue in 2012 is expected to increase 10% to 20%.
- The company's order backlog is at an all-time high. Backlogs are a great way to gauge the demand of the market as well as the potential growth of the company going forward. Caterpillar plans to increase production on several product lines as supply remains tight. This will be a big contributor to the company's expected growth going into 2012.
I'm bullish on Caterpillar and expect to see strong growth from the company going forward. The company is experiencing some selling pressure as investors take profits. I view the next pull back as an opportunity to start a position in a company with strong growth in a tough economic environment.
Disclosure: I have no positions in any stocks mentioned, but may initiate a long position in CAT over the next 72 hours.