Wyndham Worldwide Corporation (NYSE:WYN) is the holding company behind some of the world's most recognizable hotel chains. Under these names such as Ramada, Days Inn, and Howard Johnson – it runs the world's largest hospitality loyalty program. Perhaps it is this that has helped the company's earnings continue to increase through the recent tough times.
WYN shares are currently trading around $30.50, and the mean 12 month price target from analysts researching the stock is $42.70 (40% upside potential). This stock is trading near its 50-day exponential moving average of $30.53 and its 200-day exponential moving average of $30.67. The stock fell through these EMAs when the market took a tumble in August, and has tried to break back through on two occasions.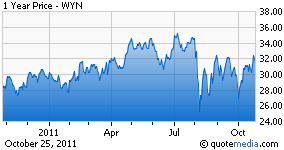 Earnings per share for the last 12 months are $2.35, and these are expected to reach to $2.75 in its next fiscal year (ending Dec 2012). These numbers place the shares on a trailing price to earnings ratio of 13.08, and a forward multiple of 11.17. The average trailing price to earnings ratio in the sector is 20.40, and Marriott International (NYSE:MAR) trades on a multiple of 50.72.
For investors looking at dividend paying stocks, WYN's payment of a dividend of $0.60 last year gives the stock a yield of 2.00%, and is covered 4 times by its earnings. MAR offers shareholders a yield of 1.30%.
Current operating margin at WYN is 20.55%, with a return on assets of 5.50% and a return on equity of 15.78%. The current revenue from its income statement is $4.04 billion, and last quarter's revenue showed year on year growth of 13.20%. WYNN has cash of $296 million, and a total of $3.75 billion in debt. The company's debt/ equity ratio is a concerning 143.42. Comparing all these numbers to Marriott's, the company looks in good shape. MAR's return on assets is 3.63%, and its return on equity is 25.77%. Its operating margin is a lowly 4.08%, and its debt to equity ratio is a huge 721.63.
Looking at the 12-month chart, WYN shares have performed in line with the broader S&P 500 Index. It is no surprise that they have outperformed MAR shares, and I expect them to continue to do so.
[Click to enlarge]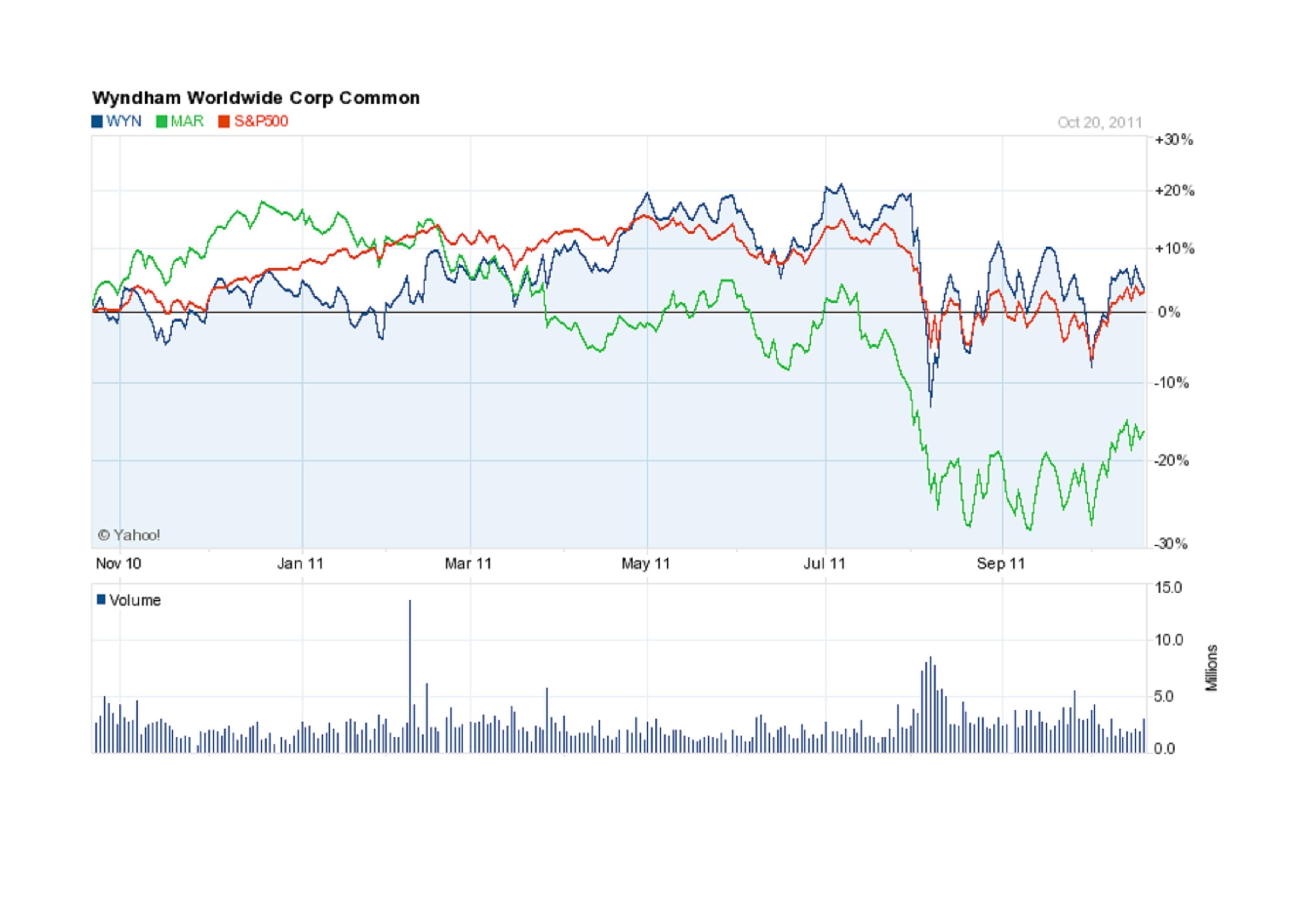 WYN's third quarter earnings are expected to show another strong rise when released next week. Analysts are predicting a rise of 29% in net income from a year previous. The company has beaten earnings estimates for the last four quarters, and is set to continue to do so.
One reason for its great run of results is its customer loyalty program. This program is one of the most respected in the world, and largest, and the company continues to expand it to promote its own business. This undoubtedly brings customers back time and again. Its latest add on is the expansion of its redemption catalog for Canadian customers.
The company is also using the current economic situation to expand its operations further. It has recently opened its first hotel in Orlando, and expanded its timeshare vacation ownerships with a new resort in Hawaii.
In conclusion, the combination of company fundamentals, share price performance, and the steady rollout of good news – expanding the business and seeking to reward loyal customers and build further customer loyalty – leads me to give the shares a positive rating. Expect the shares to push through the current EMA's, and move forward strongly through the holiday period. BUY.
Disclosure: I have no positions in any stocks mentioned, and no plans to initiate any positions within the next 72 hours.