Xilinx Inc (XLNX) creates the computerised circuitry that today's industries rely upon. It works hand in hand with many of its industrial customers to design and manufacture bespoke solutions to technology needs, though it also offers 'off the peg' products. Unlike other semiconductor and chip manufacturers, such as Intel (INTC), Xilinx markets wholly to business and industrial customers, from aerospace and defence to consumer and medical electronics.
Xilinx Inc is currently trading around $30, and the mean 12 month price target from analysts researching the stock is $33.10 (10.3% upside potential). This stock is trading around its 50-day exponential moving average of $30.09 and lower than its 200-day exponential moving average of $31.06. Earnings per share for the last year were $2.37, though these are expected to fll to $2.20 in its next fiscal year (ending Mar 2013). These numbers place the shares on a trailing price to earnings ratio of 12.49, and a forward multiple of 13.45.
For investors looking at dividend paying stocks, Xilinx's payment of a dividend of $0.76 last year gives the stock a yield of 2.50%, and is covered more than 3 times by its earnings.
When compared to competitor companies, this dividend is comparable to the yield of 2.2% given by Texas Instruments (TXN), though less than that given by the daddy of the industry, Intel Corp at 3.6%. Altera Corporation's (ALTR) 1%, seems to be a token gesture (this is covered more than 8 times by its earnings), and Lattice Semiconductor (LSCC) pays no dividend. Xilinx has paid dividends since 2004, and increased its dividend in every year.
Current operating margin is 32.89%, with a return on assets of 12.59% and a return on equity of 29.20%. The current revenue from its income statement is $2.39 billion, and last quarter's revenue showed year on year growth of 3.50%. XLNX has cash of $1.97 billion, and a total of $894.5 million in debt. The company's debt/ equity ratio is 35.78, similar to TXN's 32.08, but higher than ALTR's 17.50, and INTC's 4.50.
Looking at the chart below, XLNX shares have performed better than the broad S&P 500, but marginally worse than the shares of its much larger rival Intel. Results will be the driver of the share price here, and the company has done all it can to dampen expectations in a soggy market place, releasing what seems to be lowered guidance at every opportunity. The shares have retreated in line with the weakening equity market since July, and whilst showing more volatility than the index are now tracking its movement.
[Click to enlarge]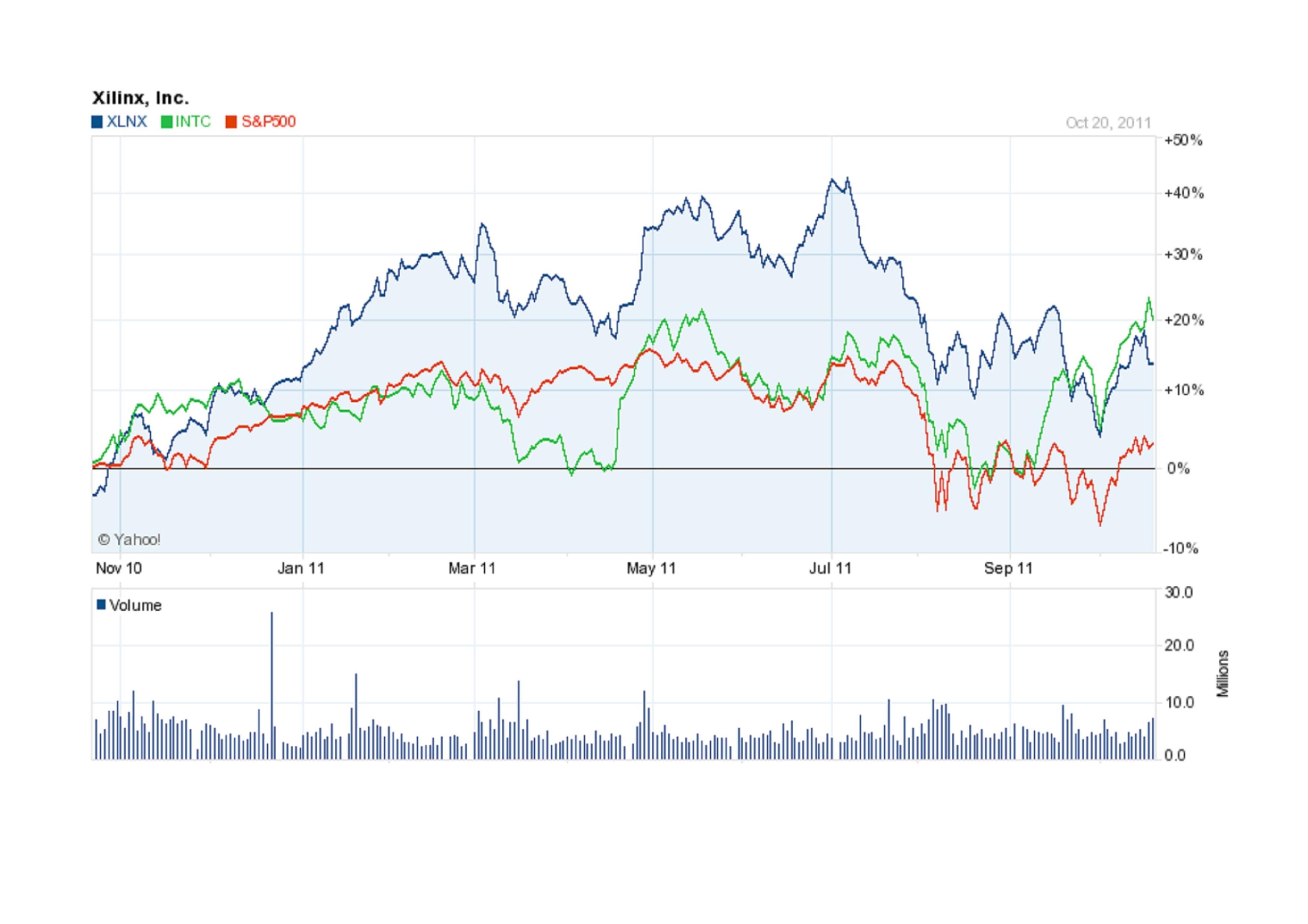 Whilst writing this analysis, the company released its latest quarterly earnings for its second quarter ended October 1. These show a decline in net income to $0.47 per share, a fall of 26%, whilst revenues decreased by 10%. The income figure was, however, better than the market consensus of $0.44 per share. Its sales were impacted by falling demand from its industrial customer base as business conditions worsened across the economy.
The company now expects its revenue to decline a further 3% to 8% in the current quarter, translating to a number between $510.8 million to $538.6 million, as against analysts' previous expectations of $570.8 million.
Xilinx has stated time and again over the past few months that it expects sales to come in weaker than previous expectations. It is fighting against a tide of weakening demand in a weakening economy. I expect a price battle to develop in the chip industry, and this will further erode margins at a company where costs are falling at a far slower pace than revenues. The market reacts positively to numbers that beat expectations in the short term.
At the moment Xilinx has managed those expectations well, and managed to produce well received poor numbers. I expect the next results to be on the low side of management's estimates, and the market to react accordingly. I consider XLNX shares a SELL.