Three Reasons Why Investors Should Be Preparing for a Bull Market in Equities
There has been considerable debate as to whether or not U.S. equity markets are in a bear market. Such debate is rather pointless, as it does not address the likelihood of markets being materially higher or lower given a certain timeframe. There are three broad factors that suggest that by the end of next year the major market equity indices will be materially higher rather than lower. Those factors are:
Negative market sentiment,

Improving corporate earnings and low stock valuations,
Growth in the US economy to surprise on the upside.

Let me discuss each one of these factors in turn.

Negative Market Sentiment
It may sound rather bizarre to say that prospects for equity markets are rosy because market sentiment is so bearish, but financial markets work in the most counterintuitive of ways. Perhaps this is the reason that John B. Templeton said that "bull markets are born in pessimism, grow in skepticism, mature in optimism, and die in euphoria"! It works like this-- when everyone is bearish or highly pessimistic who is left to sell stocks? The opposite also applies. When everyone is bullish there is a high likelihood that they have expressed their bullish view by investing in the stock market. A market will only go higher if there are marginal buyers out there who will come into the market and bid prices higher.
One of the starting points for analyzing bullish or bearish sentiment in the market is consumer confidence. Lows in the stock market tend to coincide with low levels of consumer confidence. It would appear that consumer confidence in the U.S. is the lowest it has been since 1967 (2008 excepted), and that is only because this is the year in which the Conference Board Consumer Confidence Index started.
Conference Board Consumer Confidence Index


Click to enlarge
There is considerable evidence that suggests the average retail investor is shunning the stock market and is crowded into perceived "safe haven" assets such as U.S. treasuries. General equity mutual fund cash flows have been negative for most of this year and a large part of last year. It is interesting to note that outflows of equity mutual funds have exceeded the outflows that occurred towards the end of 2002 which was the end of a 3 year bear market! The fact that major market equity indices in the U.S. have remained virtually unchanged since the start of the year is yet more evidence that stocks are probably firmly in strong hands and that there are few weak hands left holding stocks.
ICI Net New Sales of "Growth" Orientated Equity Mutual Funds

Click to enlarge
Numerous articles are appearing in business media publications suggesting in no uncertain terms that "buy and hold" is dead. It would appear that whatever stocks are left in circulation are being held by relatively fewer hands as time ticks by. This phenomenon has been accentuated over the last three years by company stock buyback schemes. In many cases there has been more stocks bought back in the last three years by large cap U.S. companies than in the previous 15 years. The stock buybacks of Wal-Mart (NYSE:WMT) (below) is typical of many large cap U.S. stocks! With such a change in the shareholding base of large cap U.S. stocks one wonders who is left to sell.
Wal-Mart Negative Cashflows From Stock buybacks
Click to enlarge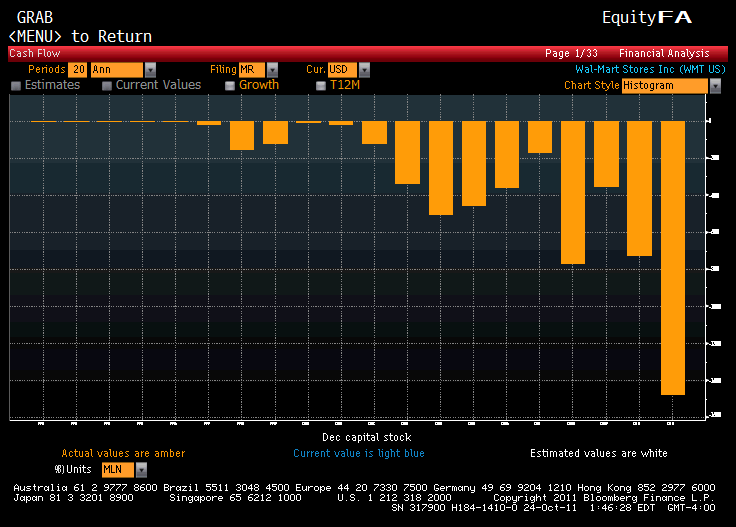 Click to enlarge
Valuations and Earnings
Over the last 12 years the U.S. stock market has gone virtually nowhere. However, earnings have increased and are now at record highs. How much longer can earnings continue to rise and stock prices track sideways?
S&P 500 Price Index, Price to Book and EPS
Click to enlarge

Click to enlarge
Eventually something has got to give-- either stocks have to rise in line with rising earnings, or earnings fall to justify stocks going nowhere. It would seem that the crowd is factoring in the latter. Very few believe in the sustainability of corporate earnings. Perhaps this is why we see the yield differential between the S&P 500 and the U.S. 10yr close to record highs. Many would argue that it is only the easy monetary policies of central governments and "money printing" in response to the GFC of 2008 that have artificially pushed earnings higher.
Yet the irony is that earnings are probably a lot more sustainable now than they were prior to the GFC, due in large part to the corporate restructuring that occurred as a result of the GFC! The GFC forced a rapid transformation of companies at both operating and financing levels. Cost structures were changed dramatically, which has increased return on equity and leverage has been significantly reduced.
S&P 500 Debt to Equity Ratio (top) and ROE (bottom)
Click to enlarge

Click to enlarge
A few weeks ago, before the latest earnings season kicked into gear, bottom up stock analysts were being accused of being too optimistic in their earnings forecasts. It turns out that they were too pessimistic! So far 658 companies have reported out of a total of about 5500, and earnings have beat analysts' estimates by about 6%.
Results from the Latest Earnings Season
Click to enlarge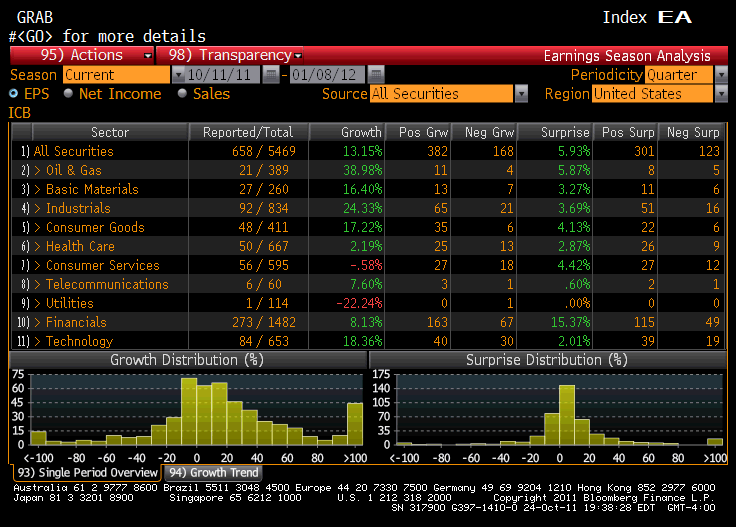 Click to enlarge
U.S. Economy Improving and not going into recession
Listen to the economic commentary being bantered about by the press of popular opinion and you would be forgiven for thinking that-- beyond reasonable doubt-- the U.S. is heading back into a recession and due to the "Fed having fired off all its bullets", there is nothing that can stop the onset of a recession. In fact, the onset of a recession is more or less a given as far as economists are concerned. The only thing up for debate is just how deep and prolonged the recession will be. Perhaps the most vocal about recession / depression calls has been Lakshman Achuthan of the ECRI who went "public" with his call for the U.S. to enter a recession on Friday 30th of September and that "there is nothing that can be done" to stop a recession.
I believe that most of the calls for the U.S. falling back into a recession have been heavily influenced by the action of the U.S. stock and treasury markets since July this year. This action was based on fear induced by the Euro debt "crisis" and the "probability" of global contagion.
Contrary to popular opinion, there has been little or no credible evidence supporting the proposition that the U.S. economy is slowing down materially-- let alone going back into a period of contraction (recession). I think one of the best indices to watch is the Conference Board Leading Economic Indicators Index, which continues to point upwards.
Conference Board Leading Economic Indicators Index
Click to enlarge

Click to enlarge
Granted, the U.S. economy seems to be taking its time at recovering from the GFC. However, we should not lose sight that the GFC of 2008 was the biggest financial crisis to occur since the Great Depression of the 1930s. Given the magnitude of the crisis it would be delusional to believe that the U.S. economy would quickly recover and unemployment would return to "normal" levels after a few short years. In any event, it seems that as of June economic data releases coming out of the U.S. have been coming in ahead of analysts' expectations. Below is the Citigroup U.S. Economic Surprise Index. In essence, it gives a representation as to the relationship between actual economic data releases (like industrial production and unemployment claims) and analysts' expectations. The trend is up, which clearly implies that "economists" are far too bearish in their assessment of the growth prospects of the U.S. economy.
Citigroup U.S. Economic Surprise Index
Click to enlarge

Click to enlarge
It appears that the world is gripped in fear over the Euro debt crisis and the fear of what could happen in reaction to what has already happened. The biggest financial crisis since the Great Depression (the 2008 GFC) is still too much in the forefront of investors' minds, and this harrowing experience is keeping them from investing in equities. It is said that bull markets begin when the average investor least expects, and this is generally when pessimism rules in financial markets. It can be argued from a market sentiment, valuation, and economic perspective that we now have a set up for a rise in equity markets that is likely to surprise most beyond their wildest dreams. As John B. Templeton infamously said: the best time to invest is at the maximum pessimism. I am sure those who brave the fear that pervades in world financial markets and invest in equities now will be well rewarded over the coming months.

Disclosure: I am long DIA.