ETF spotlight on ProShares Ultra Silver ETF (NYSEARCA:AGQ), part of an ongoing series.
Assets: $727.31 million.
Objective: The Ultra ProShares ETF tries to reflect twice (200%) the daily performance of silver bullion as measured by the U.S. dollar fixing price for delivery in London.
Holdings: The fund holds silver forward contracts.
What You Should Know:
ProShares sponsors the fund.
AGQ has an expense ratio of 0.95%.
The fund is down 2.8% over the past month, down 46.45% over the last three months and down 27.28% year-to-date.
Leveraged investments are intended to be monitored closely – the funds rebalance on a day-to-day basis.
Investors should not hold these investments for long-term periods as compounding issues may cause the leveraged funds to deviate from their target objective.
Additionally, bouts of high market volatility may also cause a leveraged fund's performance to skew from its intended target over time.
The Latest News:
AGQ ended trading up 10.28% Tuesday.
Cautious investors piled into safe-haven assets, like silver, ahead of the EU summit Wednesday.
"The likelihood of the Eurozone sorting out [its] intractable problems has come into question again as … Europe's largest banks have clashed with politicians about the size of losses they will have to take on their Greek debt," GoldCore analysts said, reports MarketWatch.
Metals also rose Tuesday on speculation that the Federal Reserve may ease further. [Silver ETFs Climb 5% on Waning Sentiment, Fed Talk]
ProShares Ultra Silver ETF

click to enlarge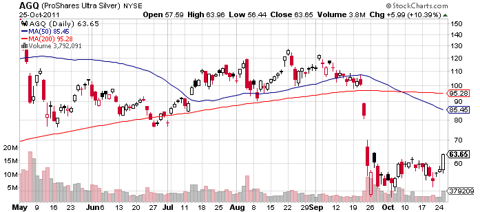 Click to enlarge
Max Chen contributed to this article.
Disclosure: None