Statoil ASA (NYSE:STO) is a Norwegian integrated oil and gas company with a market capitalization of $81.44 billion, and operations in upstream oil and gas, biofuels, midstream pipelines, and downstream refining and retail. Although its upstream operations have traditionally focused on the North Sea, it has been expanding rapidly into oil and gas plays around the world, including unconventional oil and gas prospects in North America. With excellent fundamentals and management, strong growth prospects, a high dividend yield, and a share price trading below analyst expectations, Statoil is a great long-term buy.
Statoil has traditionally focused on its home turf, the North Sea, which still accounts for about three-quarters of its oil and most of its natural gas production. However, as North Sea oil output has declined, the company has initiated several upstream ventures abroad in a bid both to diversify its assets as well as grow. It now has upstream oil operations in Angola, the Caspian Sea, and the Gulf of Mexico, and 2011 has seen a number of new discoveries and acquisitions. Earlier this year, Statoil discovered some 500 million barrels of oil in the Barents Sea, followed by a 300 million-barrel discovery in Brazil's offshore Peregrino field. It even managed to discover what could prove to be over a billion barrels of oil in the North Sea when many exploration firms have written the region off.
Statoil has extensive gas investments in the North Sea, Arctic, and Caspian Sea, and it remains Europe's second-largest natural gas supplier, with 14 percent of the market. And it has been an enthusiastic player in North American unconventional oil and gas, investing in Texas's Eagle Ford shale and Canada's Athabasca oil sands. Last week Statoil showed its latest vote of confidence in North American unconventional oil by acquiring Texas-based Brigham Exploration for $4.4 billion. Brigham is a major player in the Bakken oil shale in North Dakota, the latest hotspot for unconventional oil, and its acreage in North Dakota and Montana could hold as much as 500 million barrels of "tight" oil. Statoil has a 2020 production target of 2.5 million barrels of oil equivalent (boe) per day, up from the current level of 1.8 million boe per day. Given its string of successes, it appears well on its way to meeting that goal.
No less impressive are Statoil's fundamentals. The group is in solid financial shape, with a net debt ratio of just 14%, a current ratio of 1.11, and an operating margin of 28.35%. Its return on assets and return on equity stand at 16.01% and 29.61%, respectively. Statoil's profit margin, at 11.54%, is one of the highest among integrated oil and gas companies.
Statoil shares have been trading in the middle of its 52-week range over the last month, between $21 and $25. At the close of trading on 25 October, its shares were selling for $25.57. Given its fundamentals and growth prospects, however, the stock looks set to go higher, perhaps surpassing its 52-week high of $29.67, especially as North American unconventional oil and gas come to play a greater role in the global energy market. At the moment, the stock may also be undervalued; its trailing P/E ratio of 6.24 and its EV/EBITDA ratio of 2.05 are low for an integrated oil and gas company. Additionally, Statoil's acquisition of Brigham saw the latter valued at $36.50 per share, some 70% higher than Brigham's pre-announcement trading price. The valuation accounts for not only Brigham's proven reserves but its valuable unconventional oil acreage, indicating the growth potential for shares of companies involved in North American unconventional oil and gas.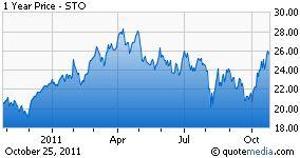 Since Norway lies outside the eurozone, the Norwegian krone should be an added stabilizing factor to Statoil shares. However, investors in Statoil should also take comfort in the stock's 4.6% dividend yield, which is on the high end for an integrated oil and gas firm.
Since its initial listing a decade ago, Statoil has quietly emerged as a stable, well-managed energy company. In those ten years, its share value has roughly doubled. It has taken advantage of growth opportunities with a big bet on unconventional oil and gas, and it is in the process of diversifying from its North Sea base. As unconventional oil and gas come to play an increasingly important role in the global energy economy, Statoil's stock appears to be an excellent long-term buying opportunity.
Disclosure: I have no positions in any stocks mentioned, but may initiate a long position in STO over the next 72 hours.