Gold is hot. A decade ago, the yellow metal sold for less than $300 an ounce. Today, gold's price has climbed more than fivefold, despite a late September pullback sparked by fears of a possible global credit crunch and recession.
How far will gold run this time around? In 1980 the yellow metal hit $800 an ounce. Gold prices then entered a prolonged slide, punctuated with periodic spikes, only to reclaim lost ground in late 2007 and match the all-time high. However, even the early September 2011 high of more than $1,800 an ounce is barely half the 1980 peak when adjusted for inflation. In today's dollars, gold traded at about $3,000 per ounce at its apex.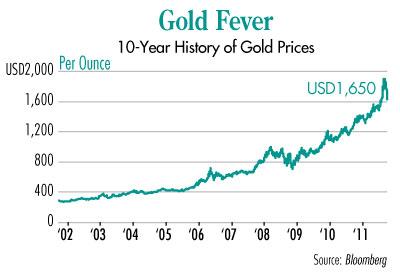 Nothing says the yellow metal will best that inflation-adjusted mark. But it's equally true that the conditions for further gains remain intact. Inflation continues to pick up steam in emerging economies, while inflation-adjusted interest rates are negative in the developed world. Wary of a recession, central banks are unlikely to tighten monetary policy any time soon. Meanwhile, investors' confidence in politicians and the financial system can scarcely get much lower.
Should Europe's sovereign debt and banking crisis spread from the eurozone's peripheral nations to the Continent's core, gold could certainly give up more ground if investors decide that the greenback and US Treasury paper are better bets. But given the metal's relative strength during the 2008 crisis, gold is unlikely to lose much of its value. In fact, gold prices will likely rally even higher. See Jim Fink's Investing Daily article: Gold Mining Stocks vs. Gold Bullion: Which is the Better Investment?, for more insight into gold investing.
Gold mining stocks are leveraged to gold prices. High gold prices boost miners' profit margins and make it economically advantageous to develop new supplies. But even blue chips such as Barrick Gold Corp [TSX: ABX], (NYSE: ABX) and Newmont Mining Corp (NYSE: NEM) currently trade at levels that barely top their 2008 high. Shares of many junior miners--companies with resources under development--have fared far worse.
But that's par for the course in typical bull markets for gold. In fact, the last time the precious metal rallied in the 1970s and 80s, stocks of gold miners didn't actually peak until mid-1987. Junior miners, in particular, saw their stock price double or even triple as investors competed for limited shares.
This time around, the gains promise to be greater still. My favorite junior miners own and operate producing mines, but they're only in the early stages of developing their properties.
High gold prices have yet to result in a corresponding surge in stock prices for these junior miners. But rising prices have lifted profits and cash flow, helping these firms finance ambitious development and exploration plans and limiting the need to raise capital. Greater scale means expanded profit margins; it also makes these firms takeover candidates.
There are several caveats to investing in junior miners. First, these stocks are extremely volatile. For example, Minefinders' (AMEX: MFN), [TSX: MFL] shares have traded as high as USD19 and as low as USD9.45 in 2011 alone. European Goldfields' [TSX: EGU], (OTC:EGFDF) stock has popped to USD14 on several occasions and sunk to less than USD10. These swings have occurred despite rising gold prices and on-schedule and on-budget development programs.
Investors should also be forewarned that the fortunes of gold mining stocks follow gold prices. Sooner or later, every bull market ends.
That being said, this bull market for gold and gold mining stocks appears to have a long way to run. But don't put all your golden eggs in one basket.
Minefinders is a Canadian gold and silver producer with a single producing asset, the Dolores mine in Mexico. The company aims to raise its production levels to 300,000 ounces per year within three years. Minefinders' gold production for full-year 2010 came in at 56,110 ounces, while its silver production topped 1.2 million ounces.
Management's forecast calls for gold production to hit 65,000 ounces to 70,000 ounces and 3.3 million ounces to 3.5 million ounces of silver at an average operating cost of USD450 to USD500 per gold-equivalent ounce.
Past performance suggests that Minefinders will meet these goals. The company boosted production from the Dolores mine in the most recent quarter, though a stronger peso partially offset the benefits of higher output.
In addition to Dolores, Minefinders has two other projects in Mexico: La Bolsa and La Virginia. Of the two projects, La Bolsa is closer to coming onstream, though the company remains in the early stages of acquiring permits and conducting engineering work. This low-cost, open-pit mine is forecast to produce 228,000 ounces of gold and 315,000 ounces of silver over a projected six-year mine life.
The company's project at La Virginia, is four years to five years away from an official start. However, Minefinders has devoted USD2.7 million toward an exploratory drilling program that will identify and assess gold and silver mineralization at the site. Since beginning the program in 2010, the initial findings have been promising. Minefinders is also mulling an expansion of exploratory drilling at La Virginia.

Disclosure: I have no positions in any stocks mentioned, and no plans to initiate any positions within the next 72 hours.