Summary
Equinix (NASDAQ:EQIX) shares are rallying ahead of the 3Q 2011 earnings release after the close of trading on Wednesday, October 26. The global data center provider is benefiting from growth in IP, mobile, cloud-computing, and electronic trading along with increasing demand for co-location. International expansion efforts are also paying off.
Against this positive backdrop, Equinix is seen posting earnings of $0.44 per share, up from $0.24 in the year-ago period (Source: Yahoo! Finance). The range is $0.28 to $0.63. The company previously said it expects revenues to be in the range of $412.0 to $417.0 million, with gross margins of approximately 65%.
Given the positive sentiment surrounding Equinix, and a multiple of 32.7x forward earnings, it will take results toward the high end of analyst estimates to push the shares higher from here. Relatively high short interest (9.10% of the float) due to growth fears in the current economic backdrop and more than $2 billion in debt on its books are among the concerns holding Equinix shares in check. But the company has invested heavily and it's paying off, evidenced by its global expansion efforts and organic growth.
Keep an eye on Rackspace Hosting (NYSE:RAX) and Digital Realty (NYSE:DLR) as sympathy plays, which are also benefiting from growth in cloud and managed hosting. Note also that Equinix shares have moved sharply higher following the four previous earnings releases (see table).
Chart Review
- Equinix recently pushed through resistance near $96 (late August high; mid-September peak). From here, there is room to run toward $100, followed by the July peak near $106. In the past couple weeks, Equinix pushed back above the major moving averages.
- The previous resistance level at $96 is now the first level of support, followed by the 200-Day SMA near $93, and $90.
- The Average True Range (ATR) signals there is a high degree of volatility in the shares.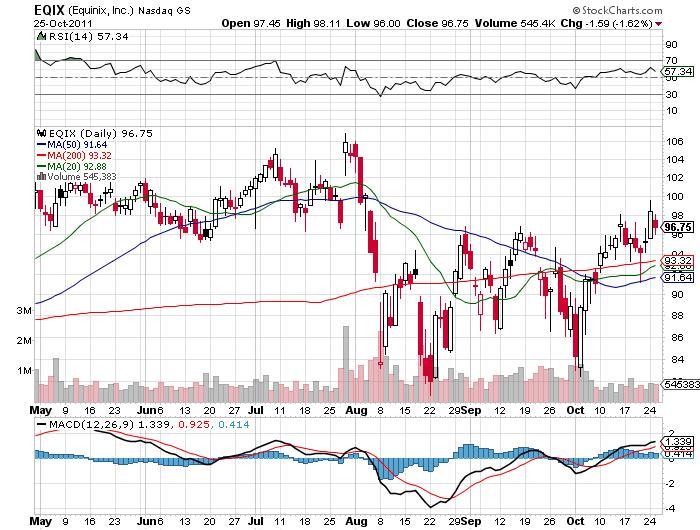 Click to enlarge
Disclosure: I have no positions in any stocks mentioned, and no plans to initiate any positions within the next 72 hours.