When it became apparent that the Federal Reserve would not permit Bank of America (NYSE:BAC) to raise its dividend, I concluded that it was simply a dose of reality therapy - management was in a state of denial about the seriousness of their litigation and representations and warranties exposure. Now the Fed is pulling in the reins on MetLife (NYSE:MET). Does the company have any potential capital issues?
Background
MetLife became a federally chartered bank holding company when it launched MefLife Bank in 2001. The company elected not to participate in TARP, offering the following explanation:
"MetLife is well positioned, with approximately $5 billion in excess capital, a strong balance sheet and leading market positions in our core group and individual insurance businesses, where our revenues continue to be healthy," said C. Robert Henrikson, chairman, president and chief executive officer of MetLife, Inc. "MetLife has already taken actions to reinforce its strong financial position, including raising capital in the marketplace. We have therefore decided not to participate in the Program."

"Although a number of economic challenges remain, MetLife is well positioned to continue meeting the needs of our clients," added Henrikson. "We repositioned our investment portfolio over a year ago for the current recession; completed a successful $2.3 billion common stock offering last October; and successfully remarketed over $1 billion in debt earlier this year. We are confident that we have the financial strength to continue to succeed now and over the long-term."
On the 2Q 2011 earnings conference call, CFO William Wheeler stated that the holding company would have approximately 4.8 billion of excess capital by the end of 2012.
In a July press release, the company announced it was exploring the sale of its depository business, offering the following rationale:
"MetLife Bank represented just 2% of MetLife Inc.'s first quarter 2011 operating earnings, and we do not believe it is appropriate for the overwhelming majority of our business to be governed by regulations written for banking institutions," said Steven A. Kandarian, president and chief executive officer of MetLife, Inc. "In a highly competitive global insurance marketplace, it is imperative that MetLife be able to operate on a level playing field with other insurance companies."
Need for Further Stress Testing
Here is the relevant material from the press release on the dividend non-approval:
The Federal Reserve has concluded that the company's planned capital actions should be tested under a revised adverse macroeconomic scenario which is being developed for those firms that will participate in the 2012 Comprehensive Capital Analysis and Review. As a result, the Federal Reserve did not approve the company's planned dividend increase and other proposed capital actions at this time.

"MetLife is well capitalized and is firmly committed to creating shareholder value and returning capital to its shareholders. We are disappointed that we cannot commence increased capital actions now, as our analysis shows that the company's current capital level and financial strength support capital action increases. We look forward to seeking and gaining approval of our capital plan from the Federal Reserve early next year. Moreover, increasing our capital actions in this current economic environment and in this time of high unemployment would prove beneficial to the economy as our shareholders re-deploy these funds in a productive manner," said Steven A. Kandarian, president and chief executive officer of MetLife, Inc.

"At the same time, we continue to move forward on our plans to explore the sale of the depository business and the mortgage origination activity conducted at MetLife Bank and to take the necessary steps to no longer be a bank holding company. As I have previously said, this will ensure that MetLife is able to operate on a level regulatory playing field with other insurance companies," added Kandarian. (emphasis added)
What is Well Capitalized?
Going to the 2010 10-K, I find that MetLife, when considered as a bank holding company, met the 8% minimum standard for the Total RBC ratio, with a reading of 8.52%, but did not meet the 10% regulatory requirement to be "Well Capitalized."
However, the Tier 1 RBC ratio at 8.21% was well in excess of the "Well Capitalized" requirement of 6.0%.
The whole thing seems to be an exercise in semantics, based on the ownership of a depository institution that provides 2% of MetLife's revenues, and is itself well in excess of the "Well Capitalized" requirement, at a Total RBC ratio of 15%.
Ratings
Rating agencies apply separate ratings to insurance holding companies, several notches lower than the ratings applied to the actual operating companies. The reasoning is, that regulators may not permit the subsidiaries to pass dividends up to the parent, if the subsidiaries come until financial stress. Here are the ratings for MetLife's operating subsidiaries:

Clearly there is no concern about the ability of any of these companies to pay their claims. The senior unsecured debt of MetLife, Inc., the holding company, is rated a-, A-, A3 and A- by A.M. Best, Fitch, Moody's and S&P, respectively.
State Regulators
Insurance is regulated at the state level. The following excerpt from the 10-K strikes me as interesting, very interesting:
In late 2009, following rating agency downgrades of virtually all residential mortgage-backed securities ("RMBS") from certain vintages, the NAIC engaged PIMCO Advisory ("PIMCO"), a provider of investment advisory services, to analyze approximately 20,000 RMBS held by insurers and evaluate the likely loss that holders of those securities would suffer in the event of a default. PIMCO's analysis showed that the severity of expected losses on those securities evaluated that are held by our U.S. insurance companies was significantly less than would be implied by the rating agencies' ratings of such securities. The NAIC incorporated the results of PIMCO's analysis into the RBC charges assigned to the evaluated securities, with a beneficial impact on the RBC of our U.S. insurance subsidiaries. The NAIC utilized the solution again for 2010. The NAIC adopted a similar solution for 2010 for commercial mortgage-backed securities ("CMBS") by selecting BlackRock Solutions, a provider of investment advisory services, to assist in the RBC determination process. BlackRock Solutions will serve as a third-party modeler of the 7,000 CMBS holdings of U.S. insurance companies, including MetLife's U.S. insurance subsidiaries. The impact of the implementation for 2010 of the modeling solution for CMBS is not known at the current time but the RBC impact on our U.S. insurance subsidiaries is not expected to be material. (emphasis added)
Here we have an objective third party with excellent credentials, finding that the rating agencies have been excessively diligent in downgrading RMBS. Accordingly, the ratings these same agencies apply to MetLife are likely on the conservative side.
Complexity and Systemic Risk
A word search on either "hedge" or "derivative" in MetLife's 10-K returns over 100 matches. The company provides guarantees on variable annuities, which are linked to the turbulent equity markets, and is exposed to substantial risk from interest rates and currency fluctuations. They make use of derivatives to hedge these expsosures. In point of fact, policy guarantees include embedded derivative liabilities.
There are two issues here: 1) the adequacy of the hedges, and 2) the strength of the counterparties. MetLife is less a source of systemic risk than it is a potential victim of failure by counterparties. The concern here would be for policyholders, investors who have placed their life savings and retirement nest egg in MetLife's care.
Investment Implications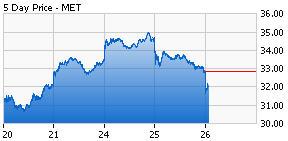 There is no evidence that the Fed's refusal to permit a dividend increase is based on secret knowledge of financial weakness at MetLife. It is more likely an instance of overzealous regulation, from which the company will extricate itself in due course.
Mangement is well-motivated to deploy excess capital to reward shareholders. The company will be taking a stress test next year, and given that it is much stronger on an objective basis than the likes of BofA, it will pass the test. The dividend reward, or share repurchase plan, has been delayed, but will eventually be forthcoming.
Other life insurers, such as the Hartford (NYSE:HIG) or Prudential Financial (NYSE:PRU) that are either systemically important or subject to regulation as bank holding companies may also require investor patience in the face of overzealous regulation
Meanwhile, at a P/B of 0.65, and a forward P/E of 6 on 2012 estimates, MET is seriously undervalued.
Disclosure: I am long MET, PRU, HIG. I have no position in BAC.