China is the world's largest cement consumer and the country's per capita consumption, as measured by tonnage, now stands at what's likely the highest level the world has ever seen.
(Click charts to expand)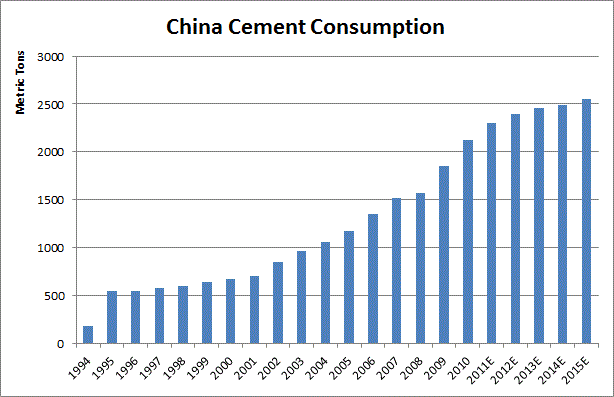 Source: China Cement Association, Bloomberg
As is the case with almost all industries in China, investing in the cement sector requires one to decipher the central government's desires. Although valuations are important to a stock's long-term performance, China's market usually moves on government policy decisions.
China's cement industry has several tailwinds. Infrastructure-related investments remain a pillar of the government's plans to modernize the country; about 45 percent of China's cement production is used for infrastructure-related projects. Additionally, China's leadership has decided that the industry needs to be consolidated by driving the weakest players from the space. This should lead to a wave of mergers and acquisitions activity as smaller players go belly up or are acquired by industry leaders. China's government has already ordered the closure of 782 outdated cement plants with a total capacity of 153 million metric tons, or 7 percent of China's total capacity.
I've long argued that China will not ease its monetary policy unless it's forced to do so by a global financial blowout. China wants to achieve lower, but sustainable economic growth that won't overheat the economy and exacerbate the problems faced by any large and fast-growing economy at this stage of the growth cycle.
To that end, China's authorities have been withdrawing credit from the market, and the effects of this policy are being felt throughout cement supply chain–from large, cash-rich cement manufacturers to their customers, including ready-mixed concrete suppliers. As the market adjusts to these inefficiencies, the central government has moved to support small- and medium-sized enterprises (SME) by providing the strongest SMEs with easier access to credit. And despite media reports of a slowdown in railroad construction activity, the central government recently allocated an additional USD31.5 billion toward the Ministry of Railways. Vast quantities of cement are necessary to build railroads.
Although China's cement consumption may begin to slow in 2012, the year-to-date growth rate stands at about 13 percent, which means that full-year consumption growth will probably clock in at 12 percent to 13 percent. Growth may even surprise to the upside as the fourth quarter is traditionally a strong season for cement consumption. Nevertheless, even consumption growth of 4 percent to 5 percent would be solid and sustainable.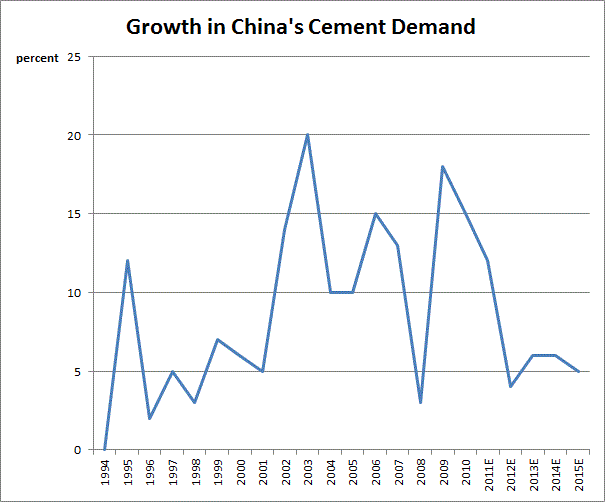 Source: China Cement Association, Bloomberg
Average cement prices in China stand at about USD63 per metric ton and should remain at this level for the rest of the year and in 2012, despite minor price differences that reflect regional supply and demand. Although it's true that some producers have seen cement prices fall this year, the industry's largest players have enjoyed flat or slightly-falling prices.
These pricing dynamics make industry leader, Anhui Conch Cement (Hong Kong: 914, (OTC: AHCHY.PK), a compelling story at current prices.
Anhui Conch Cement was established by China's state-run Anhui Conch Group in September 1997, and was listed on the Hong Kong stock exchange one month later. It is the largest cement producer in both China and Asia, and the world's sixth-largest cement company in terms of capacity. Anhui Conch's total capacity volume was 150 million metric tons in 2010 and is expected to reach 180 million metric tons this year.
Although the stock is marginally down for the year, the stock trades at a discount to its earnings potential. Anhui Conch has grown long-term profits by more than 45 percent, a fact that appears to be completely overlooked by the markets. We believe the stock is reasonably valued and that the current price represents a good entry point for long-term investors, particularly in light of China's overarching policies for economic development.
That being said, the probability of a new recession in the US has increased. Although I think that US economy will ultimately avert a recession, that unfortunate outcome could send markets lower in a hurry. Nevertheless, if my thesis proves correct, emerging markets–especially those in Asia–are the right place to be. Investors should view periods of weakness as an opportunity to invest in a region that boasts healthy corporations, a growing consumer base and strong government balance sheets.

Disclosure: I have no positions in any stocks mentioned, and no plans to initiate any positions within the next 72 hours.