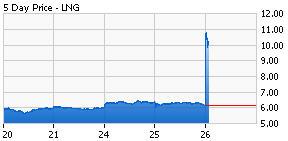 A few months prior I wrote an article regarding Cheniere Energy (NYSEMKT:LNG) and the enormous potential it held. Today that potential begins to come to fruition.
LNG inked a deal to sell Liquified Natural Gas through one of its subsidiaries.
This is the start of a new age where the U.S. will begin exporting natural gas across the globe. Eventually natural gas prices around the world will reach a consensus price on the commodity. Currently natural gas sells for $4 domestically but as high as $16 in Japan and other Asian countries. I still rate LNG a long, and I have removed my protection on the stock entirely.
Disclosure: I am long LNG.