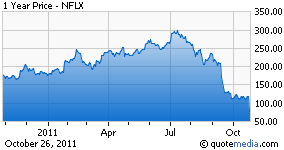 Shares of Netflix (NASDAQ:NFLX) were hammered after the company's disappointing guidance for the fourth quarter and beyond left many questioning the future of the company. Netflix is just one of a handful of companies getting slammed after earnings. Apple (NASDAQ:AAPL), Amazon (NASDAQ:AMZN) and Crocs (NASDAQ:CROX) were crushed as well. Now that the stock is down over $200 in just three months, it is time for us to examine how Netflix is a great short opportunity. This should provoke some discussion, but remember, I'm just taking the negative side of the argument here. Feel free to also read my bullish article on the company.
The Impending Loss
One of the most upsetting statements in the company's letter to shareholder's was the following piece:
"Because of this (new pricing plan structure) our revenue and profits in Q4 will be lower than we anticipated, but we'll remain profitable on a global basis. In Q1 2012, we'll be launching in the U.K. and Ireland, as we had planned. For a few quarters starting in Q1, we expect the costs of our entry into the U.K. and Ireland will push us to be unprofitable on a global basis; that is; domestic profits will not be large enough to both cover international investments and pay for global G&A and Technology and Development."
Netflix is going to lose money. They also do not give a time frame on a possible return to profitability or even how much they may lose. Given that the company is forecasting a contribution loss in Q4 of $60 to $70m internationally with under 2 million subscribers, you have to figure that the international loss is going to be several hundred million dollars. Just look at Q4, where the company is forecasting a domestic contribution profit of over $200 million.
Once Netflix starts losing money, there is no guarantee that the company will ever return to profitability. As content becomes more and more expensive, costs will go up. Netflix has not wanted to pass those costs on to the consumer, and when they did recently, the company started bleeding subscribers (more on this later).
Elimination Of Buyback/Possible Equity Offering
Netflix announced that it will suspend buybacks until profitability returns. The company did not announce plans to raise any additional capital, but many feel that they should do so. Either of these will result in further dilution to shareholders and will depress both the stock price and future earnings per share. If they do end up returning to profitability where they can buy shares back again, they will most likely have to pay more for those shares than they would if buying back now (or at lower levels in the near future).
The Eroding Subscriber Base
Customers have started to flee since Netflix decided to implement their new pricing plan. Just look at how bad much the numbers are declining:
| | | |
| --- | --- | --- |
| Guidance - US | Original | Actual |
| Total Subscribers* | 24.6m to 25.4m | 23.789m |
| Streaming* | 21.6m to 23.3m | 21.45m |
| DVD* | 14.6m to 15.7m | 13.93m |
| Revenue | $780m to $805m | $799.15m |
| Operating Income | $95m to $120m | $120.16m |
*Guidance was revised lower to 21.8m streaming and 14.2m DVD in September.
Netflix lost more customers than originally thought, and that will continue in the fourth quarter. Netflix is anticipating a drop to 20 to 21.5 million streaming subscribers and 10.3 to 11.3 million DVD subscribers. If enough people decide to go with the streaming only option, the DVD number could plummet to 5 million or fewer in the next year. Why pay for DVDs when you can just stream? And since the DVD segment is the most profitable, they won't make up that money internationally, where they are losing money right and left.
Some Declining Financials
The following two charts tell a badly ending tale. As you can see, Netflix is having a hard time keeping its liabilities from growing faster than its assets. With this pace likely to continue, Netflix will need to raise money soon, whether that results in share dilution or more interest costs is yet to be determined. Oh, and the company has $3.5 billion of off-balance sheet liabilities to add to this mess. Their future content obligations will soon catch up to them.
Current Ratio
3Q 2009
4Q 2009
1Q 2010
2Q 2010
1.15
1.81
1.55
1.70
3Q 2010
4Q 2010
1Q 2011
2Q 2011
3Q 2011
1.58
1.64
1.46
1.33
1.23
Debt Ratio
3Q 2009
4Q 2009
1Q 2010
2Q 2010
52.59%
70.70%
77.37%
74.55%
3Q 2010
4Q 2010
1Q 2011
2Q 2011
3Q 2011
75.08%
70.45%
74.71%
78.73%
80.20%
And finally, the full effect of the new pricing plan has yet to be determined. The following chart shows average monthly revenue per paid subscriber, or ARPS. As you'll notice, the numbers are going down. As more customers swtich to only one of the $7.99 monthly plans, these numbers will continue lower. They should drop below $10 eventually.
| | | | | |
| --- | --- | --- | --- | --- |
| | Q1 2009 | Q2 2009 | Q3 2009 | Q4 2009 |
| ARPS | $13.63 | $13.29 | $13.30 | $13.04 |
| | Q1 2010 | Q2 2010 | Q3 2010 | Q4 2010 |
| ARPS | $12.90 | $12.29 | $12.12 | $11.68 |
| | Q1 2011 | Q2 2011 | Q3 2011 | Q4 2011 |
| ARPS | $11.97 | $11.49 | $11.56 | - |
Conclusion: Why The Stock Is Worth $0
As many have already pointed out, Netflix used a model that could not work forever. They either did not see how much content would cost going forward, or decided to ignore it. They waited too long into the game to raise prices. If they had done it two years ago, there wouldn't have been as much of an uproar, and they might have been able to increase them some more. But the company waited too long, and customers got used to a very good deal. When that deal goes away, so do the customers.
Netfix will eventually be gone, so the stock theoretically is worth $0. The company has already said they will lose money on the international expansion, and a return to profitability is uncertain. By the time they get international costs down and the business to a point where it is not losing too much, the domestic business will have lost more subscribers and higher content costs will erode profitability by the quarter. Short this now, cause more pain is coming.
Disclosure: I have no positions in any stocks mentioned, and no plans to initiate any positions within the next 72 hours.
Disclaimer: I presented this argument as a complete disbeliever of Netflix. If you would like to comment and add to the discussion, please do, but I remind you, this is me trying to see the glass as half empty. This article is meant to be a worst case scenario. I will also be writing a best case scenario, so please don't comment just to say everything here is wrong. I'm only presenting one side of the story here.