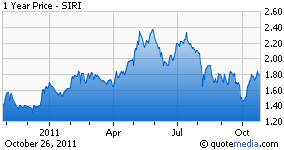 "A hopeless case of Srius XM Bullishness" is how Rocco Pendola chose to describe my recent article on Sirius XM (NASDAQ:SIRI) where I attempted to highlight his chronic misconceptions about the company; particularly his undying attempt to portray Sirius as being a technological and innovative dinosaur.
He does this by undermining what Sirius is with what he thinks it should be. As a way to discredit Sirius' progress, Pendola highlights that the company is neither in the class of Apple (NASDAQ:AAPL) nor Google (NASDAQ:GOOG). But I don't recall that classification to have ever been in neither its prospectus nor ever discussed as being a goal of its management team. Last I checked Pandora (NYSE:P) was not in that class either. But we'll get to that in a moment.
At the top of his article, Pendola describes his account of our respective approaches toward investing: He does this by saying the following:
Like researchers who argue over the efficacy of the quantitative and qualitative methods, Kaine and I differ in the way we value stocks. I argue that Kaine falls closer to the quantitative side while I am more of a qualitative guy. That's no different than how I operated as an academic researcher, using both methods effectively, but favoring the interpretive, naturalistic approach.
First, his mention and comparison of "quantitative vs. qualitative" research was (to me) very interesting, and admittedly, he pegged me correctly. But what I didn't appreciate was my being described as being "caught up in the emotion-ridden, psychological vacuum." It appears that Pendola's unceasing pessimistic view of the company has to trump anyone else's ability to see the many positives that lies ahead.
Are there current roadblocks ahead for Sirius? Certainly. Even the most ardent bull such as I can admit to this. But to the extent that investors should consider Sirius' "qualitative points" or (should I say) "Sirius' story" over of its quantitative goals (to me) would be a recipe for disaster; and one that neither Buffett nor Benjamin Graham would ever endorse. It makes me wonder, does Pendola remember the "qualitative significance" of the tech dot.com bubble? It would suggest rather their "quantitative" (if there were any to report) would have not caused their extinction.
Where Great Is Not Good Enough
As noted previously, Sirius has performed great so far this year. I say great because it has exceeded all expectations as shown by having raised both its subscriber and free cash flow guidance for the year. Since reaching a low of $1.27 on October 4, the stock has now climbed 41% and with little sign of slowing down and Sirius 2.0 soon in full swing.
If that is not enough to continue the stock's movement, we have to consider that for this fiscal year Sirius expects revenue growth of 10% to approximately $3.3 billion, adjusted EBITDA growth of 20% to approximately $860 million, and free cash flow growth of 75% to approximately $700 million. Not to be outdone, Sirius is also expecting net subscriber additions of approximately 1.6 million, revenue of approximately $3 billion, adjusted EBITDA of about $715 million, and finally free cash flow to approach $400 million.
But for Pendola, that is not good enough. It seems that in all of his comparisons to Apple, he has mistaken Sirius for what I have termed the "Apple syndrome" where exceeding projections is never enough. Numbers have to be demolished just to meet expectations. But that is a tall task even for juggernauts like Apple, much less for a company only two years removed from near death.
For Sirius, I had to highlight some of this year's accomplishments and praised its management team for what I can only describe as "composed navigation." I say it this way because what the company has done has been nothing short of remarkable. Essentially it has weathered the storm in an economic environment that has caused prolonged valleys and very little peaks. I described it further by saying the following. In the second quarter report it blew away expectations by highlighting the following:
Subscribers exceed 21 million, an all-time high
Record revenue of $744 million, up 6% over second quarter 2010
Record adjusted EBITDA of $185 million, up 20% over second quarter 2010
Company raises guidance: 1.6 million net subscriber additions and free cash flow approaching $400 million expected in 2011
As expected, Rocco saw no choice but to disparage these numbers. He says:
Like statistical research, you can twist data and use sentiment any way you like to make your case. As such, I guess it all depends which part of the company's performance you're looking at. I like to look at revenue growth, which came in at just 6% for Sirius XM in Q2. The company's guidance for Q3, which fell short of consensus estimates, puts growth at a relatively tepid 10%.
You certainly do not have to look very hard to find companies other than Apple putting up much bigger numbers. They exist in and out of the audio entertainment space that Sirius XM runs in. From Google to Chipotle Mexican Grill (NYSE:CMG) to a more appropriate comparison like Pandora, examples abound of companies growing at a much faster clip than Sirius XM.
The mention of Pandora in that context caught me a tad off guard as if he was suggesting that it merited consideration among the class of the prestige where Sirius did not. It blows me away how Pendola can continue to ridicule Sirius for reasons that would confuse those who try to understand how he can be long Pandora.
Before we continue, let me first say that this is not going to be a rant about Pandora, but what I hope to be a more then feeble attempt to wrap my hands around a couple of the arguments that he continues to make, one that touted Sirius' supposed lack of innovation and "product buzz." To fully understand his points and ways of thinking, I wanted to assess his contrasting viewpoint of a company that (by his own admission) possesses those qualities and thus deserving of his long position.
The irony here is that there may never have been a Pandora as we currently know it without the recent success of Sirius XM, a reference I made in a recent article suggesting that Pandora will always be Sirius' apprentice. Though both companies seem to have taken somewhat similar paths to their current standing, the fact of the matter is, that is where the comparisons end.
It can be argued that Pandora, in all of its perceived "technological advancements," is merely an Internet jukebox. No disrespect indented to the company or to any of its "subscribers," but there are more Pandora-like services out there than there are of Sirius XM; which is truly the only one of its kind - a subscription based entertainment service that is profitable and growing on an annual basis.
Yet, when bashing Sirius, Pendola chooses to ignore little facts such as profitability, original content and earnings while substituting these with insults at readers, some I like to think comes tongue and cheek. But I tend to give readers a little bit more credit than how they are perceived. The fact of the matter is, I have come to realize that Sirius investors have become more sophisticated this year than ever before.
Pendola continues his disregard for Sirius investors and what he perceives to be a lack of intelligence and investing acumen among the faithful by suggesting the following:
I've been a fan of Karmazin before most Sirius XM shareholders even knew who the guy was. He has always been an amazing performer in front of the media and analysts. A rhetorical genius of sorts. After all, he's a salesman. He can spin the story with the best of them. But, at some point, real actions need to follow words. He can only talk the stock up during a conference call so many times.
The reason why I think SIRI will trade closer to $1.50 (and possibly $1.00) than $2.00 as 2012 unfolds - and I am willing to make a friendly wager with Kaine on this - is because of its competitive approach, or lack thereof. As I note in the excerpt above, the audio entertainment space is loaded and truly dominated by companies like Apple.
By suggesting that the stock will possibly retrace to $1 before it hits $2.00 implies that Sirius is currently overvalued. I couldn't disagree more. From current levels, when one considers the improving fundamentals as well as several catalysts which includes Lynx, the increase in base subscription price, improving used auto subscriptions and not to mention, the discussions surrounding share buybacks at the beginning of 2010, there is no doubt that the stock will close the year well above $2.00 per share.
Yet Rocco has not offered any tangible evidence neither from a quantitative or qualitatively standpoint to support his claim of a $1.00 retrace. It amazes me how many can continue to proclaim how Sirius is overvalued solely based upon qualitative measures, where it is widely known that the market makes very little mistakes. Instead, I think what is overvalued is the analysis used pass judgment on a model that is clearly too complex for many such as Pendola to understand.
Disclosure: I am long SIRI, AAPL.